Fellow:Marcela Yeckle
Jump to navigation
Jump to search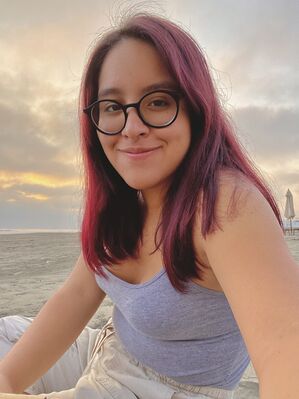 Name

Marcela Yeckle

School (Cohort)

Universidad de Ingenieria & Tecnologia (2020 cohort)

Majoring in

Civil Engineering

Country

Peru

Email
Biography
Marcela is a Junior of the Civil Engineering major at UTEC. Since high-school, she developed the value of empathy and service vocation collaborating in activities for kids in schools far from Lima. Also, Marcela is very related to folkloric dances, she considers it as a way to be connected with her culture and origins. There is one quote that she heard and completely loved to explain this topic:

"If you don't know where are you from, you don't know where are you going"
- Junior Benjarano (2019)

Since her freshman year (2018), she has been envolved in different kind of activities related to her major, such as the I+ Day, Meet&Greet and Open Day, activities organized by UTEC to motivate students at high-school to choose engineering and science majors. For Marcela, it is important to share our knowledge and experiences to people to get inspired and create great ideas to develop our society, that is why she founded the Student Chapter of Civil Engineering at UTEC. This way, she and her colleagues can share their major's knowledge to people interested and contribute in a few years to solve infrastructure problems in her country. She was also part of the process to establish an ASCE Student Chapter at UTEC, fortunately in January 2021 she did it thanks of all the effort of her and her team making any type of activities that achieve this objective. Marcela is very passionate about her career, so much so that she wanted to contribute to improving it, which is why she was the Spokeswoman of the Civil Engineering major in 2020, this initiative gives her the opportunity to create "meets & greets", integration events and feedback forums on courses (everything in a virtual way).

Talking about her extracurricular activities, Marcela considers that an engineer has to be complete both academically as well as with soft skills, empathy and a vocation for service. She realized that her freshman year was really tough academically and emotionally, based on this experience, she wanted to help other freshman to avoid that them passed this difficult situations in a future, because of this she made the decision of taking part of the Peer Mentoring Program at UTEC. The objective of this program is to advice freshmen to reach their adequate incorporation to university, making sessions about freshman's interest and dynamic activities, all of this is made by students for students. As her performance in this program was excellent, she was chosen as the best peer mentor of the year, this recognition also gave her the opportunity to participate as one of the 4 UTEC representatives to participate in CADEuni 2019, an event that brings together leading students from universities throughout Peru to develop their leadership and create ideas to contribute to the development of the country. Also, in 2019 she was part of the Marketing and Communications area of the first edition of TEDxUTEC. Nowadays she is still helping UTEC students by being the Spokeswoman of the Science Department.

At present, Marcela has already a plan for her future, also she improved her organizational methods (you will always see her with her agenda on hand, preparing her study schedules and future meetings). She wants to be a Civil Engineer that contributes with the decentralization of her country, connecting all departments, cities and towns so that everyone has access to the basic needs of a human being by applying new technologies, she wants to be part of a new generation of engineers with a humanistic profile. Initially, she was preparing to be an agent of change and is still learning, but now she shares all her knowledge learned in the UIF program to prepare new agents of change.
Would you like to be part of it? Contact me! I'm all ears:)
Interesting facts about Marcela
Achievements
Social media profiles
Universidad de Ingeniería y Tecnología (UTEC)
Past Cohorts:
---
---