Fellow:Francisco Mejía
Jump to navigation
Jump to search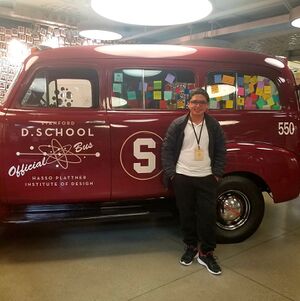 Francisco Matteo Mejía Antezano
University: Universidad de Ingeniería y Tecnología (UTEC). Lima, Perú
UIF since: Fall 2018
What he does now: He currently works as the CTO of the startup CreaCode and as a Product Engineer at his university's accelerator, UTEC Ventures.
What that means: He codes all day, every day.
Contact him about: Project and career opportunities for students. Web Development, Artificial Intelligence, Cloud Computing, building your own startup, incubation/acceleration programs, the startup ecosystem in Latin America, raising awareness of I&E in students, soccer, Perú, and much more.
Email: fmejiaantezano@gmail.com
Phone: +51 986 552 073
Francisco is currently pursuing a Computer Science degree at UTEC in Lima, Perú. Being a fourth year student in CS, Francisco is proficient in programming, specifically when it comes to web apps.
As an UTEC student, Francisco is part of SpinOut, an I&E student organization founded by UTEC's first UIF cohort, where he serves as a tech mentor for the different projects that are organized every year. Francisco's work impacts not only UTEC, but also other branches of SpinOut that exist in other universities in Lima an other cities from the region.
Also in UTEC, Francisco works as the Product Engineer of UTEC Ventures, which is UTEC's startup accelerator and incubator. Francisco sees this position as an extension of his work at SpinOut, because it allows him to build projects that can impact the same kind of people, while also allowing him to experience the day to day of the tech industry.
Outside of UTEC, Francisco is the CTO of CreaCode, an edtech startup that gives coding classes to kids and teens, offering paid workshops that help fund their volunteering branch, aimed at young girls from low income areas. Francisco's job is to develop and maintain the different web projects that they have, and also ensure the quality of the curriculum. Francisco doesn't plan to leave CreaCode any time soon, as he believes this job is very closely related to his mission in life.
As a University Innovation Fellow, most of Francisco's contribution to his local ecosystem comes through his participation in SpinOut UTEC and UTEC Ventures. This allows him to collaborate with other universities and local startups to incentivize students to pursue entrepreneurial opportunities.
In his spare time, Francisco loves playing soccer (he was part of his secondary school's soccer team). He also likes playing videogames and is always improving his skills developing them.
- RELATED LINKS - 
-
Universidad de Ingeniería & Tecnología (UTEC)
-
University Innovation Fellows
Spring 2016:
Fall 2017:
Fall 2018:
---
---
---