Fellow:Nadia Odaliz Chamana Chura
Jump to navigation
Jump to search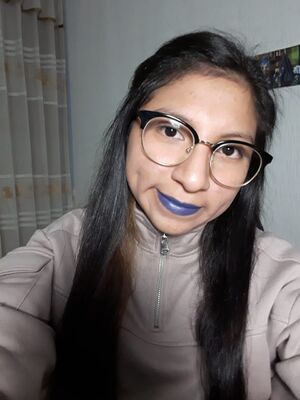 Name

Nadia Odaliz Chamana Chura

School (Cohort)

Universidad de Ingenieria & Tecnologia (2021 cohort)

Majoring in

Bioengineering

Country

Peru

Email
Bio
My name is Nadia Chamana. I am an undergraduate student of Bioengineering at Universidad de Ingeniería y Tecnología (UTEC) in Peru. Some people use to call me crazy scientific, because my mind do not have limits when something is related to science. Two of my main qualities is being persistent and daring, which allows me to introduce innovation in each project I carry out and continue it until I achieve the desired objective.
I think I've been through a lot of experiences to be able to safely share this phrase: "Try it, even though many people tell you no".
During my first three years of university, I fall in love with biotechnology and found very interested in social impact projects with different STEAM areas. For that reason I entered to BioUTEC, an student organization that seeks to democratize science in Peru and the world. There, I also discovered the motivation about working for others and the first steps to get involved in projects with social objectives and related to scientific difussion. Furtheremore, based on that shared knowledge, now I am the leader of iGEM MikuyTec. This is one team participating in the international iGEM Design League competition for develop the synthetic biology area and revolutionize agro-export in Peru.
The last year, I also was envolved in different non-profit initiatives like:
Open Insulin Foundation as a volunteer in the business team.
Journal Club UTEC for promote discussion of articles about genetic therapy.
Q'omer Kallpa as an STEAM educator for children with less.
One of my hidden talents is dancing. I think that one of the best ways to know the peruvian culture is through this. I learned different ancestral dances from the smallest communities of Peru and now I am so proud to show them in other parts of the world.
Achievements
Leader of iGEM MikuyTec (2021 - present)
Leader of Synthetic Biology Committee in BioUTEC (2020 - present)
UTEC Full-ride Scholarship holder (2018 - present)
Social media profiles
---
---