Fellow:Rubith Nayeli Correa Julca
Jump to navigation
Jump to search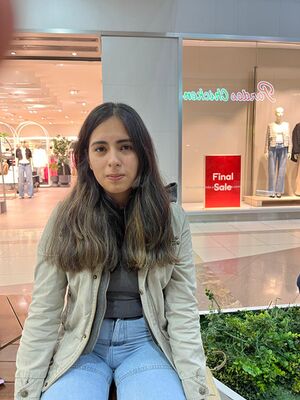 Name

Rubith Nayeli Correa Julca

School (Cohort)

Universidad de Ingenieria & Tecnologia (2023 cohort)

Majoring in

Ingeniería Civil

Country

Perú

Email
Bio
Rubith is a civil engineering student at UTEC. During her high school years, she was actively engaged in numerous volunteer activities. These included providing assistance at nursing homes and participating in initiatives focused on cleaning beaches. Through these experiences, Rubith gained a profound understanding of the significance of community involvement and contribution to its advancement.
With these principles in mind, after completing her first semester at UTEC, Rubith took part in a workshop centered around training educators to utilize interactive software effectively. This was intended to enhance the teaching methods employed by elementary schools within a blended learning environment. She recognized that the impact of volunteer work extended beyond its apparent simplicity, especially in providing valuable support to people. The chance to facilitate improved learning for local children, particularly during the challenges posed by the pandemic, brought Rubith a sense of fulfillment.
In her third semester, Rubith undertook participation in a Mentor Peer Programme. The program was designed to aid first-semester students in adapting to their new academic environment. Here, she assumed the role of guiding a group of five students, assisting them in navigating the organizational and developmental aspects of their courses. The experience was rewarding as she observed the transformation of initially apprehensive students into motivated learners, poised to excel in their university journey.
Furthermore, during her fourth semester, Rubith assumed the position of President of the Materials Committee within ASTM UTEC (American Society for Testing and Materials). In this capacity, she led the committee's efforts and orchestrated a series of events focused on "Biomaterials," "Ceramics," and "Additive Manufacturing" for the UTEC community. Her leadership skills flourished as she guided her team through various tasks and responsibilities. Rubith's dedication and competence led to her being appointed as the President of ASTM UTEC after a year of service. At present, having fulfilled this role, she has gained valuable insights into leadership dynamics, the virtues of patience, and the art of motivation.
Contact her about
Talk about different cultures and traditions, especially if you want to know more about Peru.
Share information about civil engineering.
Enviromental volunteering or childcare volunteering.
Business and entrepreneurships project.
Generate spaces about leadership and mental health.
Exchange information about cement, construction and project planning.
If you want to talk about pets :D
Interesting facts about Rubith
She during her life has belonged to different cities with different cultures. I was born in Bellavista (jungle), after 5 years she moved to the north of her country. Now she lives on the coast (Peru's capital). She enjoys having a bit of each culture.
She likes to cook typical Peruvian dishes (like ceviche or lomo saltado)
She used to practice soccer when she was a teenager. (But I still love it)
One of her biggest dreams is traveling around the world and knowing different cultures.
I like to have culture shocks, where I can learn from others.
Achievements
President of ASTM UTEC (2023)
President of Materials committee - ASTM UTEC (2022)
College Scholarship Recipient (2020) PRONABEC
High School Scholarship Recipient (2017) COAR- LA LIBERTAD
Social media profiles
email 1: rubithnayeli@gmail.com
email 2: rubith.correa@utec.edu.pe
---
---