Fellow:Mirella Rivas Pelizzoli
Jump to navigation
Jump to search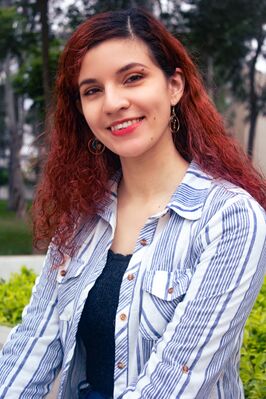 Name

Mirella Rivas Pelizzoli

School (Cohort)

Universidad de Ingenieria & Tecnologia (2020 cohort)

Majoring in

Electronic Engineering

Country

Peru

Email
Bio
Hi! My name is Mirella (or "Mire" for short) and I am an Electronic Engineering junior student at Universidad de Ingeniería y Tecnología (UTEC) in Peru. My motto in life? : "Whatever you decide to do, make sure it makes you happy"- Paulo Coelho.
This is why I decided to study my major and add some of my passion into it: creativity and teaching. Ever since I was little, I had been interested in the Robotics field, and as I grew up, education and mental health became other interests in my life.
One of the things I am most passionate about is education, and in a special way, to get students to reach their full potential. At UTEC, I have given tutoring and lab lessons in the course of Thermodynamics for a year and a half. This has helped me being aware of my peers different learning abilities and their struggles to learn. Now, I am working on different ways to strengthen their potential and help more students with different courses. In another hand, given that I am interested in robotics (as my minor) and also in mental health, I had been leading a team since late 2018 where we had been developing a robot named A.R.C.A, that will contribute to improve elderly mental health by making them feel accompanied at home, helping reduce their depression rate.
I can describe myself as an empathetic, curious and creative person. When you can't find me working on robotics related projects at UTEC or giving tutoring, you may find me playing guitar covers of my favourite artists, baking with my mom or sister , reading books or watching Figure Skating competitions (big fan). Since there is no ice skating rinks in Peru, I am determined to learn how to rollerskate sometime soon.
You can contact me about
Anything! I am really open to any topic to talk and discuss about. These are some of my favorites:
How to relate I&E to your life and major.
Creating spaces (virtual and onsite) to feel free to design.
Creating workshops for students to learn and apply design thinking.
Testing and Iterating prototypes and ideas!
Tips for teaching and tutoring in engineering.
Teamwork and team building
Sports! I really like following figure skating, gymnastics, curling, soccer, etc.
Music! If you want a playlist for any occasion, talk about how music heals your soul or share something about it, I am here for it!
Robotics, Computer Vision and tech!

Achievements
One of my current part-time jobs is giving tutoring lessons to my peers about different topics of engineering. I am able to do this because of previous experience in being a Teaching Assistant in the Thermodynamics course at UTEC, where I fulfilled part of my dream of teaching, when helping ang guiding students. Also, I am part of the Peer Mentoring Team at UTEC that helps to guide students through their first semester of studies and adapt to the university environment. Another thing I have been doing for the past years is collaborating as an assistant in my family's entrepreneurship: RAP-01, which is an Aviation Magazine produced and distributed freely in Peru with the purpose of promoting the aviation industry.
As for my activities as an electronic engineering student, in my first year I participated with my fellow teammates at a University competition "Buscamos Complices UTEC" where we achieved to be the finalist team with our project UV-Band (UV detecting bracelet) at 2017 [1]. The following year, I participated at Global Startup Labs held at UTEC where our team pitched our product and became part of the finalist teams at the Global Startup Labs Demoday 2018. Finally at 2019, we participated and became the winning team at DemoDay UTEC with our robot A.R.C.A [2].
Apart from these achievements, I am a member of Mechatronics Open Day-UTEC support team, where we help and design activities or workshops for prospective students [3] .
Last but no least, I have obtained a UTEC partial scholarship due to outstanding academic performance.
Achievements as University Innovation Fellow (2020 Cohort)
I was trained as a fellow in Fall 2020 and during this time I had been involved in creating projects for my university. Our Cohort main projects were centered in 3 sections when we started:
One them is Saphi which is a winter-break program for our university students where we teach the basics of Innovation and Entrepreneurship (I&E) in Engineering and Technology majors. A smaller version of Saphi is UIWeek which is a 3-day summit imparted during summer-break where students learn how to undertake in their life: major wise, personal wise and degree/major wise. A recent version of this project has been made in March 2022.
On the other hand the second project we have been working on is in creating "La Innovadora", a.k.a Design Lab, a virtual space where students can find all the tools they need to have an ideal environment for ideation and creativity in the virtual era.
Our third projects is called "Introduction to Technology Transfer" where students were able to gain knowledge in 4 sessions on how to transfer the technology created in class to the outside world.
All of these projects are part of our UIF Path and we are still working on some of them through new versions since our university is back to face-to-face and hybrid mode (virtual and onsite).
After becoming a fellow, I was able to attend the Silicon Valley Meetup in 2022 where I learned amazing things from the workshops, fabs, the UIF Team and from fellows around the globe. This experience had a big impact in me and my team, and now, with Fellows from different cohorts in UTEC we are aiming to do new projects as well as sharing experiences that can help fellows and faculties. More about our university's UIFellow projects and activities and be found here [4].
Fun facts about me
I love playing the guitar and make some covers of songs (even though I almost never publish them).
Dog lover! Even though I don't have a pet, whenever I visit family or friends I love spending time with them as well as with their pets.
I would like to know more about life and cultures in different places in the world.
Teaching became a essential part of my life, and whenever I can I love to help others offering tutoring and engineering classes.
One of my dreams is to be able to learn figure skating basics, since I really love that sport but there is not any ice rinks in Lima so far.
Contact info
Cellphone: +51 998783493
Email: mirellarivas99@gmail.com
Social media profiles
Universidad de Ingeniería y Tecnología (UTEC)
Past Cohorts:
2021 Fall Cohort
2020 Fall Cohort
2018 Fall Cohort
---
---