Fellow:Mirella Rivas Pelizzoli
Jump to navigation
Jump to search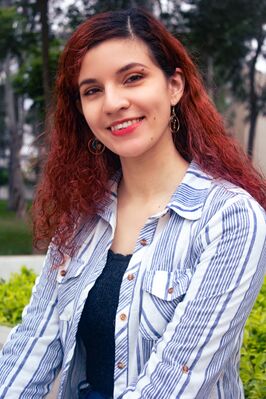 Name

Mirella Rivas Pelizzoli

School (Cohort)

Universidad de Ingenieria & Tecnologia (2020 cohort)

Majoring in

Electronic Engineering

Country

Peru

Email
Bio
Hi! My name is Mirella (or "Mire" for short) and I am an Electronic Engineering junior student at Universidad de Ingeniería y Tecnología (UTEC) in Peru. My motto in life? : "Whatever you decide to do, make sure it makes you happy"- Paulo Coelho.
This is why I decided to study my major and add some of my passion into it: creativity and teaching. Ever since I was little, I had been interested in the Robotics field, and as I grew up, education and mental health became other interests in my life.
One of the things I am most passionate about is education, and in a special way, to get students to reach their full potential. At UTEC, I give tutoring and lab lessons in the course of Thermodynamics. This has helped me being aware of my peers different learning abilities and their struggles to learn. Now, I am working on different ways to strengthen their potential. In another hand, given that I am interested in robotics (as my minor) and also in mental health, I had been leading a team since late 2018 where we had been developing a robot named A.R.C.A, that will contribute to improve elderly mental health by making them feel accompanied at home, helping reduce their depression rate.
I can describe myself as an empathetic, curious and creative person. When you can't find me working on robotics related projects at UTEC or giving tutoring, you may find me playing guitar covers of my favourite artists, baking with my mom or sister , reading books or watching Figure Skating competitions (big fan). Since there is no ice skating rinks in Peru, I am determined to learn how to rollerskate sometime soon.
Achievements
One of my current part-time jobs is being a Teaching Assistant in the course Thermodynamics at UTEC, where I am fullfilling part of my dream of teaching, helping ang guiding students. Another thing I have been doing for the past years is collaborating as an assistant in my family's entrepreneurship: RAP-01, which is an Aviation Magazine produced and distributed freely in Peru with the purpose of promoting the aviation industry.
As for my activities as an electronic engineering student, in my first year I participated with my fellow teammates at a University competition "Buscamos Complices UTEC" where we achieved to be the finalist team with our project UV-Band (UV detecting bracelet) at 2017 [1]. The following year, I participated at Global Startup Labs held at UTEC where our team pitched our product and became part of the finalist teams at the Global Startup Labs Demoday 2018. Finally at 2019, we participated and became the winning team at DemoDay UTEC with our robot A.R.C.A [2].
Apart of this achievements, I am a member of Mechatronics Open Day-UTEC support team, where we help and design activities or workshops for prospective students [3] .
Last but no least, one of my personal achievements has been getting a UTEC partial scholarship due to outstanding academic performance.
Social media profiles
Universidad de Ingeniería y Tecnología (UTEC)
Past Cohorts:
---
---