Fellow:Danae Chipoco Haro
Jump to navigation
Jump to search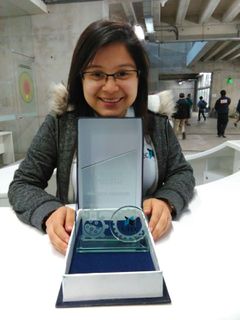 Serving as a UIF Since: Fall, 2016
School: Universidad de Ingeniería y Tecnología (UTEC)
What she does now: Research Assistant at UTEC by day and trying to communicate STEM by night, engaged in I&E all the time.
What that means: Involved in heterogeneous catalysis and nanomaterials research, actively leading initiatives in STEM outreach and organizing events to enhance the I&E ecosystem around her.
Contact her about:
I&E in LatAm region, science outreach, STEM, driving change in STEM education, star wars, marvel or just to say hi :)
Email: danae.chipoco@utec.edu.pe

Danae Chipoco Haro was born in Lima, Peru. She has recently graduated from Energy Engineering at Universidad de Ingeniería y Tecnología (UTEC) and is currently a research assistant at the same university; her research interests include nanomaterials for energy devices and green chemistry. Danae has great social responsibility, skills for facing challenges and affinity for working in different intercultural and interdisciplinary groups. She speaks Spanish as first language, English, German and a little bit of Quechua (native language from Peru).
During her undergraduate studies she participated in multiple engineering projects and research internships abroad. One of the main projects she was involved in was the evaluation of the use of recycled snack bags in Scheffler reflectors for solar cookers in Andean regions. With this project, she won the internal project fair "Vivir la Ingeniería" UTEC 2015-2 in the category of development/product, and the third place in the Expo Energy Efficiency Award of Led Expo Peru in 2016. Through Research Experience for Peruvian Undergraduates (REPU) Program she was able to work on heterogenous catalysis for CO oxidation at Ruhr Universität Bochum in Germany. Later on, she won the Emerging Leaders in the Americas Program (ELAP) Scholarship, through which she did a fourth-month internship at University of Alberta, where she worked in metamaterials for biomedical applications. She worked on silver-based catalysts for cathodes of flexible metal-air batteries for her bachelor's thesis. This experiences have though her many lessons, among them two stand up: (i) working with people from different academic and cultural backgrounds enrich the results of a teamwork and (ii) to listen, for you can learn anything from everyone.
Danae is characterized by a passionate dedication to the development of STEM training and outreach in her country, as well as adaptation of technology to enhanced the life of native communities in Peru and the region. This is reflected on the organizations she has been part of. In 2016, she was chairman of the Student Branch IEEE-UTEC, where she and the board of directors of IEEE-UTEC worked on diverse activities, giving the student chapter Power and Energy Society the first place in Exit Case Award in the region. For three years, she was a board member of the volunteering "Pan para mi Hermano", a volunteer program which gave food and essentials for low-income people in Lima. During her undergraduate studies, she helped in the organization of many I&E workshops in and outside UTEC. Among them, she organized along with the NGO "Cruz Blanca" and a student organization a volunteer work to build and further re-design improved stoves. She delivered an Ignite Talk at the Latin American Regional Meeting (LOOP) in Uruguay and organized the Unconference session at TECHSUYO, a conference that gathers Peruvian professionals in the field of innovation and technology. Nowadays, she is working with other fellows in a program called "The Way", that creates opportunities for junior and senior students to design their professional future and find a vocation based on the book "Designing Your Life" by Bill Burnett & Dave Evans. Moreover, they are working on individual workshops for freshmen and sophomore students to help them in the design of their career paths within the university and their major.
In the other hand, she has been involved in STEM initiatives and has served as mentor for freshman at UTEC. She is currently leading the REPU Communication Team and the admissions committee at nanoREPU for future Peruvian STEM undergraduates to have research internships opportunities abroad in nanotechnology, and exploring new branches that attends the needs of nowadays professionals in Peru. During the Peruvian lockdown due to COVID-19, she and a group of friends created "Ciencia Papaya", a YouTube channel that gave Peruvian and Latino-Americans scientists a space to explain their work on simple words and in a fun way to inspire young students interested in pursuing STEM fields.
She is looking forward to applying to grad-school in materials science and engineering to work on the development of nanomaterials for energy devices and help in the appropriation of different technologies by low-income communities. Meanwhile, she will continue to work on the development of STEM and I&E in her region.
- RELATED LINKS - 
-
Universidad de Ingeniería & Tecnología (UTEC)
-
University Innovation Fellows
Spring 2016 (September - October):
---
---
---