Fellow:Macarena Oyague Santolalla
Jump to navigation
Jump to search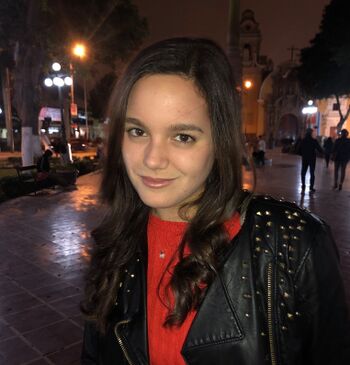 Name

Macarena Oyague Santolalla

School (Cohort)

Universidad de Ingenieria & Tecnologia (2021 cohort)

Majoring in

Computer Science

Country

Perú

Email
Bio
Macarena is a Computer Science student at Universidad de Ingeniería y Tecnología, currently in the 5th year. She started studying Engineering, but she fell in love with coding during the first year's introductory courses. Although she really liked what she would be capable of doing studying CS, she thought it was a major for more intelligent people. That is the reason why she explore a little more doing extracurricular and interdisciplinary activities, in order to meet new people and learn about their experiences. Doing so, got a realization that she was all the time around a computational way of thinking to solve problems, and also around software systems to help with that. She changed her major to CS at the 3rd year and she is happy with the decision.
She is optimistic person and she is always with a smile in her face trying to help every person that crosses paths with her. It began when she realized that, although some people had hurt your confidence, there will be someone who can help you to get it back and trust in yourself. She fell lucky because she learned from amazing people from her university different points of view to create her own. She admires how this people lead and wants to help people gain their confidence in the positive way that she could do it, learning that each idea is important to create a final solution and to consider each point of view, despite it doesn't match whit her own..
Since the beginning of her journey, Macarena has been enjoying every meeting with new faces to learn something about them. Her career interests are related to algorithms and data structures, but she also has a strong passion for how maths can impact in an artistic good design.
Activities
Macarena has done different extracurricular activities around social work, science and innovation. If you need help with something similar or you want to have a conversation about any of them, she will be there for you, you only need to send a message!
2nd year
Academic mentor of Math
Teacher Assistant in the area of Science
3rd year
AIESEC member: in the area of Incoming Global Volunteers
SpinOut member: attended to design thinking workshops and a workshop of innovation methodologies
Teacher Assistant in the course Innovation and Development of Products
Global Volunteer in Blumenau, Brasil with AIESEC: teacher of environmental awareness workshops
Member of the TEDxUTEC team
4th year
Peer mentor: give advice to freshmen students
Student council member
5th year
IncUVa: incubation summer program of UTEC Ventures to learn to develop a startup
IEEE Computer Society member and vice chair of UTEC
Social media profiles
---
---