Fellow:Diego Muñoz
Jump to navigation
Jump to search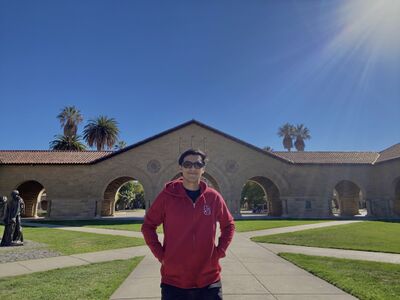 School: UTEC Universidad de Ingeniería y Tecnología
What he does now: Synthetic Biology research at UTEC, Biotechnology founder and spreading science in k12 education
What that means: Involved in building new products with biology that make the world more sustainable. Passionate about development k12 education in the Latin region, especially in biotechnology and design skills.

Contact him about: Biotechnology, sustainability, STEAM, k12 education, wellness and mental health, star wars or just to say hello!
Email: diego.munoz@utec.edu.pe
Phone: (+51) 955772396

Diego Muñoz Neira is a Electronic Engineering Technology at TECSUP Institute from Lima, Perú. And a senior Bioengineering student at UTEC Universidad de Ingeniería y Tecnología.

During his first year as an undergraduate student, Diego participated in multiple engineering projects focused on social impact. One of the first project called "The Solar Kitchen". With this project, he won the project fair "Vivir la Ingeniería" UTEC 2015-2 in the category of development andproduct, and the third place in the Expo Energy Efficiency Award of Led Expo Peru in 2016. He also worked on a Radiant Wall to Andean Houses which was presented in Congress of Bioclimatic Architecture and Renewable Energies CABER 2016. During 2016, he was elected vice-president at the Institute of Electrical and Electronics Engineers UTEC. During this time, the branch won the Sustainable Growth prize.

Diego was trained as a University Innovation Fellow in Fall 2018, and attended the Silicon Valley meetup in March 2018. As a Fellow, he focused his work on the well-being and mental health. That is why he founded UTEC Puppy Lab, an organization that promotes mental health through canine interaction. In 2018 he was invited to give an Ignite at LOOP, also, he was part of the Bootcamp of the event where along with an interdisciplinary group worked on a solution for villagers living by the train rail. The solution was chosen as the best in its category.

In 2018, he participated in IDDS International Development Design Summit in Colombia, initiative created by MIT D-Lab to co-design low-cost solutions to challenges faced by people living in poverty around the world. That same year, he was a finalist in the Disrupton Amazonia contest at UTEC, where he built a prototype of mobile laboratory to collect plastic from the Amazon River and transform it into useful products. The last year, Diego was selected to participate in IAP-MIT Design Technologies for Coffee Production in Colombia. They designed new technologies for agriculture with a team of students from Harvard and MIT and coffee growers.

In 2019, Diego was certified as Trainer of Trainers CCB in Brasilia dictated by Amy Smith (Founding Director of MIT D-Lab). Also, he lead a STEAM educational project for children where he promote creativity and innovation.

In 2021, he started The Way to createopportunities for students to design their professional future and find a vocation inspired in the Dessign Thinking principles. He was working on workshops for freshmen and sophomore students to help them in the design of their career paths andand discover the opportunities offered by the university.

Diego is currently starting a biotech startup to develop new sustainable materials based on fungal mycelium. He was the honor to selected among the 100 young leaders in Biotechnology in Latin America by Allbiotech and Fellow at Global Community Biosummit.
---
---
---