Fellow:Camila Cornejo Moreno
Jump to navigation
Jump to search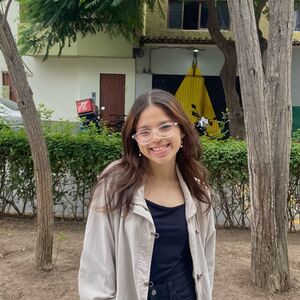 Name

Camila Cornejo Moreno

School (Cohort)

Universidad de Ingenieria & Tecnologia (2023 cohort)

Majoring in

Environmental Engineering

Country

Peru

Email
Bio
Camila Cornejo stands out as a fourth-year student in the Environmental Engineering program at the University of Engineering and Technology in Lima, Peru. Since her school days, she has harbored a strong commitment to building a better future. Influenced by her victories in various debate competitions, she has steered herself towards the idea of making a difference from her position and becoming a change agent.Throughout her primary and secondary education, she remained active in the sports area as a swimmer, cultivating discipline and perseverance. Besides her dedication to swimming, she also greatly enjoys reading, with "The Diary of Anne Frank" standing out as her favorite book. She relishes culinary exploration, especially when it comes to seafood dishes from her country (she loves Ceviche so much).

In her first year at the university, she actively participated in events and organizations related to startups and financial education in 2020. Additionally, she dedicated herself to volunteering activities focused on providing educational support to children with limited access to resources, offering guidance in science and humanities. Camila considers active knowledge sharing crucial, recognizing the mutual benefits it entails. Thus, in 2021, she founded and led the UTEC Debate Society, which offered diverse workshops and discussion forums in collaboration with public institutions like the Municipality of Lima. This dedication culminated in a notable victory at the Latam MUN 2021, where the society was recognized as the best large delegation, and Camila received a personal honorable mention.

Furthermore, Camila demonstrated her interest in enriching her university experience by being elected as the spokesperson for the Science department in 2022. During this period, she worked to enhance the quality and educational experience of courses within her field of focus, enabling her fellow students to make the most of their studies. In the academic realm, her passion lies in topics related to the environment, particularly in relation to water as a vital resource. In alignment with this interest, she is an active member of WER Science (Water and Environmental Research), where she is leading a project aimed at mitigating environmental disasters in the marine environment.

Up to this point, Camila is pleasantly satisfied with the contributions she has made to her alma mater. Her determination is to maintain and expand this impact, both within her university and in other spheres, by sharing her experiences and knowledge to continue driving her own development and that of those around her.
Contact her about
Any kind of project in which the environmental side is present.
Share information about environmentan engineering, education or startups.
Childcare and education volunteering.
Business and entrepreneurships projects.
Create spaces about soft skills and mental health.
Have fun and talk about Marvel, pets, outfits and makeup <3
Achievements
President of WER Science (2023)
Science Spokesperson (2022)
President of UTEC Debate Society (2021)
Honorable mention Latam MUN (2021)
Young congresist simulation at Congreso de la República del Perú (2021)
Social media profiles
Main email: camila.cornejo@utec.edu.pe
Personal email: camila.cornejo.xm@gmail.com
---
---