Priorities:Vasireddy Venkatadri Institute of Technology Student Priorities
Jump to navigation
Jump to search
Overview
FALL 2022 COHORT
Our Student Priorities are shown below:
Foreign Language Club
Campus Shark Tank
Reverse Engineering
VVIT ECOSYS
Reborn
Priority 1: Foreign Language Club
Our main objective is to introduce foreign language classes in our college. Because of technological advancements, students now have multiple opportunities to study and work all around the world and meet people from other cultures and countries. As diversity in workplaces becomes increasingly important, it is critical for one to learn a foreign language in addition to their mother tongue.
How are we going to do this?
First, we introduce them to the language that most students preferred.
We must bring a resource person who is fluent in that language.
Students should be consistent for classes until the end to graduate, so attendance should be maintained strictly.
How will students get benefitted?
Becoming an added bonus, it simplifies their journey while pursuing their higher education.
Students will be more confident while attending International seminars.
This would allow students to communicate confidently with global community and build strong interpersonal development skills.
As the demand for them increases, value of their CV's will be drastically increased.
Priority 2 : Campus Shark Tank
Inspired by the television reality show Shark Tank, where entrepreneurs make business presentations to a panel of investors or called "sharks", who decide whether to invest in their companies or not. The Campus Shark Tank is similar to this, where as here students pitch their business ideas and prototype presentations to the potential investors(sharks). The sharks are the judges of the show who are willing to invest by acquiring shares in the startup's which they believe become success and mentor them. From watching the pitches given by students, sharks decide whether to fund their idea or not.
Why Campus Shark Tank?
Students have remarkable business ideas that could change the world forever in ways we never imagined but don't come out into the world because of the lack of resources and support. As the main motto of UIF 'students can change the world, we are planning to provide a platform where students will have an incubation centre kind of atmosphere where they will be provided with expert guidance, support and the soul of the event 'Investment in ideas.
How are we going to do this?
We invite the students with business ideas.
Students that have already participated in Design Thinking workshops such as Idea-thons, Smart-o-thons will also be invited to participate.
The finalized idea would be evaluated by the team, and they would then receive a reward.
The college administration will take this into consideration and will explore all available platforms for funding the student prototypes.
They will be provided with resources and expert guidance from Entrepreneurs.
They will be having several workshops on different concepts such as Design Thinking, Business Modeling, Marketing, Logistics, etc,.
They will be provided assistance, in investments and funding, to help them improve their concept.
How will students get benefitted?
They receive appropriate guidance on how to proceed with a startup.
They have a really solid foundation for their start-up concept if they persevere all the way to the end.
Their great ideas may be transformed into a magnificent company, making those young students' dreams come true.
Job opportunities for our own college students can be increased by recruiting them in these startups.
They will be having a platform to bring out their idea into the world.
Priority 3: Reverse Engineering
It is kind of an approach in which one seeks to comprehend a gadget, website, app, software, machine, or anything else by deductive methods such as what it does, how it works, what components are used in the product's construction, and so on. It is useful for learning, comprehension, and also to improve the product.
How are we going to do this?
Students in class will be split up into several groups, where one group contains three students.
Each Group will select a unique project and reverse engineers it.
After completion of the process the group will develop a document of their learning and approach.
At last they need to submit what they did, what they learned in the whole process.
How will Students get Benefitted?
They get a good idea about how to start a project and how to proceed.
By using Reverse engineering they can easily understand the mechanism and working of an object/product.
By analyzing all the codes/mechanisms after doing reverse engineering they can even do some advancements.
Priority 4: VVIT ECOSYS
VVIT ECOSYS is a waste management and recycling process within college. The main motto of this priority is to make litter free campus and to bring awareness among the students on waste management. This is a long run project.
How are we going to do this?
Collection of plastic waste.
Segregation of plastic based on its types.
Recycling the collected plastic and molding the recycled plastic into desired forms .
Bringing awareness for students on waste management .
Decrease in cost spent by the college on buying teaching amenities like dusters, other plastic amenities.
How will college get benefitted?
Litter free college environment makes the college environment beautiful.
Because of such an environment, students will be able build up their concentration levels and have a healthy mindset.
Proper waste management techniques can decrease pollution.
Here we are reusing the waste by moulding and some other processes into useful goods for the college, so that the budget spent by college on buying them decreases.
Priority 5: Reborn
Reborn is about reintroducing selected number of previous fellows priorities that were started but were shelved due to some reasons. We choose to relaunch few projects which we thought will make good impact on the college. The previous priorities which we took are below:
Discussion Forums
Peer Teaching Hour
Clubs
i) Animation club
ii) Social Awareness and Political club
How are we going to do this?
Discussion Forums: Unlike the previous version, this one will include both technical and non-technical concepts. It will be conducted twice a month where a community will be formed to discuss in their interested topics.
Peer Teaching: One person instructs the topic in the group while other peers learn, and at the conclusion, a random group will be chosen and requested to present their topic to others. This unique approach to peer teaching allows students to discuss the issue first among themselves before presenting what they've learned to other groups.
Clubs: We create different strategic plans for each of the clubs and carry them out over the course.
How will students get benefitted?
Improves communication skills among students.
Students can get general knowledge and some technical skills.
They learn something new other than their studies.
Establishes an environment where students can learn in small groups and learn how to work as a team.
Increases the understanding of course content.
FALL 2021 COHORT
Our student priorities are shown below:
Tech Discussion Forums
Campus Quora
Clubs
VVIT Alumni Connect
Priority 1: Tech Discussion Forums
Technology has taken a tremendous role in our day to day life. We all are in a generation where everything is dependent on technology. Right from the ringing of the morning alarm to switching off the fan, everything runs behind the technology. So, to keep ourselves updated with the current technologies we have an idea of introducing Tech Discussion Forums where the purpose of a forum is to engage different groups of the same space together so they discuss some topic or give their opinion about the discussion going on.
How are we going to do it?
A meet-up is conducted once a week where all the interested students from all the departments are allowed to participate.

A group of students or a faculty member from various departments can come together and present anything that they are interested in.     

Faculty can help students by giving more inputs and resources to understand more about technology.

The presentations may include:

Latest trends in technologies.

Advancements in already existing technologies.

Effects of introducing technologies.

About the research that they are doing.

How to use technologies effectively and many more.
How will students get benefitted?
Improves communication skills among students.

Understanding the culture in other departments.

Building a network on campus.

Being updated with technology.
Priority 2: Campus Quora
We want to provide an open house platform to clear all the doubts regarding the campus ecosystem, infrastructure, academics, campus facilities and any other doubts regarding campus life. This allows anyone to post queries related to campus and the students or the faculty members will only have the access to answer the queries. This helps anyone to get their doubt clarified as fast as possible.
How are we going to do it?
We have decided to create a webpage which is open to everyone, where one can post their queries and the posted queries can be answered by any of the students or faculty members.

Both the query posted and the solution will be available for everyone to see

This website will also have a feature to post the campus newsletters, magazines and any other updates related to college.
How it helps?
It saves a lot of time.

Queries can easily be answered.

It acts as a medium for anyone to interact with college faculty or management.

Acts as a hub for knowledge sharing related to campus.
Priority 3: Clubs
From this year, as UIF candidates we want to start conducting club days for each club once a year where the student has a platform to showcase his/her talent which they improved throughout the year. We also encourage and provide the necessary support to the students for taking the top certification exams in their respective interests so that it can help them to get a job in their interested field.
In the pandemic, the college could not provide efficient space to conduct clubs every week. Adding on to club days each year, we also devised a plan to implement online clubs if the teaching method moves to an online platform again.
What we do on club days?
Conduct competitions.

Provide certificates and prizes.

Invite notable people in the specific field.

Provide stage to perform their talent.

Give inspiration to other students to participate as well.
How are we going to conduct online clubs?
We will be using the regular online platform that our college uses.

Every club will have a resource person along with 2 faculty members and 2 student coordinators.

During the session, the resource person will be teaching the lesson related to the particular club whereas all the attendees will be doing the things as instructed by the resource person.

Coordinators will be monitoring the entire session.

Weekly assignments are also given to the students. The assignments given are evaluated and feedback is sent to the respective students.
Priority 4: VVIT Alumni Connect
The website we are going to create is a communicable website in which only students of our college will have the access of logging in to the website and updating their current status and all the other members will only have access to visit the website. This helps students to interact with passed-out students of our college. In order to be more specific, this website helps the students to get solved any queries related to their careers. They are given space to interact with their respective field seniors. Since the graduates are aware of outside job opportunities they can also give suggestions to students who are currently studying at our college. It will also have the number of students present at the different locations.
How are we going to benefit?
Associated with raising funding

Job Opportunities

Internships

Business deals

Scholarships

Skill development center's

Career Assistance
FALL 2019 COHORT
Our student priorities are shown below:
Hands-on Learning
UNSCRAP
Clubs
Peer Teaching
CapGen
Priority 1: Hands-On Learning
How are we going to do it?
Initially we want to plan it as a pilot project.
We are planning it as a workshop/ interactive session, twice a month.

Our tentative schedule is to conduct it on a day in a week and continue it on alternative weeks.     

We will use resource persons who are specialised in the know-how of the hardware( computers, laptops, phones, etc).

Initially, we will create a registration link in our online school platform, namely, Byndr.

We will bring awareness among students by using our network of student bodies OR We will use faculty in promoting awareness as that might bring the desired outcome.
What exactly are the students going to learn?
Our motive is to make the students self reliant in terms of repairing and managing their electronic gadgets like phone, laptop, computer. Initially we will focus on the following general problems:
Abnormal Screen blank

Windows won't boot

Slow performance of computer

Strange noises

Hard drive failure

Overheating
Then we will extend it to other dimensions.
The Next Level
We will conduct a session for the registered students. Depending upon the number of students we will use the relevant number of resource persons.

We will conduct a follow up session to the same students, who were registered in the first session. 

The students who grasped well during these sessions, will be used as an instructor for the upcoming session under the guidance of a resource person.

In this way, we envision a network of students who will continue this learning process.

At present, we have focussed on hardware training, depending upon this outcome we will extend it to other dimensions of hands-on learning too.
Priority 2:UNSCRAP
How are we going to do this?
The main idea is to assign students with restoring gadgets/ scrap devices as intra-branch projects and restore them to maximum potential. Methods to promote include:
-> Inter-branch projects-> Foundational Skills of Hardware
-> Real world exposure-> Summer Camps & Classes
-> Faculty Guidance-> Freshmen - Hardware Training
-> Hackathons-> Sophomores & Juniors - R&D
-> Project Expo's-> Seniors - Megaprojects & Start-ups
-> Garage Experience Sessions
Priority 3: Clubs
How clubs are going to be made more productive?
Providing Certifications to Club Members

Extending timings to twice a week (Wednesdays and Fridays)

Making membership at clubs permanent at least for the course of a semester each, and assign grades to club participation.

Better resource persons and lesson planning.

Club resource needs (materialistic) must be met.

Organising Summer Camps for Clubs

Fridays could be for lessons at respective clubs, and Wednesdays a repeat of more popular clubs and practice sessions.

Inter & Intra-College Competitions shall be encouraged and held more often.
Priority 4: Peer Teaching
How are we going to bring change?
No other classes during this time.

Assigning THEMES for each day and making the students to speak on said themes.

Differed themes based on year of study, department and other aspects.

The decision of themes chosen will be taken by a special team of five members consisting of both faculty and students.

Assigning a teacher to each class and making sure the program runs successfully.

To make students participate actively by motivating and assigning grades to them.

Appreciating best speakers of each class with titles.
Priority 5: CapGen
The resources required for the prototype are:
 Setting up a CapGen team in the college to organize this event.

They look after all the affairs and financial aspects of the CapGen events.

The CapGen team is selected systematically under the expert guidance of the faculty.
The vision of our prototype
Set up a yearly fair where all the students can expose their hidden talents in all possible ways and make money through it OR The school fest can be used for this purpose.

Selling away what's unnecessary and unused at college or home and sell them to someone who's in a great need of that.

 Gather all the student bodies at college and make effective utilization of human and other resources at a time.

Make all the students to convert their talent into a product and make money through it.
Platforms utilised in the CapGen Event
Photo booth for friends and family which is the present craze around.

Fundraising through alumni.

Food community game. By selling food made by students in the college.

Selling and buying game .

Converting a scrap into a new product.
FALL 2018 and 2017 COHORT
University Innovation Fellows Spring 2017 Pitch Video
Strategy 1: Peer teaching sessions
This idea is all about creating a beautiful platform for the students to enlighten and bring out the innovative thinking ability in them, and at the same time to effectively express their idea. We believe that peer Teaching is the best way to make this happen. We already have peer teaching classes going on in our daily classroom schedule. But the activities are not being executed in the way they are to be done. This might be due to the fact that students have an unnerving feel as they think they were forced to participate in the activities which might seem boring to them. So, changing the way these activities happen inside a classroom that students might be interested in, can help them grab opportunity to work in a team and learn something that would improve their knowledge.
How PT can be interesting:
Instead of faculty, students from senior classes may be designated to lead the classes

Maximum strength of each peer teaching session must be limited to 20.

At initial stages, group discussion with 4–5 students each group may be experimented. This might help them to overcome their fear of public speaking at the initial stages.

To avoid monotony, different activities many planned from session to session.
Possible issues:
As seniors are assigned as mentors to freshmen, they might not mingle in the team.

Availability of senior students who can effectively lead the sessions might be a problem.

Students might not want to participate in a team all of a sudden.
Hope of solving these issues
Faculty members mentor seniors, helping them solve the issues with the freshmen. Seniors to be awarded credits for their commitment to peer teaching sessions. Feedback from the members of a team lead by that senior, may fetch him/her credits. This puts senior students in their path as they help peers to participate in the activities.
I&E ecosystem via PT
Student Collaboration 
In these sessions, students meet their fellows more personally. They talk to each other, and we believe that this is the initial stage of innovative mindset, such ecosystem can be developed across the campus. This helps students to understand the resources on campus.
Grabbing every opportunity
Participating in a team activity develops thought process that helps a student to know what interests him/her. Thus, they come to know what all opportunities they have at the moment. With the help of their team lead or the assigned senior, they can connect to the right way to grab an opportunity.
Connecting to campus resources
By collaborating with seniors and thereby faculty, students will get to know resources that the college has to offer them. Knowing the availability of resources, students will think of using them for their own growth leading to innovation & entrepreneurship.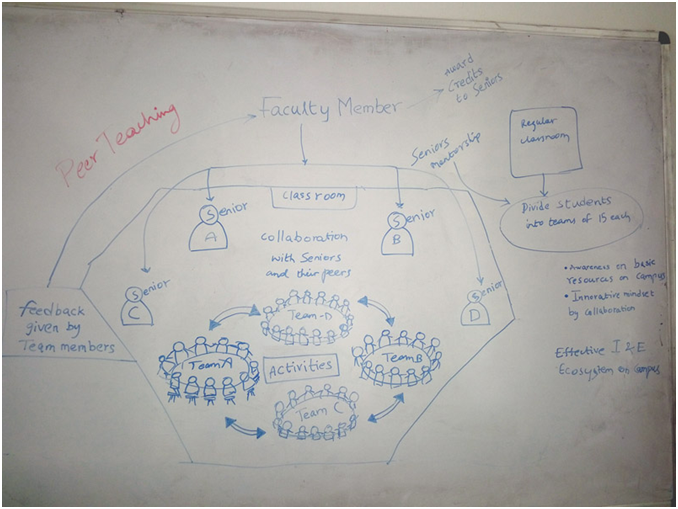 STRATEGY 2 : TECHNOLOGY, ENTERTAINMENT, DESIGN CLUB
A TED-Ed club in the college is a great way to boost the communivation skills, and as well as let students know about the trending technologies. The effect of laughter on someone who's sad. The danger and excitement of dirt biking. The reason human beings need so much sleep. The thought of infinity.
Through TED-Ed Clubs, students — with the help of an adult facilitator — identify and research the ideas that matter to them most. And while TED-Ed Clubs offer students the opportunity to connect with others who, like them, are unabashedly curious about the world, TED-Ed Clubs are also about presentation literacy. TED-Ed Clubs offer students a hands-on opportunity to work on the storytelling and communication skills that will be vital, no matter what career path they end up strolling down.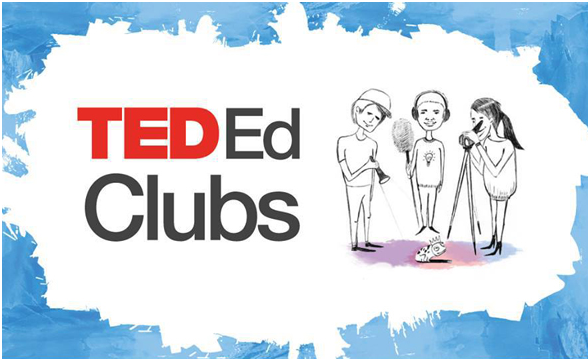 How it works:
In TED-Ed Clubs, students work together to discuss and celebrate creative ideas. Club leaders receive TED-Ed's flexible Clubs curriculum to guide their school's club and to help inspire tomorrow's TED speakers and leaders.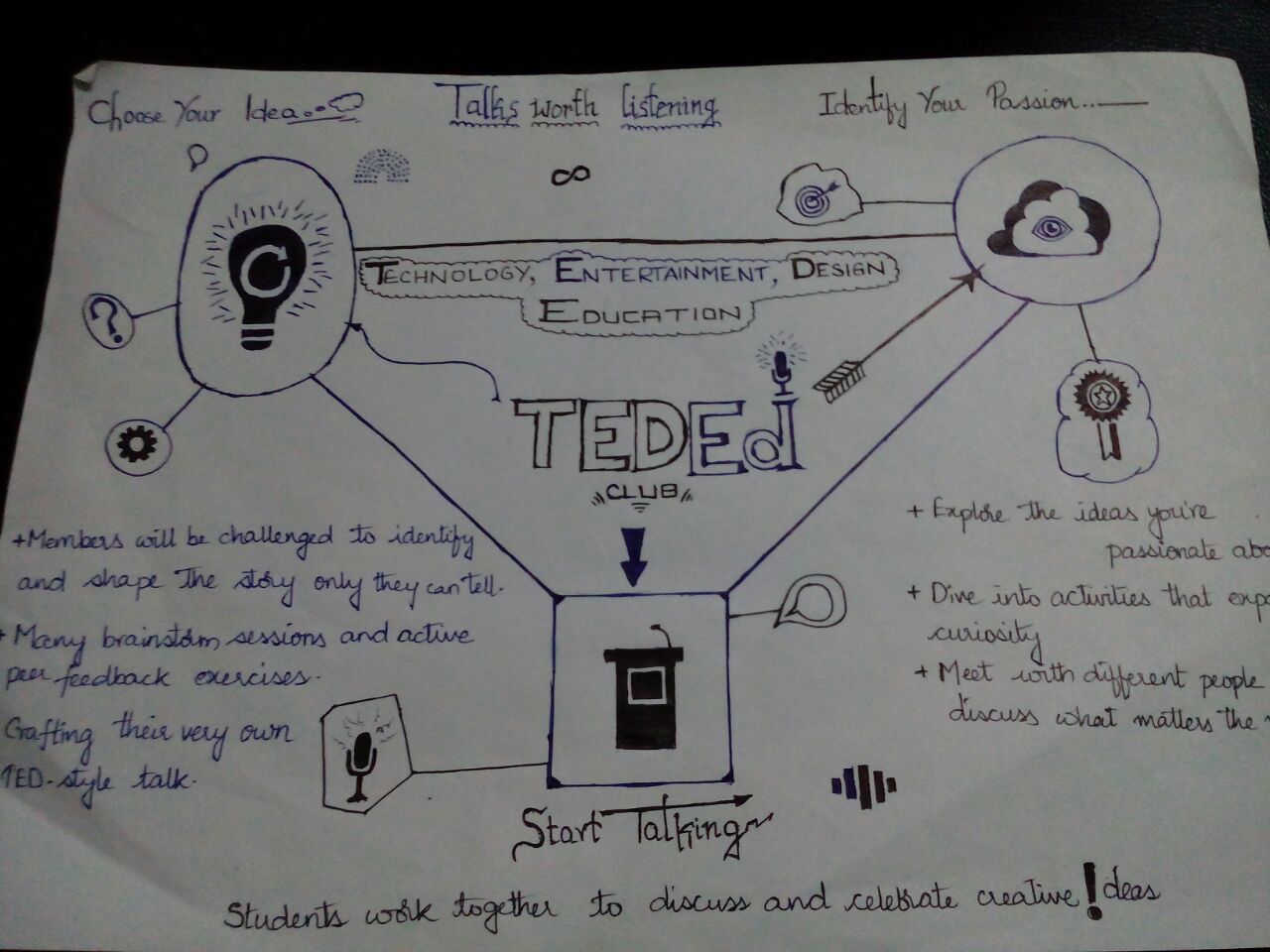 Identify Your Passion: "What makes your heart beat faster?" The first part of the Clubs, curriculum has members explore the ideas they're passionate about. By diving into activities that expand curiosity, club members will identify and discuss what matters most to them.
Choose Your Idea: "What is your big idea?" As members journey through the Clubs curriculum, they'll be challenged to identify and shape the story only they can tell. Through guided brainstorms and active peer feedback exercises, members will craft their very own TED-style talk.
Start Talking:  "How can your idea change the world?" By the end of their club cycle, members will have recorded their very own talk and uploaded it to our TED-Ed Clubs YouTube channel, which can then be shared with their families, friends, communities and the world.
Design Thinking: 
The TED-Ed club is precisely based on design thinking. We are going to recruit members for this club without the seniority in the college. The recruitment process ends with an interview preceded by a psychometric test. Interviewers will be senior UIF fellows. This club concentrates on the strategies of the college education and tries to improve it so that the students will be benefited in learning rather than in spoon-feeding. The members of the Club will help the faculty to nomiate candidates to UIF for the concerned term. This club takes all the ideas and problems, which the institution is not aware of, to the notice of the personnel who could make time and solve the problems and implement the useful ideas. The Club can also help the college administration by helping to formulate different ways to solve problems realted to both academics and infrastructure.
STRATEGY 3: Re-Designing The College Time Table
The main reason behind selecting this problem is to explore the hidden skills of the students by providing them a time to get exposed to different things like sports, extra-curricular clubs, peer teaching session etc. In regular curriculum, students are not having much time to get exposed to those things. So we plan to re-design the time table of my college, and propose it to our administrators for its best implemention.
How our new time table is different from the regular one?
It provides students an effective Innovation space and allows them to do much more. They are allowed to do more in their area of interest. In regular curriculum, only 3–4 periods are given to extra curricular activities per week. But in re-designed one, the students will have at least two such periods for the day.  The new curriculum will have more emphasis on student's exposure to practical learning techniques. Current time table only allows three pairs of periods for the students to spend time and experiment their ideas in labs. The new time table will atleast have a pair of periods per day dedicated to labs or similar facilities on the campus.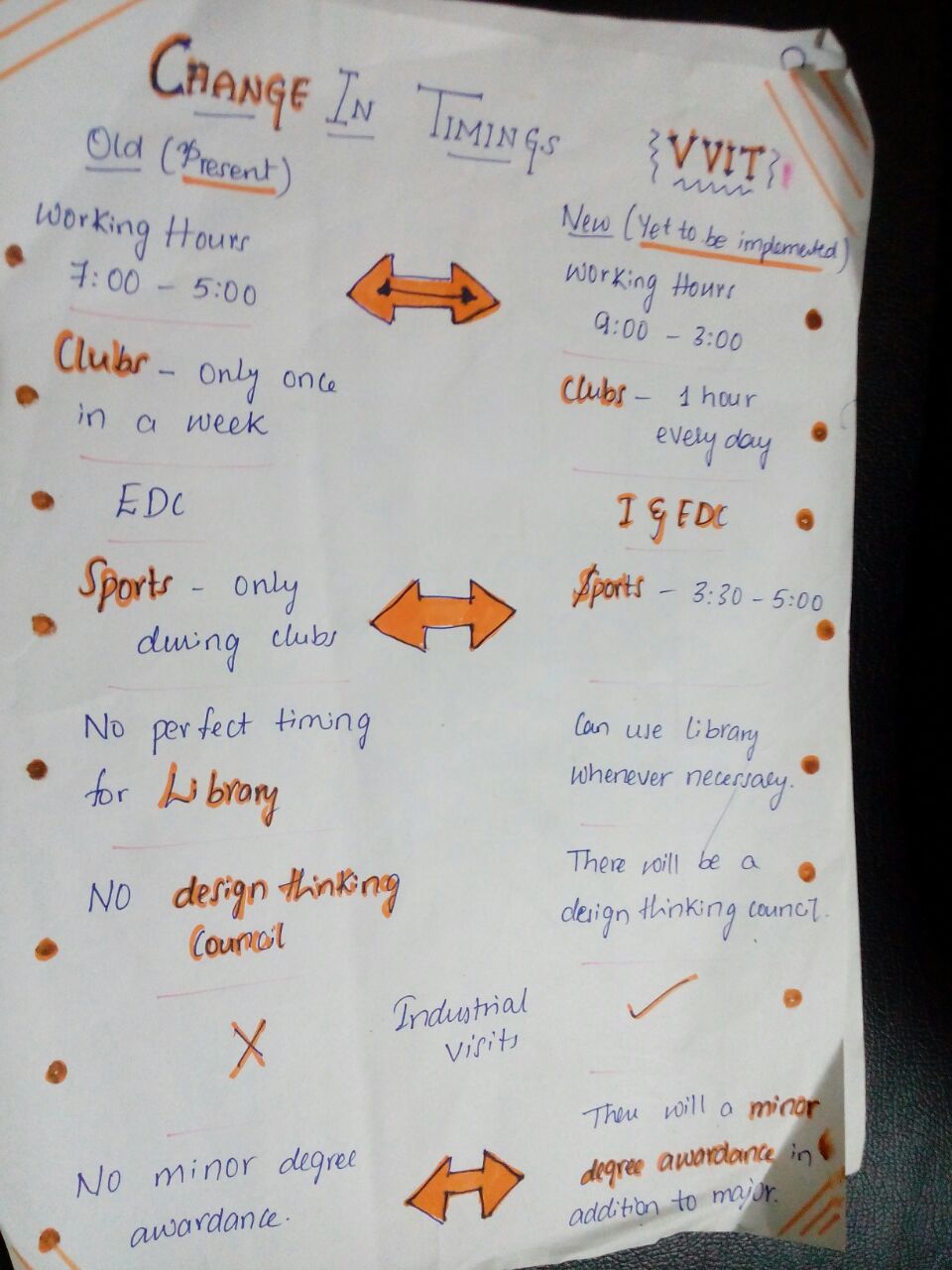 Strategy 4: Spreading The Concept Of "OPEN ACCESS"
Awareness and contribution to "Open Society" initiatives is one of the most important to methods to check the institutions role and impact on the society. However, in the present situation, the culture of "Open Access" on the campus can be rated as 3/10. With the following strategies, it can be developed to 7/10 in a period one year.

The first step of this strategy is create awareness among the students, staff, and the administration, about "Open Access", its need and importance. To achieve this goal, the major cut will be hosting an OpenCon satellitive event. OpenCon satellite events are hosted a sub regional events of annual OpenCon (similar to TEDx under TED). Again, the 3rd week of October is globally celebrated as Open Access week. During this week, various sessions can be organized for the students.Another important way is to place Did You Know (DYK) posters from Wikipedia, and info with the interesting facts about Open Access and QR codes more information.
After there creating awareness on the campus, the next step is faculty engagement. A workshop for "Integrating research methodology into Wikipedia and its sister projects" should be organized. All the articles & papers published are to be made sure that they are indexed with Google scholar, and an e-copy is to be sent to R2C. Faculty can be trained to contriute to Wikiversity (Open Education Resource), and interested faculty can trained on MediaWiki as well.
The step involves student engagement. This step invovled organising Wikipedia Edit-a-thons, and successfully form Wiki-club on campus. This part has already been started and is in implementation phase. The next step is to make the Computer Science Engineering students to learn MediaWiki, and take up projects to develop tools, bots, gadgets on MediaWiki. A resolution is to be made across the campus, by students, to release the images related to educational content through CC BY-SA licenses.
The final step of this strategy is administrative engagement. The institution can form a "Open Access Repository" with all the required resources, and partner with various online databases to access their paywalled content through a collaboration. The college magazine must be incude Open-ed, and is to be published under CC BY-SA.
In the process of implementing this strategy, the by-products are as follows: students involved will enchance thier organizing, and problem solving skills, and the design thinking is adopted to improvise the ways to implement this startegy. Various organizations may also show interest due to the culture, and support can be obtained from government as well.
Strategy 5: Re-Designing The Academic Curriculum
This strategy is about re-designing the academic curriculum of the college in way that it helps the student to excel more in his/her area of interest. In the present curriculum, students only have the choice to pursue the subjects as mandated by the affialiated University. Though some flexibility is provided at the the end of the gradution course, it is being limited due to certain constraints the college has. Even then, the electives are not so wide enough for the students to excel in their own interest, and these electives are mostly related to their own branch. For students, those who wish to pursue subjects from other streams are unable to do it.
So to avoid the above mentioned students, the primary target of the college must be to attain automous status from the university. Considering the college is autonomous from the university, it'll have the choice to design its own, even to a significant extent.  After this, the college has to conduct an extensive survey among the students, staff, stakeholders, and its recruiters. Doing so the college will be able to analyse the need for a particular subject considering the interest of the students in a subject, ease of teaching for the faculty, risks involved can be given by the stakeholders, and the present day requirement of the industry can be understood from the recruiters. After a desiging a curriculum that suits all of the above mentioned categories of people on campus, the college ought to give at least one departmental elective, and one open elective (inter-disciplinary) for each semester. The the number of the subjects given for the choice of electives should be gradually increased as the student moves towards the end of his/her graduation. In this way, the student can will have more chances to secure a job in the field of his/her interest.
As a part of this process, to inculcate design thinking and innovation among the students, the open electives that are inter-disciplinary must insisted upon the students to study on their own. Instead of regular classes, as the students choose the subject from out of their own interest, they should be aksed to work on the subject, and then have an Q&A session with the teacher to clarify their doubts in the process of their learning. This process also helps the student to understand the subject in his/her own way.
Strategy 6: Redesigning  assignments in a student's beneficiary way
Since every subject final exam allocates few marks to students for the assignments that they submit, we want to redesign the assignment pattern in a more productive way.
As of now, same assignment is being given to all the students of the section. This system has few flaws since it gives a chance to students to copy it from others' and the difficulty/practical implementation of an assignment is 2 on a scale of 10. This ultimately contradicts the whole idea behind giving an assignment.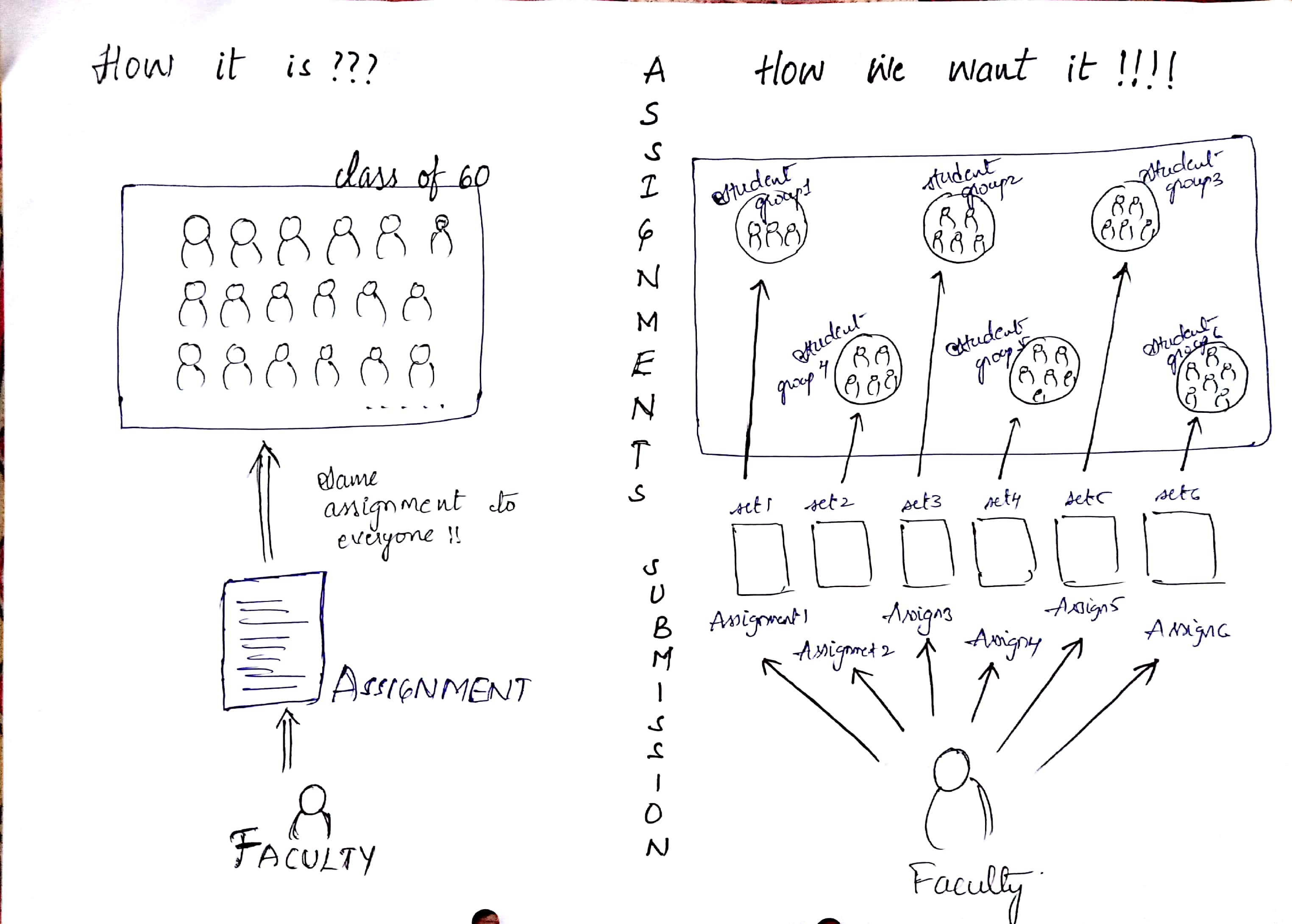 What are the obvious flaws because of this?
It is a waste of time, doesn't make a student to think innovatively or in a problem-solving way and marks are being taken for granted.
How we want it to be?
 Students are divided into random groups as the professor wishes and each group is given a separate set of assignment(Not necessarily a written assignment).

 Time limit for assignment submission should just be enough(not more/less).
It is not possible to have industrial tours for all students and also students will not have a clear idea of the industrial environment/opportunity through just 1 or 2 tours. For a student to have a keen idea on what to learn during their UG so that they don't feel pressurized with problems after they join their workplace and also to have an idea on what skills they need to work on to join their field of intrest, we decided to have more interactive sessions with alumni who are working. They can either be web sessions or we can have them come down to our college if they are free to give seminars that eliminates students' doubts and confusion regarding their career
Strategy 8: Design Thinking Work Shops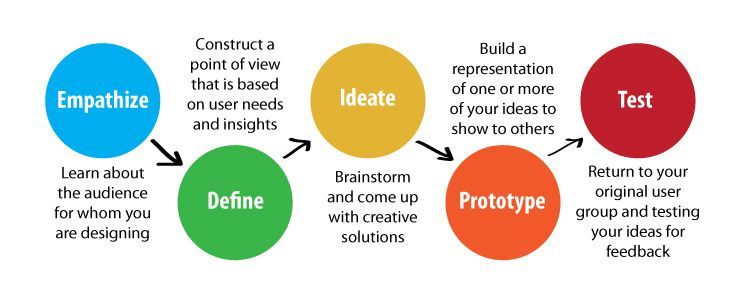 The workshop inculcates the way an individual thinks about a problem. It has 5 stages like Empathize, Define, Ideate, Prototype and Test. In each stage the participants will go through different thinking patterns like digging deeper, analyzing, brainstorming, designing and prototyping etc. Students will be benefited a lot by this. We are planning to conduct the workshop once in every week for our college students. So, students will be having a vision of how to think and what to do regarding a problem.
Strategy 9: Clubs/Activities/Sessions focusing on Communication skills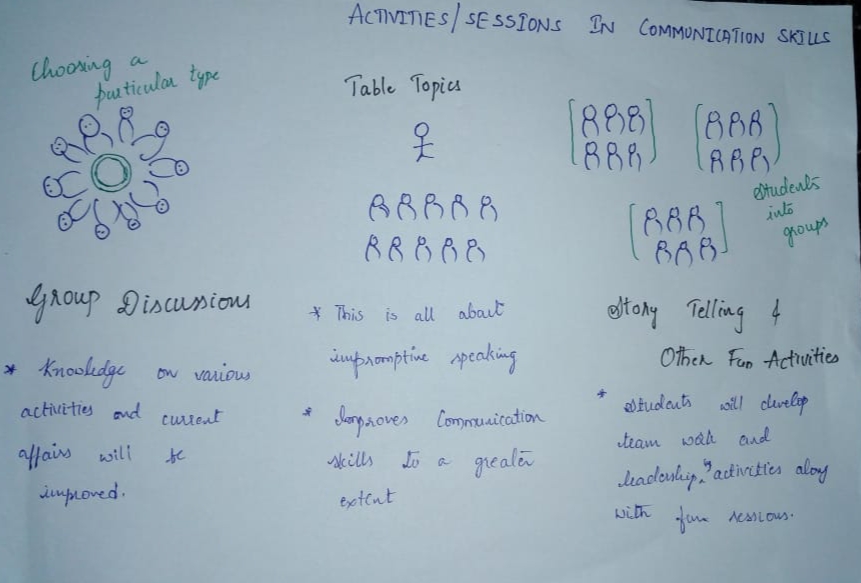 As of now, students are not being trained in soft skills or communication skills unless they enter their 3rd year and register under placement cell in our campus.
Why it is important to concentrate on these skills?
Most of the students (almost 65%) who join the college do not have a strong foundation in basics of English and have no idea of communicating properly/ speaking impromptively.
Since we spend almost 10 hours on an average in college everyday, it is important that we inculcate these skills during college hours because
it not only helps us get placed but also attributes in leading a successful career.
So we want to allocate at least 2 hours a week to classes where students get to interact among themselves and develop their Vocabulary/communication skills.
This can be achieved by conducting different fun activities related to improving the skills named above and many more.
Related Links
Spring 2017:

Fall 2017:
Spring 2018:
Fall 2018:
Fall 2019
Fall 2021
Fellow:Reddybathuni Jyothirmai

Campus Overview Wiki :
Vasireddy Venkatadri Institute Of Technology
---
---