School:Vasireddy Venkatadri Institute of Technology
Jump to navigation
Jump to search
Overview
Vasireddy Venkatadri Institute of Technology (
VVIT
), was accredited by National Assessment and Accreditation Council with an "A" grade certification, with the respective branches - ECE, IT, EEE, ME, CSE, CE- being accredited by the National Bureau of Accreditation. Vasireddy Venkatadri Institute of Technology became an autonomous college in 2019.The campus of VVIT is located amidst the lush greenery away from the hustle and bustle of city life, in the village of Nambur, Guntur District, Andhra Pradesh, India.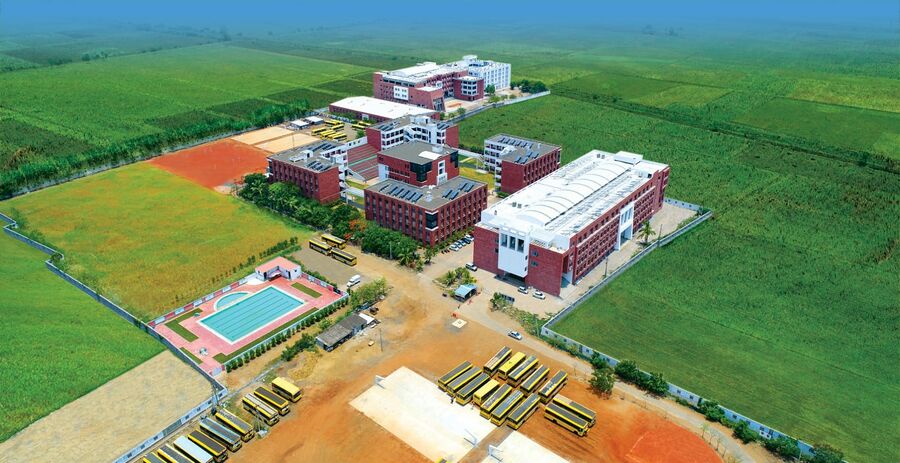 The campus is partly run by a 100kW solar power plant, which showcases the usage of green and clean energy by our institution. VVIT offers undergraduates in the following disciplines:
CE(Civil Engineering)
EEE(Electrical and Electronics Engineering
ME(Mechanical Engineering)
ECE(Electronics and Communication Engineering)
CSE(Computer Science and Engineering)
IT(Information Technology)
Artificial Intelligence & Machine Learning
Artificial Intelligence & Data Science
CSE(AI&ML)
CSE(Internet of Things and Cybersecurity including Blockchain)
CSE(Internet of Things)
VVIT also offers a minor degree in Computer Science & Engineering. In tune with the commitment, setting itself a benchmark as very best in terms of Education & Training and Placements, and extracurricular activities, VVIT has emerged as one of the top ten Engineering Colleges from the 200 engineering colleges affiliated to JNTU Kakinada.The subsequent years saw the inception of B.Tech programme and signing of MoUs with Industry and Training & Placement Companies.
Student Innovation and Entrepreneurship
VVIT not only strives to educate students but also inspires them to be more than literate. Students in VVIT will be taught how to be entrepreneurial. Our institute has an Institution's Innovation Council under the guidance of experts. Institution Innovation Council (
IIC
) is an
Initiative of the Ministry of Human Resource Development for selected Higher Education Institutes
. The
MHRD
(Ministry of Human Resource Development)
, Govt.
of India
has established 'MHRD's Innovation Cell (MIC)' to systematically foster the culture of Innovation amongst all Higher Education Institutions. Some of the events and workshops hosted by Institute's Innovation Council are YUKTI -
National Innovation Repository
(NIR), 3rd Startup Ecosystem Meet-up, Exposure visit to pre-incubation units such as Fab Lab, Maker Space, Design Centres,.

The first-ever Google Developers CodeLabs in the country with all Google's exotic design standards was established at Vasireddy Venkatadri Institute of Technology in the year 2018.Google Developers CodeLabs provides guided, tutorial and hands-on coding experience. The main goal of CodeLabs is to bring Industry Level exposure to students. Students take full advantage of this lab to gain hands-on experience of the Industry. The objective was maintained with various sessions and workshops which brought consistency in the development of real-time applications. It is also serving as an incentive for the host universities to be involved in the training program. This is a great platform for students as well as developers. Some of the best developer programs took place in this very CodeLabs are - The Nano-Degree Certification program from Udacity, with the support of APSSDC. CodeLabs started with Android Programming. This later continued with DT workshops, Front End Development, Hackathons by GitHub, Indo-Nordic Innovation Acceleration Cluster(INIAC) and NASA SpaceApps challenge.

The EWB(Engineers Without Borders) Student Wing of VVIT is with more than 120 students registering their names during the initial drive. The chapter's four cornerstones are societal welfare, leadership, competition, and bringing forth a deep-seated understanding towards valuing diverse opinions. The EWB will assist students in developing the empathy and industry-standard skills necessary to ensure a future of mutual growth. EWB works in over 68 countries and provides services to scholars from a variety of prestigious universities. 
Faculty Innovation and Entrepreneurship
VVIT highly encourages faculty to organize and participate in workshops, training sessions, national conferences, et cetera,. Faculty will always be provided with a conductive atmosphere to research & develop, and ensure their active participation. Many workshops, National-level seminars/conferences, training programs, have been hosted by various departments throughout the journey in VVIT. Faculty will be encouraged in publishing research papers and projects. Some of the links about research papers and workshops attended by faculty are mentioned below:
Research Projects & Seminar Sponsorships
University Technology Transfer Function
VVIT has been recognised as a Centre of Excellence(CoE) by Siemens in collaboration with APSSDC. These labs were established with highly sophisticated and fully equipped labs worth INR 13 million. These help students to develop skills to fit the present day industrial skills & needs.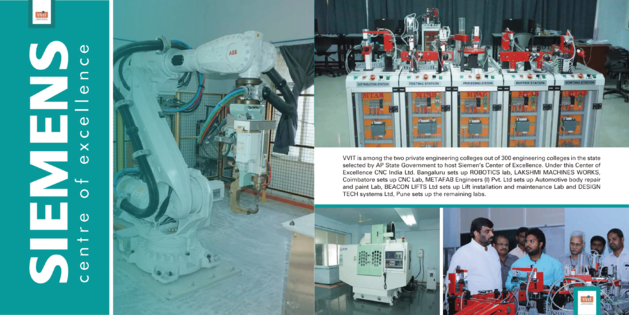 VVIT along with APSSDC had established the first ever Google Developers CodeLabs(CodeLabs) in India in collaboration with Google to help maintain interest in product and application development for students as well as faculty. Dassault Systèmes is a 3D experience lab that allows students to implement innovative thoughts on a 3D experience platform for product development. This Improves students' confidence levels by working in domains such as Aerospace, Automotive and Offshore engineering.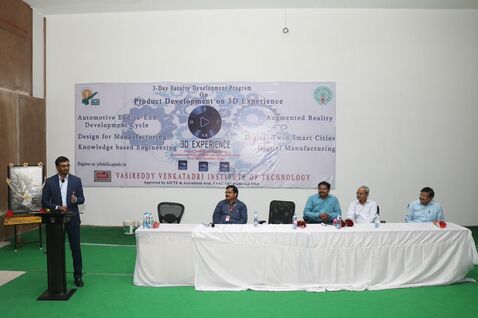 Andhra Pradesh State Skill Development Corporation (APSSDC) in association with M/s.Dassault systèmes, France, has established a 3D Experience lab in the premises of Vasireddy Venkatadri Institute of Technology in the academic year 2018 by implanting computers with high configurations. This is done to enhance the employability skill for engineering graduates in research & development technology implementation by imparting skills in engineering design in 3D experience platform.
University - Industry Collaboration
The students of VVIT have succeeded in establishing their identity as a new breed of winners in the academic and the corporate world. Over the last few years, they have taken full advantage of emerging placement opportunities in the fast growing service sector of the booming Indian Economy.
VVIT is proud to have the following Industrial and Training MoUs. The list includes premier organizations like Infosys, APSSDC, Virtusa, EPAM etc. Following is the list of MoUs signed:
Industrial MoUs:
Infosys SpringBoard
Andhra Pradesh State Skill Development Corporation
EPAM
Wipro
Virtusa
Training MoUs:
Edu Skills
RedHat
ICT Academy
Sales Force
APSCHE
Vasireddy Venkatadri Institute of Technology is an Academic Alliance Partner with UiPath. UiPath is a leading Robotic Process Automation vendor providing a complete software platform to help organizations efficiently automate business processes.
Regional and Local Economic Development
VVIT took a social responsibility initiative and adopted a village named Brahmana Koduru to help them improve their standards of living in this fast growing world. National Service Scheme popularly known as NSS was launched on Gandhiji's Birth Centenary Year 1969 in India, in 37 Universities involving 40,000 students with primary focus on the development of personality of students through community service. VVIT has been an NSS participant since its establishment and these NSS volunteers from our college continuously conduct events that support regional and economic development such as running an awareness camp on Swachh Bharat at government high schools, Awareness of plantation and clean of surroundings, Village child health Awareness program, et cetera,.

The vision of EWB is to guide and motivate students and professionals to solve real-time problems faced by the community with a technology-based solution. The mission is to collaborate with non-profit organizations and social organizations to understand the potential problems faced by the community, and improve the quality of life for common people.

Vasireddy Venkatadri Institute of Technology takes lead in any kind of technical events that help in enhancing the skills of the students.The Association for Computing Machinery (ACM) is the world's largest educational and scientific society. The ACM is a non-profit professional membership group, with more than 100,000 members as of now. ACM headquarters is located in New York City. ACM is an umbrella organization for academic and scholarly interests in computer science.VVIT GUNTUR ACM student chapter conducts an event called "Hour of code", a computing curriculum to local schools, which is a part of ACM. "Hour of code" is a global movement conducted during every computer science education week, reaching tens millions of students in 180+ countries through a one-hour introduction of computer science and computer programming. The main objective of the VVIT Guntur ACM student chapter for the event "Hour of code" is to introduce the fun of coding to the school children. The VVIT Guntur ACM student officers approached the principals of the above-mentioned schools to get their consent for conducting "Hour of Code" events in their schools.
Regional meetup @ VVIT
VVIT UIF got a wondrous opportunity to host a regional meetup on our campus. The meet up was held for 3 days from 31 January 2020 to 2 February 2020 in the VVIT campus. It became the first-ever student-led meetup for both the fellows and faculty champions in India. The meetup was designed around our theme "Global Partnership for sustainable development" and was presided by Ghanashyam (UIF India Program Manager), FABs from different cohorts, fellows, non-fellows, student leaders from the campus and faculty champions! A total of 90 people attended the meetup and it was a special and unparalleled experience for us, the fellows at VVIT. We had design thinking challenges, speaker sessions that were lauded by the audience, fun activities, sessions by the fabs, career counsel panels, company visits and many more!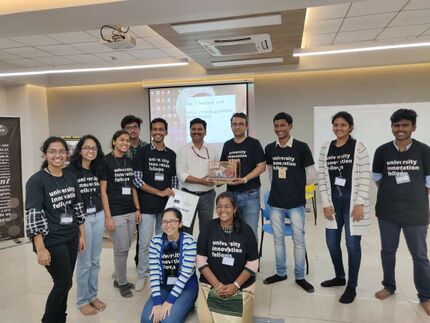 The first day witnessed ignites from two fellows including one from our very own campus fellow followed by speaker sessions by Mr. Venkat from APNRT and Abhay Rangan, UI Fellow and founder of plant-based dairy products company, Goodmylk. Followed by an Efftronics company visit where we have all learned about design thinking applications in technical aspects. Finally, the last day observed a few more ignites by FABs, career counsel panels by faculty champions and FABs about employment and start-up culture, and, speaker series by Mr. Shailesh Krishna from ITC, Guntur and Mr. Karayil Suresh, faculty champion at VVIT. The meet ended with a thunderous applause and a great photo session. It was a great learning experience and also one of the most fun times for us and also the fellows, from the feedback received. It was definitely one of a kind :)

Other
Apart from curriculum, VVIT also encourages students to bring out their passions through various clubs and events. It offers fine arts such as painting, dance, music, theater arts and on the other hand provides clubs like animation and graphics, et cetera,. Clubs that are offered in VVIT are
Theatre Club
Animation and Graphics Club
Dance Club
Literacy Appreciation Club
Movie Appreciation Club
Music Club
Photography Club
Political and Social Awareness Club
Yoga and Meditation Club
Painting Club
Martial Arts Club
Sports Club
Robotics Club
Telugu Appreciation Club
Green Club
Culinary Club
VVIT prides itself on having great NSS volunteers with social responsibility and NCC cadets with their patriotic streak. Every year, VVIT organizes a 33 KM walk in the memory of Sri Swamy Vivekananda birth anniversary by the name of National Integration Walk. The walk starts a Muslim Dargah, and continues along the way of a Jain Temple, a Church, and finally concludes at a Temple, thereby integrating several religions.`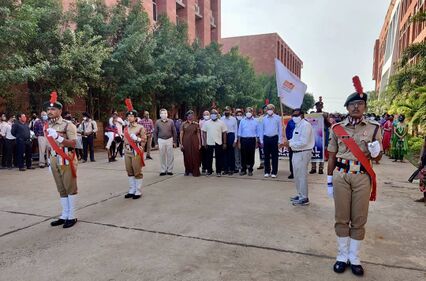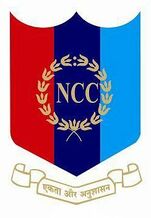 VVIT hosts a national-level techno-cultural fest, VIVA-VVIT with 50+ events, attracting a large number of students, around 5000 visitors every year. Student Activity Council (SAC) of the college organizes the fest and also all other extracurricular activities taken up by the college. The National Cadet Corps is the Indian military cadet corps with its Headquarters at New Delhi. It is open to school and college students on a voluntary basis. National Cadet Corps is a Tri-Services Organization, comprising the Army, Navy and Air Force, engaged in grooming the youth of the country into disciplined and patriotic citizens. The National Cadet Corps in India is a voluntary organization which recruits cadets from high schools, colleges and Universities all over India. The Cadets are given basic military training in small arms and parades. The officers and cadets have no liability for active military service once they complete their course but are given preference over normal candidates during selections based on the achievements in the corps.
SAC is the official student representative body of VVIT. SAC acts as a student representative medium among management, administration, faculty & students. SAC activity orientation is mainly associated with representing the students voice, aspirations and thoughts. To create dynamic individuals who would be the leaders for positive change impacting the global community to grow as visionaries. The organizational structure of SAC is basically organized as councils. The hierarchical structure of SAC is three tiered architecture. Each tier represents specific functionality with aligned responsibilities, duties & rights as per the specific post & protocol.
---
---