Faculty Champion:Dr Vedantham Ramachandran
Jump to navigation
Jump to search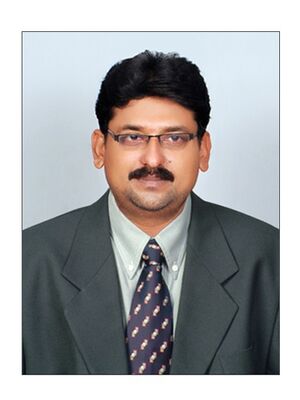 Name

Dr Vedantham Ramachandran

School (Cohort)

Vasireddy Venkatadri Institute of Technology (2021 cohort)

Majoring in

Information Technology

Country

India

Email
Bio
Dr.V.Ramchandran is an Engineering Educator by choice and longing to update himself continuously for catering to the needs of posterity of engineering students. He did B. Tech in Computer Science & Engineering from Andhra University, M. Tech from JNTUK in CSE and did PhD in Facial Expression Classification at Acharya Nagarjuna University. He is currently pursuing his Post Doctorial Fellowship in University of Swahili, South Panama, South America, USA.. Currently working as a professor and Head in CSE Department of Vasireddy Venkatadri Institute of Technology. Throughout his career, he sincerely felt there is always a clear need for innovative and design thinking, to play a critical role in educating a new class of engineers who can create a better society by innovating products & services that solve real world problems.
Achievements
He started working on the Technology incorporation in Teaching-Learning by using Soft Computing tools such as Artificial Neural Networks for deep learning under Cognitive Science. Some Papers were published with that work and still more work is underway. He is a committed teacher with result-oriented & concept-centric teaching-learning with much belief on Outcome Based Education and Received International Engineering Educator Certification from IGIS.Attended TLS meet 2017 at Bangalore.
Papers Communicated
1. Vedantham Ramachandran, et.al. "Heart Disease Detection using ML" for Scopus Journals. REVIEW IN PROGRESS.
2. Vedantham Ramachandran, et.al., "FACIAL EMOTION RECOGNITION ON VIDEO USING DEEP ATTENTION BASED BIDIRECTIONAL LSTM WITH EQUILIBRIUM OPTIMIZER", accepted by International Journal of Imaging Systems and Technology. Manuscript number is IMA-20-643.
3. Vedantham Ramachandran et. al., " An novel optimized network model for edge extraction on strategy in Medical Image segmentation", in JIFS and etc top-tier journals on Dec 2021.
4. Vedantham Ramachandran et. al., " An ensemble technique for retinal blood vessel damage detection using recurrent residual puzzle based encoder decoder network model", in IJCV and other top-tier journals on May 2022

Books Published
Authored a book titled," PROGRAMMING WITH PYTHON: A practitioner's approach", published
by Jayalakshmi Publications, Madurai, ISBN:978-9391987-16-9.
Social media profiles
https://www.linkedin.com/in/ramachandran-vedantham-48579333/
---
---