Fellow:Vikranth Reddimasu
Jump to navigation
Jump to search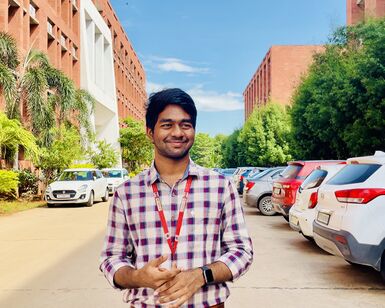 Name

Vikranth Reddimasu

School (Cohort)

Vasireddy Venkatadri Institute of Technology (2022 cohort)

Majoring in

Artificial Intelligence and Data Science

Country

India

Email
Bio
Vikranth Reddimasu is a University Innovation Fellow from the Fall 2022 cohort and is currently in the verge of pursuing a bachelor's degree at Vasireddy Venkatadri Institute of Technology(VVIT), Nambur, in Artificial Intelligence and Data Science track.
His father Balaraju Reddimasu is a Govt Teacher and mother Anuradha Veeravalli, retired teacher, now taking care of home. He has a sibling named Grihith who is 3 years junior to him. His family resides in Guntur since 2018.

He often reads books based on sci-fiction, self-help and fantasy genres.In his spare time, he enjoys watching movies and television shows, with Game of Thrones being his all-time favourite. He is a fan of superhero films from Marvel and DC.While he's studying, you can always find him with a set of earpieces in his ears, listening to music. He has a notable talent in drawing. He has a good imagination and analyses situations well. He is known for his analytical abilities in every situation and strives to examine every small detail.
He has always been fascinated by the universe and the stars. He works on joining a space corporation because he is always interested in traveling to distant worlds.He believes there is something greater in the universe than that of all the life combined on the planet. When compared to the huge, empty space that is measured in billions of light years through space, he realises that every problem is insignificant. He has a different perspective of the world and is patient enough to handle tough people.He blends with people quickly and is an acceptable team player. He wants to launch and grow a start-up company as a fallback strategy and strives continuously to gain required skill sets to make it successful.
Achievements
Multiple awards in Cyber Olympiads
Social media profiles
---
---