Fellow:Nimesh M
Jump to navigation
Jump to search
Biography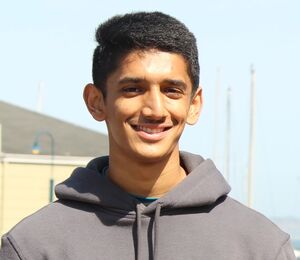 Nimesh was born on 3rd January 2000 in Coimbatore, Tamil Nadu, and grew up in Mysuru, Karnataka. As a young child, he explored numerous interests developing an all-rounder personality. He played cricket professionally, represented his district team in the U-14 and U-16 categories, and completed his junior examination in Carnatic music at thirteen. He also attended art classes to learn sketching and painting and learned instruments such as piano and mandolin. He has always been thrilled to venture into new interests in life, with curiosity and without fear.
Nimesh completed his undergraduate education in Computer Science and Engineering at Vidyavardhaka College of Engineering in Mysuru, affiliated with Visveswaraya Technological University. Just like his times as a young child, he ventured into many interests and excelled at them during the four years of his life. He was the president of the Toastmasters club, a member of Aspera - E-cell of VVCE, and a website developer at the Open-source laboratory, VVCE. From a technical standpoint, he is skilled in front-end development(Mobile and Web) with various tools such as ReactJS and Flutter.
Nimesh is a UI Guide who has coached two university cohorts from Indonesia (Institut Teknologi Bandung & Universitas Gadjah Mada) in the UIF program for the 2020-21 term.
Few notable achievements in the past three years:
Awarded Best Outgoing Student by the Computer Science and Engineering department of Vidyavardhaka College of Engineering
University Innovation Fellow of Vidyavardhaka College of Engineering
Team mentor of (Institut Teknologi Bandung & Universitas Gadjah Mada) in the UIF program during 2021
President of VVCE Toastmasters club for the term 2020-21
Social Media Profile
Related links:
Vidyavardhaka College of Engineering - Campus Overview
Vidyavardhaka College of Engineering - Student Priorities
Previous Fellows
Fall 2018 Cohort:
Anushree Rao | Apoorva Singh | DHRUV NRUPESH PATEL | Peeyusha K Shivayogi | Shashank Mohan Athreya
Fall 2019 Cohort:
Brunda Sathish | Pratheek R Bhat | Umesh A | Nimesh M
Fall 2020 Cohort:
Varsha Chandrashekar | Krishnakanth Pai B | Numaan Ahmed Daulatabad | Avinash Arun Nadig
---
---