School:Universitas Gadjah Mada
Jump to navigation
Jump to search
Overview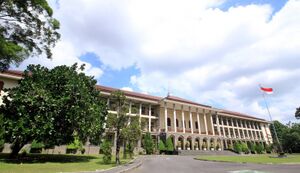 Universitas Gadjah Mada is a public research university located in Sleman, Special Region of Yogyakarta, Indonesia. Officially founded on 19 December 1949, Universitas Gadjah Mada is the first university in the nation and the largest institution of higher education in the country. Universitas Gadjah Mada has 234 undergraduate programs, 45 postgraduate programs, 45 doctoral programs. Furthermore, Universitas Gadjah Mada also has 25 study centers in diverse scientific fields. It is also equipped with the sheer resources of 3,608 faculty members and 4,324 employees who are strongly committed to supporting UGM as the best university and the salient educational reference in Indonesia. As one of the best universities in Indonesia, Universitas Gadjah Mada has been recognized in 2021 for QS World Universities Ranking, ranked 1st in Indonesia and 254th in the world.
Promoting student innovation and entrepreneurship
Student innovation and entrepreneurship are highly encouraged at UGM. GAMAFORCE (Gadjah Mada Flying Object Research Center) is one of the student activity units that encourage students to perform research and development on UAV (Unmanned Aerial Vehicles). GAMAFORCE itself has been contributing to the development of aerospace technology proven by prototypes created by highly innovative students on KRTI (Kontes Robot Terbang Indonesia) and has been securing the champion title for five consecutive years from 2015 to 2019.
Kewirausahaan Sosial is a course that supports the development of entrepreneurship skills by offering various entrepreneurship programs. This program also collaborates with well-known institutions to ensure the quality of the material presented. The material obtained can support students to think critically and improve their entrepreneurial skills.
Encouraging faculty innovation and entrepreneurship
UGM is a campus that always encourages and supports students to become independent, creative, and innovative individuals. This is evidenced by complete facilities, lecturers who are always open to consultation, and the formation of special organizations that become a forum for students to exchange ideas in terms of entrepreneurship and innovation. UGM's efforts to increase entrepreneurship and innovation can be seen from the results during the PKM Annual Event. In PKM, students are required to be able to present fresh innovations in solving local and national problems. UGM became the campus with the most proposal submissions in Indonesia as well as the overall winner at the event.
Actively supporting the university technology transfer function
UGM Actively supporting the university technology transfer function. The one responsible for this field is the Directorate of Business Development and Incubation, Universitas Gadjah Mada. One of the programs they have is the Incubation Program. The preparatory program is a process of preparation, maturation, and the realization of research ideas/results, both from qualitative and quantitative empirical research. The incubation program aims to form products that are ready to use for the community and have economic value. Then there is the business development program. Business development programs are programs to accelerate business entity development, monitoring business entities, monitoring commercial products, implementing TTO (Technology Transfer Office) in the environment. In carrying out its function as TTO, the Directorate of Business Development and Incubation focuses in harmony with the Directorate of Research, Directorate of Community Service, Faculties/Schools, Study Centers, and Integrated Research and Testing Laboratories. The Directorate of Business Development and Incubation encourages activity units within UGM to collaborate with three main elements in Academics, Business, and Government (ABG), known as the Triple Helix concept. These three things are expected to help synergies in efforts to prepare human resources and industrial products that have competitiveness to win the global competition. Then the last one is the UGM STP program. UGM Science Techno Park is a science park within the scope of a university that has facilities as a vehicle for teaching and learning based on the adoption of the research industry. STP UGM is a forum for innovative, dynamic, and competency-oriented learning processes for graduates.
Facilitating university-industry collaboration
Kampus Merdeka has been one of the biggest programs in Indonesia in which students are free to choose which industry they would like to collaborate with. Students may choose to do internships at various companies, experience studying in campuses all around the world by joining exchange student programs, conduct self-paced learning by joining independent study programs, and so on.
Engaging with regional and local economic development efforts
Kuliah Kerja Nyata (Pembelajaran Pemberdayaan Masyarakat or student community service - community empowerment learning) Is an activity that encourages innovation from students to contribute to the progress of regions in Indonesia. This opportunity can be used by students to interact directly with the local community. By taking into account all the goals on the SDGs, innovations provided to locals are expected to increase the economic development in the area.
Our Strategic Priorities
Strategic Priority 1 [Mentoring Kampus Merdeka : Magang Merdeka]
For the past year, the Ministry of Education, Culture, Research, and Technology has started to implement Kampus Merdeka with flagship programs such as internship, Indonesia International Student Mobility Awards, and independent study. How might we help students to get the best opportunity from Kampus Merdeka? Our initiative is to create a mentorship program that connects students with other students focusing on the preparation for the selection of the Kampus Merdeka programs, we named it UGM KM Mentorship. UGM KM Mentorship is a 6-week mentorship program to help students prepare for the Kampus Merdeka program by providing a personal mentorship that is conducted four times, time arranged by both mentor & mentee. We hope that by this program, students can prepare themselves to the very best for the selection and make good use of this program to be inspired by the story of their mentors.
Strategic Priority 2 [Mentoring Kampus Merdeka: IISMA 2022]
Since the pandemic, students have been shifting from offline courses into online courses. Some courses that are conducted for a long duration will leave the students bored. This could lead to students feeling unmotivated to study. However, at the same time, students have to prepare themselves with skills in order to face the career world. How might we help students to explore their abilities before graduating more in a technical way? Our initiative is to create a series of practical workshops to increase the skills needed before graduation, we named it Universitas Gadjah Mada Skills Acceleration Program (UGMSAP). UGMSAP is a 6-week workshop program to accelerate students' skills regarding a topic of study. The workshop is conducted by speakers from top companies every Saturday for one hour and 30 minutes at 9 AM. Each week will have a case study question to try with. Case study questions are done either individually or as a team. To graduate from this program, students must achieve points of a minimum threshold. The points can be received if the students come during the workshops, finish the case study questions or its project has been selected as the top three. We would say that this program is a combination of boot camps by considering the concept of gamification.
Strategic Priority 3 [Recursion Tech Mentoring Program]
By considering the same problem statement as the second strategic priority, how might we help students to explore their ability in the midst of their busyness? We decided to create a program in which the students will build a project with classmates or college friends and apply the theory taught to it, we named it UGM Project Program. UGM Project Program is A 18-weeks project program to train students' skills in working in teams and practice each other's skills based on their roles in the team. The program will be guided by experienced UGM Students and Companies to work on projects to solve problems based on the given theme. Each week there will be a weekly meeting for each team with their mentor to discuss project progress and issues facing the team. Successful projects can be published to the wider community and increase the student portfolio and the program is able to be converted into academic credits.
Strategic Priority 4 [Instagram @uif.ugm]
The fourth strategic priority is to provide A place to gather up like-minded individuals that are interested in competitive events. In this community, students can learn information about the upcoming competitive events (Hackathon, business plan competition, etc). Students can find teammates easier (especially from other faculty). Students can also share their brilliant ideas with one another and grow together in a supportive environment.
---
---