Fellow:Apoorva Singh
Jump to navigation
Jump to search
About Me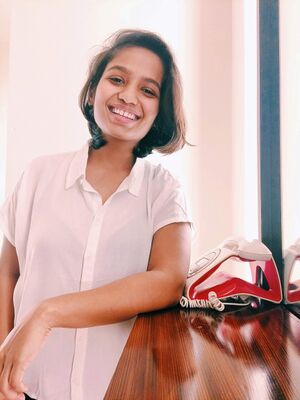 A 'Curious polymath' are the two words that describe Apoorva Singh in short!
Born and brought up in 'The Steel City of India', Jamshedpur, Jharkhand. She did her schooling at Carmel Junior College. After which she moved to Mysore, Karnataka, for her bachelor's. She has completed her Bachelor's in Computer Science and Engineering for Vidyavardhaka College of Engineering in August 2021.
While pursuing engineering, she was an active member of college clubs like Aspera (Entrepreneurship Cell of our college), Pixel hut ( photography club of our college), and Magna ( debating club of our college). She was a part of the technical committees like Open Source Lab and the Android Chapter of the college. She was also a core team member of college events like TEDxVVCE and Onload.
Public Speaking has always been one of her interests. She has been an involved member of Toastmasters International and achieved several milestones during her Journey. Including becoming a Distinguished Toastmaster(DTM), the highest level of educational achievement. Her other interests include any form of art & design, playing outdoor sports, reading, music, and solving Rubick cubes.
Art and creativity are something that came naturally to her, and studying engineering gave her the urge to solve problems. Integrating these two, she decided to build her career in product design. She has been a freelance graphic and UI/UX designer throughout her college life. Currently, she is working as a User Experience Designer at Glance, Inmobi.
The only constants of her life are her family and friends, who are her support system. Her favorite leisure activity is sketching and painting. You can catch a glimpse of her artwork at Perfect Strokes
Social Media Handles
Portfolio | Linkedin | Instagram | Twitter | Facebook | Behance | Dribbble


Vidyavardhaka College of Engineering
---
---