Priorities:Hamburg University of Technology Student Priorities
Jump to navigation
Jump to search
Cohort Fall 2019

Campus Overview
The Technical University of Hamburg is a relatively young and small university. Since it is a technical university most of the departments are engineering related but there are also some management and business related one. The strategiv priorities defined by the administration of the university are:
[1] a research focused on innovation
[2] foster entrepreneurship
[3] be a family friendly and inclusive university
Especially the first two points are interesting regarding our findings during the UIF training. As we interviewed students and ste up our landscape canvas we discovered several problems that are somehow related to the strategic priorities of the universiy. First, there is a lack of communication. This means that there actually a lot of possibilities to support students in their entrepreneurial desires, but students do not know about them because there are communicated inefficiently nad, furthermore, there are not connected to each other nnd therefore not operating as a network. Our second finding is even more severe and fundamental in our opinion: There is no real connection betwenn students and our university, meaning they are not really engaging in all the things the university offers. This, besides a few other reasons, leads to a missing entrepreurial mindset - our university teaches students to be mangagers and engineers, not entrepreneurs and therefor is clearly missing its second strategic priority.

To encouter this set up our own strategiv priorities, which are relevant to all the projects following below:
[1] We want to create and foster a community feeling / spirit and try to get students enganged
[2] We want to foster students motivation to deal with entrepreneurial matters and eventually motivate them to become entrepreurs
During our journey we discovered similar problems as the first cohort last year. This shows that the found problems are relavant and are not tackled yet. This also leads to the fact that some of our projects turned out quite similar to last years projects after a few iteration steps. Thas why we also consulted last years fellows for feedback on why specific ideas do not have pursued further to gain additional insights.
Project #1 - TU App (bringing things together)

The first project started as an 3-day entrepreneurial event. The prototype was an illustration where students could choose different ways on how the event should be organised. During the iteration it became clear that one central element, a platform where students can share ideas and form teams, were found best. So the follwing iteration step focused on this platform. During the test of the next prototype it became clear that an application would not suit an one-time event. It has to be more general to create a larger userbase. After some refining and one more iteration the final project was born:

The TU App! This app should work as an aggregator and bring together all, or at least most, of the information which is already available at our campus. First all the things which students use on a regaluar basis have to be integrated to create the necessary traction and retention and create a userbase: for example grade and course overview, information about available thesis topics etc. In a next step function to foster entrepreneurship can be included: for exmaple a forum for ideation and team formation, information abour available maker spaces etc.
The app could basically look like this: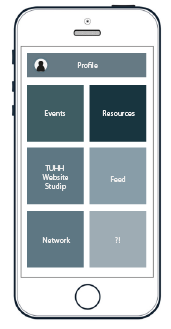 As mentioned above the app should include the following functions in two steps:
Step 1: (create usefullness for students, communication is key)
daily used sites regarding students life on campus: elearning platform, grades and course list, webmail
institutes new and available topics for thesis
free rooms for learning

Step 2: (foster entrepreneurship)
forum for ideation and team formation
avalibale workspace for prototyping
information about projects, competitions and workshops
Strategic priorities

The most important point to make this project happen is its strategic positioning. The app has to be positioned as something the adminsitration desires, since it is going to help them to reach thier goal to be an entrepreurial university. It does not satify a need of students, since the students do not have a need because they do not know (yet) what they are missing.
[1] Communication - We want to create an easy and convinient way to spread and gather information about everything which is going on on our campus
[2] Community - Creating a space were all members of the university coem to gather and exchange ideas and information as the first step to create a feeling of community
[3] Connectivity - We want to boost collaboration and bring together all teh already availible offers which help students to become entrepreneurs
[4] Transparency - We want to make all information accessible for everyone 
Next steps

[1] Elaborate and refine the idea with university stakeholders
[2] Build and test a MVP to profe feasibility
[3] Set up a cost plan and a business case
[4] Secure funding and the continuesly development of the app
[5] Develop a role out plan to bring the app to the campus
[6] Transfer the app into a routine for any memebr of the university
.
Project #2 - The Change Project

Students often lack time due to a tight schedule so that they have less time for activities that foster the university community. Often extrinsic motivations e.g. credits or bonus points improving the grade are motivators for students to enter an unknown environment. In our interviews we realized that the buzzwords "innovation" and "entrepreneurship" are ridiculed by some students focusing on technical studies. Taking the plunge into the unknown (projects focussing on innovative/entrepreneurial procedures) has to be supported bonus points or/and credits in the beginning.
The idea has derived from the thought to offer a non-technical course (called NTA) enabling students to work on the projects students are interested in. The projects should be problem-based (e.g. problems at TUHH, environmental/social problems,...). The problem solving process is supported by innovative/entrepreneurial methods. Therefore a short training session is important. Due to administration constraints, the project topic can only change on a yearly basis. Furthermore, the final idea considers the inclusion of institutes and course content. A network of insitutional staff and administration supports the students by assisting them. Further students participating related courses get bonus points to take pressure from the students participating actively in the course.
The final idea is a mixture of
a course in which students can work on problems by using innovative/entrepreneurial methods,
get input from related courses, and if possible
the assistance from institutes / companies.
Non-technical course creation

Students can hand in ideas for projects half year before they can choose the NTA. This helps to show overall problems that concerns students. The voting shows the relative importance.
Connection to existing courses
As soon as the projects are defined. Existing courses can be found. The network of courses being related to the topic can be built. Research associates and administration look for lectures being important to implement in the NTA schedule.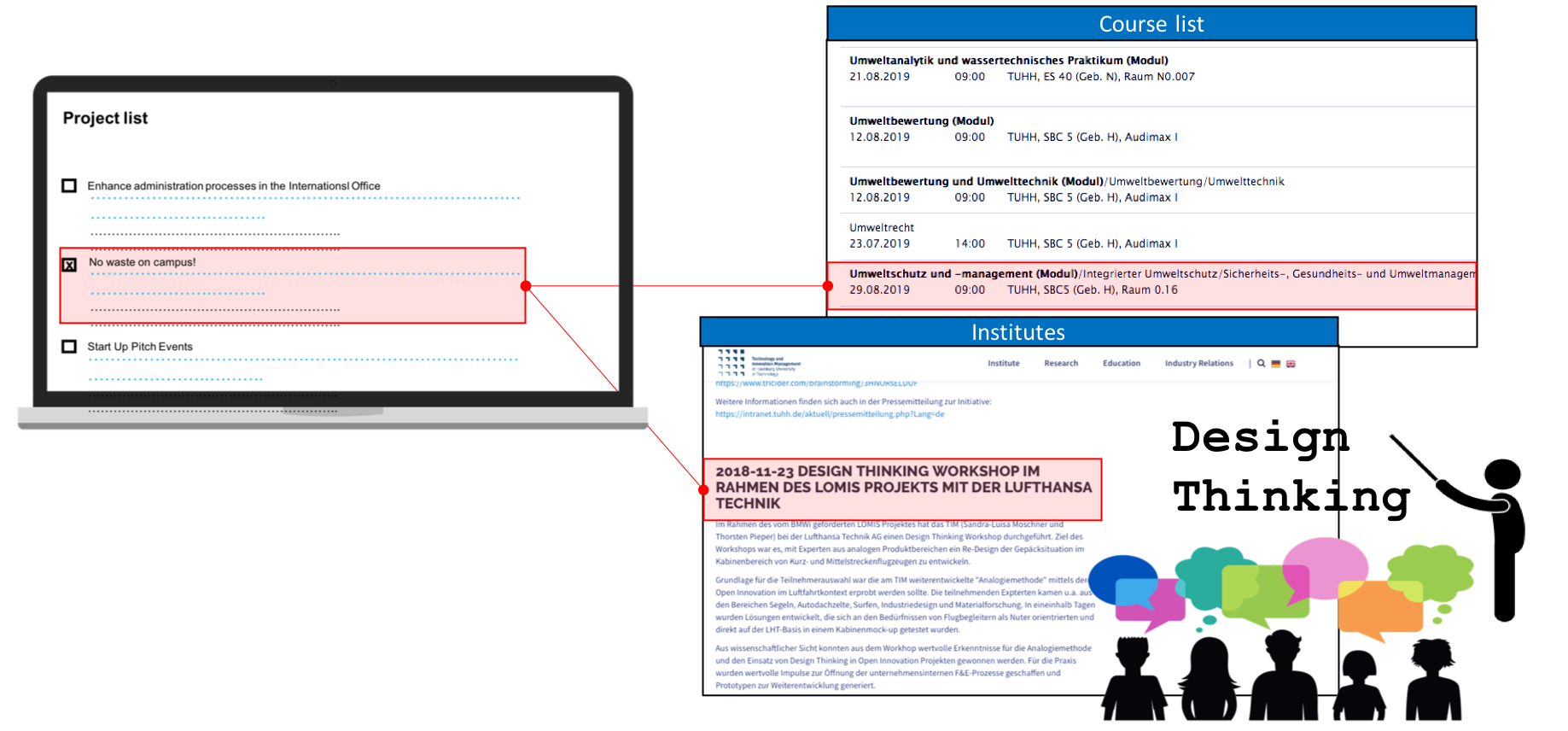 Assistance by institutes/companies
The networking includes finding institutes or companies who want to assist the student group.
Make usage of
Institute & research facilities
Company network
Alumnis
Strategic Priorities

[1] Empowerment of others to change the world - We want students to uncover problems and to take action in order to improve our community.
[2] Creativity - We want the freedom for students to choose their own projects and to unfold creativity.
[3] Innovative mindset - We want students to face problem-based projects by using innovative methods.
Next Steps

[1] Gather potential project ideas
[2] Categorize them
[3] Create network (courses, institutes, companies) in advance
[4] Come up with method training & course structure
[5] Talk with stakeholder
[6] Make request for course
Project #3 - Create a universal space for innovation and entrepreneurship with existing facilities

The third project has the idea of combining all existing facilities and new facilities of innovation and entrepreneurship in one building to create more awareness and transparency of the options available for students. Existing facilities are for example: FabLab, students' workshop, research workshop. Additionally new facilities not jet existing should be implemented like a Design Thinking Room and a UIF working space. This building which could either be a complete new built or an already existing one shall be supervised by one full-time working person or two half-time working persons. The supervisor(s) would also be the people giving the safety instructions courses to make sure that people working in the facilities know what they are doing. Those courses would be obligatory for everyone who wants to work in the facilities. The workshops should mostly be led by students (e.g. UIF's) who feel responsible that everything is going the right way. In this building there should also be an option for an information board for finding a project partner, information about TUHH projects/ AG's or information about sponsoring options.
After prototyping this idea I got a lot more ideas from the people testing the different prototypes which I then decided to implement in this idea too. This includes also adding the Startup Doc and the AStA workshop to the building and creating working space outside the building by adding a terrace and balcony. Those are especially useful for working sessions that create a lot of dust or other dirt. A basement should be implemented for having enough storing space. Because of working with heavy machinery and dangerous tools a good idea implemented is to have a first aid room in this building too and escape routes should be highlighted. To make the building more sustainable a good insulation and solar electricity and solar heat panels are put on the roof. This helps save energy on one hand and also generate own electricity and hot water for heating. To make working comfortable spaces with enough daylight are implemented and short growing plants are implemented on the outside walls and on the roof of the building.
Strategic Priorities

[1] Awareness for already existing facilities and what options/ tools are available
[2] Transparency for who has access to the facilities and how to benefit from it
[3] Collaboration between different institutions of the university
[4] Promotion of TUHH by making the building a trademark of the university
Next Steps

[1] Gather more information about the room situation
[2] Find out which institute/ department is located where and options for areal expansion
[3] Make a computer model of the TUHH floor plans
[4] Improve floor plans in the computer model
[5] Talk to persons in charge for this specific problem at TUHH and with people in charge from the city of Hamburg
[6] Talk to most of other stakeholders
[7] Secure financial resources for this project
Cohort Fall 2018
Student Priorities
Project #1 Connecting the existing elements for better synergies

The idea is to tackle the problems "lack of access" and "lack of knowledge about participants at the university" by creating a better and more convenient way to use the existing resources on campus. We learned that the problem "lack of space / resources" actually can be proven wrong by the analysis of the campus via the landscape canvas. We do have prototyping spaces (multiple!) and we do have rooms to ideate, as well as institutions helping to spin out. The conclusion is: connecting these resources instead of creating new ones.
We introduce: TUHH Feed. This application will show you a feed of different elements (introduced below) after you created your profile and narrowed down interests. The feed will show:
Projects
Projects are groups that form to tackle a problem or design a solution. This can happen in actual working groups, registered via our central students committee or in loose connections. The things necessary to be displayed are the numbers of students involved and the mission statement. It will also be able to get in contact much faster than usual, so connections get created quicker.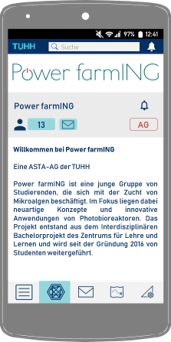 Resources
Resources range from facilities like prototyping spaces or rooms to ideate to consulting hours by professors and faculty staff eager to help. The idea is that projects will run through phases in the innovation process and can access the existing resources more convenient. The resources will also have a tag showing which phase they are ideally brought in. In this example the students workshop is ideal for the prototyping phase.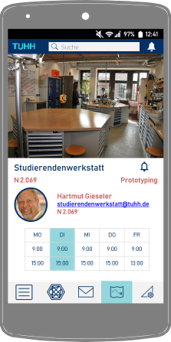 Events
We also wanted to include Events, because they can inspire students to act and also meet others that are interested in the topic the event is for. It will open the students circles and increase interactions through which projects can be started. In this example, we have an exhibition on climate change. It's date and entry fee is stated, as well as an interactive link to the location and a small description. Students can signal participation by entering the event and also link it to their calendar.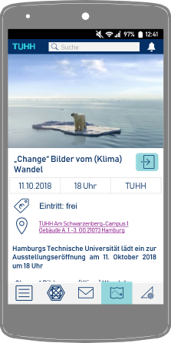 Profile
The profile is the basis for the individualized feed. It will include the name and field of study, projects you are part of and topics of interest. On this basis, all the other elements will come up in the feed and can be inspected by students. It is important to notice, that this is not a "social network" but a "university network". It does not serve to post as an individual! As we learned, you should be a first or early follower to a leader, rather than the leader (Leadership lessons from dancing guy).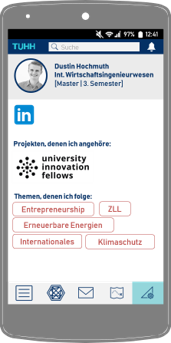 Feed
Finally, this is what I might see with my profile settings. It shows events, resources and projects that fit my interests and fields of study. If everyone simply shares who they are and what they stand for, communication and connection will spark through common interest / purpose. We believe this will unite easier and lead to better saturation of the universities existing resources.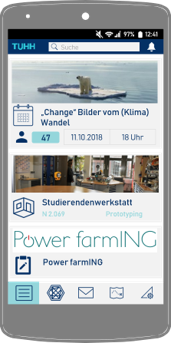 Strategic Priorities:
[1] Unity – We want to create a unified campus that shares resources instead of creating more with bad saturation
[2] Inclusion – Students, Faculty Staff, Professors: All can take part to collaborate
[3] Purpose driven connectivity – We want to enable connections on passions to boost collaboration rather than through classes
[4] Appreciation – Now that the university has more transparency over students extracurricular activities, maybe these can be translated into new courses or "problem bases learning" sessions, again feeding the education quality and experience
Next Steps:
[1] Refine the idea wih the university stakeholders
[2] Build a detailed cost plan around a MVP version of the app
[3] Relate the app to an organizational role inside the university 
[4] Secure the funding of the app (continously) and make sure it is constantly improved
[5] Develop a role out plan at the university (marketing, onboarding process,...)
[6] Transfer the app into a routine function that will include continuous improvement circles
Project #2 Raise participation at the campus through a community app

The following prototype attacks the problem of low participation at the university campus. The missing commitment of students leads to diverse problems at the campus, this is why we want to raise awareness for problems and ideas!
The prototype is an app which is based on a community voting system:
How to participate

Every student, staff or professor can log in with their university account and participate. Important is the inclusion of every member at the university. After logging in one has the possibility to post an idea or a problem which is bothering them on campus. Differing from "We don´t have a space for personal projects" to "University Mensa is too crowded to eat between lectures" and "I want to build a makerspace!". The different ideas or problems are then listed in a feed and are presented to the community. When scrolling through the feed, the user can upvote oder downvote postings or comment them.
Not alone

The advantages are that people are not "alone" with their problems and when getting support from the community a highly voted problem might start a change making project.
Indicator

On the other side, it is a good indicator for decision makers what the actual atmosphere at the campus is.
Moderator

Important to mention is that the feed is moderated in order to maintain on a friendly basis, hence the platform does not become a place of hate speech.
Incentive

To incentivise the user a points account is introduced which tracks their activity. For students, a good participation might then rewarded with credit points at the end of their studies. 
Different categories:

Problem: Identified problems on the campus -> Outcome: What bothers the university?
Idea: Ideas to solve or to improve -> Outcome: Source of innovative ideas for further projects
Q&A: Asking question to experienced students -> Outcome: Collection of answers which help students improving their studies.
Strategic Priorities:

[1] Awareness – Showing where the "real" problems are and create awareness to see the campus with open eyes for innovations
[2] Interdisciplinarity – Students (Of every department), staff or professors: Everyone is included
[3] You are not alone – Showing that you are not alone with your or any problem and raise solidarity
[4] Knowledgebase -  Ensure that knowledge and experiences are transferred to next generations
Next Steps

[1] Continue testing and refining – Test the prototype on every user group (students, staff and professors) and refine
[2] Wanted? – Talk to stakeholders at the university and ask if this kind of participation is wanted
[3] Feasability – Talk to stakeholders in the IT and evaluate the difficulty of connecting the app with university log-in data
[4] Sustainability -  Find the right stakeholders which are supporting the idea and are willing to be responsible for keeping the app running
[5] Contact app developer – Reach out for a developing team. Best scenario would be a a team based on students and staff of the university
Project #3 Create a better system for money distribution

The next idea is a practical way to distribute money in the university for student clubs. How money is handled at universities student clubs, which are fully organized by students is less transparent and most of the spent time in these student clubs are used to organize money.
The idea behind a fair transparent system is to create a money pot which can only be used by the student student clubs. This application process is 3 steps, which are handled once a year to dispense the money between the student clubs.
Who can Participate?

Every student clubs can access this money if there are students that support their idea and participate in the application process.
Step 1: Registration of needed money
The first step is for each student club that wants to access the money has to submit how much money they need for the student club
Step 2: Provision of the money

The money pool for this year is defined. This means that each student club knows how much money is available this year. With this approach, the head of money can still control how much money is used for student clubs in general. It shows transparency for the complete university.
Step 3: Presentation of each applicant

Now after everyone knows how much money is available, each student clubs prepares a pitch deck like a startup pitch, where each team presents what they want to do with their money. The jury consists of each participating team itself, that means students, and not the administration itself.
Each team must rate each other team how much of the money, they applied, should be granted. In the end, the mean value is used.
One important aspect behind it is, if your team values good teams badly, there is a negative feedback such that your student clubs gets less money.
With a system like that, we have the opportunity to value the projects that are important for the students and not for the head of the university. Or different faculties where the money currently comes from.
Bringing the project to life

This big change where a lot of risks is involved has to be backed up by a lot of students as well. The idea of how we can bring the university to this change is to actually talk to the leaders of each student club. Convincing them is the best way to actually create a change at our university. If we go top down in this problem we would have to convince the leader of the university first. The other way around down to top is a better strategy here. With enough students that are supporting that idea, we can create pressure on the university to actually support the idea.
This means the first step is to convince a lot of student club to support this idea.
Utilize support to actually bring this project to life for a fair transparent distribution of money.
Strategic Priorities:

[1] Transparency – Showing transparent which resources are used for what project
[2] Entrepeneurship – Students learn effective pitching their ideas
[3] Acknowledgment – Acknowledgment for different student projects
[4] Increased Popularity – The announcement increases popularity for every student student club
Project #4 Creathon @ TUHH

At TUHH we identified the following major issues:
[1] We have a lot of I&E assets but they are neither used, known nor do they cooperate with each other.
[2] We have low participation in student activities due to a high workload and missing interest
[3] We don't have a strong togetherness-feeling. Instead, people just go to the lectures and exams.
[4] Students would like to engage in innovative processes but are too shy to it themselves.

The organization would be done by us and everyone who has interest to help us (a lot of people actually signalized their help when talking about the idea).
The problems / challenges found in the daily campus life should preferably posted and subsequently ranked by all university members encouraging all to solve their own stated problems and to participate in the creathon. Additionally, teams could bring their own challenges they want to solve or they are given by external companies which could be a possibility of financing the event.
The teams should not only consist of students but of all university members (e.g. faculty staff, professors, etc.) to build inclusive teams creating solutions for the whole university.
To inspire the teams for an innovative mindset keynote lectures should be held by local founders (experiences/failing is part of the process), professors (scientific/educational purpose), and/or companies (experiences/need for innovations). Following, we would give an introduction to the design thinking process and provide additional input and material throughout the different steps.
The first two phases of the process, inspiration and ideation, should take place in the LUK (Learning and Communication Centre). Then, the prototyping is done either in the student workshop or in the Fab Lab, both facilities which are not well known by students.
Finally, the teams present their ideas in front of a jury consisting of university members, founders, accelerators, and sponsors of the event (e.g. companies). The whole presentation and award ceremony should be accompanied by the university's marketing department to achieve a university- and city-wide acknowledgement. The winning teams are awarded with money/space/resources to implement their ideas.
Strategic Priorities
[1] I&E Mindset - Students start developing a more innovative and entrepreneurial mindset
[2] Awareness - Students get to know the I&E assets of their campus
[3] Sustainable Improvement - Solving problems of the university by the university
[4] Inclusion - Increase togetherness-feeling of all university members
[5] Brand - Positioning as an innovative university
Next Steps
To bring the creathon to life we have to do the following steps:
[1] Develop a detailed concept of the creathon.
[2] Convince the stakeholders of the concept.
[3] Secure funding of the creathon.
[3] Prepare a Design Thinking workshop for the input along the creathon.
[4] Acquisition of I&E partners (founders, accelerators, companies, etc.)
[5] Start a university wide marketing campaign to raise awareness of the project.
[6] Collect problems/challenges.
The biggest challenge for us will be the development of a very good concept ensuring that the participants are really motivated afterwards and spread the word for upcoming creathons. If we fail to deliver, it will be even more difficult to gain the interest of new participants than before.
Related Links
Hamburg_University_of_Technology
Fall 2019 Cohort
---
---