Fellow:Simran Pal Kishan
Jump to navigation
Jump to search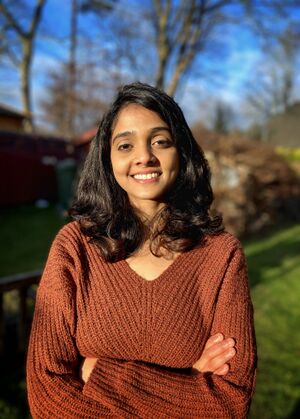 Name

Simran Pal Kishan

School (Cohort)

Hamburg University of Technology (2023 cohort)

Majoring in

Environmental Engineering

Country

Germany

Email
Bio
Simran is an environmental engineering, hailing from the picturesque town of Mysuru in southern India. Born and raised in India, she embarked on her academic journey by completing her bachelor's studies in Environmental Engineering in her hometown. Her insatiable curiosity and dedication to sustainable practices led her to pursue a Master of Science in Environmental Engineering at Technische Universität Hamburg (TUHH).
Her academic pursuit aligns seamlessly with her keen interest in sustainability and its intricate web of concepts. Drawing from her prior professional experience of three years in business operations and management, Simran's interest in innovation management has been sparked, adding further depth to her profile.
Simran's journey is distinctly characterized by an unwavering focus on the realms of sustainability and innovation. Her adeptness spans a diverse array of domains, encompassing activities such as sustainability reporting, life cycle analysis, and the principles of the circular economy. She actively navigates through challenges and prospects in the sustainability landscape, continually enriching her knowledge in the process.
Beyond her academic pursuits, Simran discovers solace in her personal interests. She possesses an inclination towards travel, cultural exploration, culinary experimentation, and the culinary arts. Additionally, she derives tranquility from the art of dance and aspires to learn climbing in the future.
Achievements
An affirmation of her resolute commitment, Simran currently holds the esteemed position of Sustainability Representative at AStA TUHH, a pivotal role within the General Students Committee. In this capacity, she not only takes the lead in driving impactful projects but also immerses herself in comprehending the profound implications of social change. Notably, she orchestrated an initiative at TUHH centered around script exchange, facilitating the exchange of old study materials among students. This initiative serves to encourage resource reuse and efficient utilization, aligning with principles of sustainability.
Simran's exceptional achievements have garnered recognition on multiple fronts. She was honored with the Accenture ACE Award for her outstanding performance in consecutive fiscal years, namely 2019, 2020, and 2021, during her tenure at her previous place of employment. This accolade underscores her consistent dedication and remarkable contributions in the professional sphere.
Furthermore, her academic prowess has been acknowledged through the Deutschlandstipendium scholarship award for the period spanning 2022 to 2023. This prestigious scholarship is a testament to Simran's remarkable scholastic accomplishments, highlighting her commitment to excellence in her educational pursuits.
Social media profiles
https://www.linkedin.com/in/simran-pal-k/
---
---