Fellow:Praneeth Sai
Jump to navigation
Jump to search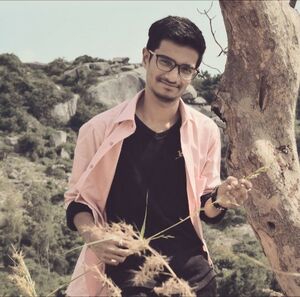 Praneeth Sai C is a junior student at MADANAPALLE INSTITUTE OF TECHNOLOGY & SCIENCE. He is currently pursuing his bachelor degree in Mechanical Engineering. Praneeth Sai peers call him as 'Pranee'. He is currently living in Madanapalle town which is located in ANdhra Pradesh which is one of the stste of most known country India. He is a very good artist, he is expert in drawing pencil sketches. He is also fond of films and making films.
Praneeth Sai is a very good starter, he has more speacking skills to start any stage speech or any other tasks. He is a self-motivator, and also the person who learns from his mistakes. He takes all the comments which he get in positive way.He learns through his mistakes. Praneeth Sai supports all his peers and also motivates them to succeed in their career. Praneeth Sai is also founder of "film making club" and also an active participant of SQAC (student quality assurance cell). HE also very much known in his college and in his surroundings where he live for all his works.
Praneeth Sai always keep others and himself in very happy and joyful mood. He loves smile, so he always keeps to smile and face any problem bravely with his smile. Praneeth is very much punctual in his time sense, he follows time very strictly. If anyone came for help towards praneeth, he definetly helps them by giving all his effrots. He will solve all the problems in creative way and also search for more solutions for the same problems to solve in short span of time. Praneeth ikes to go long walk in green fields by listening music. Praneeth is also a very good enterpreneur, he has a plan to start a new "solutions and advertisement"company. He also have a good knowledge in todays technology and also he keeps updating in technological aspects. At present, he is doing project on security parking system with his peers of different stream.
Related Links
Landscape Canvas      https://docs.google.com/spreadsheets/d/1tXcxKAThSUv3GItwj1tDJSXR_HbG91NpmjA0H2HCOUo/edit#gid=3
Campus Overview        http://universityinnovation.org/wiki/Madanapalle_Institute_of_Technology_and_Science
Student Priorities         http://universityinnovation.org/wiki/Madanapalle_Institute_of_Technology_and_Science_Student_Priorities
Spring 2017 Fellows:
Suchitra Nidiginti
Kollu Nishkala
Praneeth Sai
Manasa Kakarla
Fall 2016 Fellows:
Charan Sai Pala
Sai Kiran
Sameer Ahmed
Sindhu Bhonsley
Anitha Narnavaram
Priyanka Bonthala
---
---