School:University of Technology Sydney
Jump to navigation
Jump to search

Overview
The University of Technology Sydney (UTS) was founded in 1988 and is located in Sydney's tech precinct in NSW, Australia. A modern focus and a drive for innovation has enabled UTS to quickly climb global rankings. UTS jumped almost 200 places in the Times Higher Education rankings over the last seven years (2012-2019) and remains the number one young university (under 50) in Australia. UTS is known as a world leader in transdiciplinary approaches and sustainable futures thinking, with over 45,000 students and almost 4,000 staff. An industry focus with modern courses and state-of-the-art equipment has enabled its degrees and students continue to become more respected worldwide. UTS has shown a passion to continue this movement through its 1 Billion dollar investment to fundamentally change the way that teaching, learning and research is delivered.
UTS Values
UTS is led by five distinct values that shape the vision and strategy of the university:
Discover and share new knowledge and new ways to lead through teaching, research, intellectual debate and use of technology.
Engage and collaborate with students, alumni, partners, professions and communities locally and internationally.
Empower staff and students to grow, challenge and make a difference.
Deliver obligations to staff, students, partners and communities while maintaining high standards and ethical behaviour.
Sustain local and global environment, organisational health and the ability to create a positive and viable future.
Vision 2027
Launched in 2017, UTS' Vision 2027 seeks to catalyze a spirit of innovation and entrepreneurship with the university The goals encourage collaboration and creativity in social justice and accessibility; responsible leadership; and excellence in indigenous higher education and research. Students are encouraged to be flexible and resilient through critical thinking, access to impactful learning and transdisciplinary thinking. Students, staff, professionals and partners are connected in through innovation to deliver excellent research with impact through eight university-wide goals.
Lifetime learning Personal learning experience Digital partners New ways of working Precinct, community, partnerships Connected research International profile Social change
In collaboration with the launch of Vision 2027, Deputy Vice-Chancellor of Innovation and Enterprise - Professor Glenn Wightwick was appointed to support innovation and connection throughout the university with a focus on entrepreneurship and external engagement. Professor Wightwick oversees the Corporate Relations Centre, Innovation and Entrepreneurship portfolio and 2SER radio/podcast platform.
Promoting Student Innovation and Entrepreneurship
Degrees and Programs
As a key component of Vision 2027 student innovation and entrepreneurship (I&E) is seen as critical to the success of students and the university with over 90 distinct subjects that engage with I&E principles. UTS recognizes eight academic pathways where students can interact with innovation and entrepreneurship as follows:
These pathways are supported by a wider culture of innovation that encourages students to convert creativity in entrepreneurial endeavors. The following UTS StartNet map explores how entrepreneurial programs and culture are found across several faculties in the university.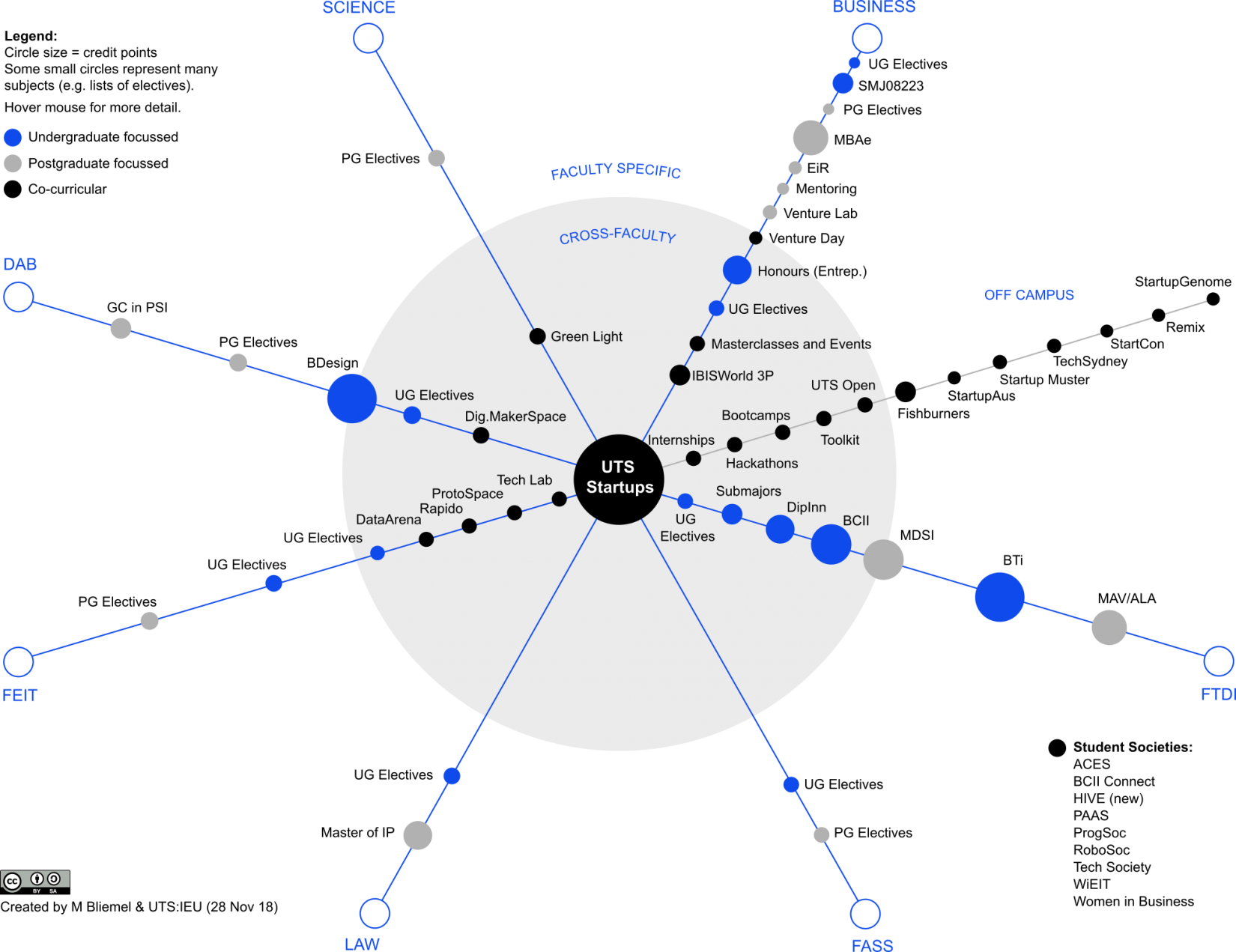 Academic Pathways - learning.futures
Academically, students at both the undergraduate and postgraduate levels can engage with a host of subjects, majors, content and degree pathways. Innovative programs such as the MBAe – Masters of Business Administration in Entrepreneurship; Honours in Entrepreneurship; and Bachelor of Creative Intelligence all encourage students to explore transdisciplinary approaches to I&E.
Students engage in UTS' unique model of learning - the learning.futures strategy which promotes practice-oriented education for a global workforce through research-inspired and integrated learning.
Students can also access online and open source courses including 'Introduction to Entrepreneurship' and 'Designing Out Problems'. One third of UTS students will receive formal innovation and entrepreneurship training in their coursework alongside specific entrepreneurship support. UTS fosters I&E across the nine university faculties and through a variety of unique centres/institutes as highlighted below.
Faculty of Arts and Social Sciences
Faculty of Design, Architecture and Building
Faculty of Engineering and Information Technology
Faculty of Transdisciplinary Innovation
Centre for Social Justice and Inclusion
Institute for Public Policy and Governance
Institute for Sustainable Future
Cultural Pathways - Fostering entrepreneurship
Beyond the academic pathways, UTS fosters a culture of creativity through the UTS Innovation & Entrepreneurship Unit. This unit seeks to bridge research and entrepreneurship through a strong focus on research commercialization. The unit sits physically next to the business school and offers startup spaces to support hatchling entrepreneurs. The I&E unit supports with internships; short courses and toolkits (including 'Design Thinking for Researchers' and open access courses); student societies and industry connection opportunities (hackathons, workshops, camps and mentorship).
The core of the unit is UTS Startups, an incubator focused on mentoring and supporting students and recent alumni with startups. UTS Startups is open to students from all faculties and degree types, but most students come from Engineering and IT as well as Business. This is supported by recent research which found that 44% of UTS undergraduate students (2018) believe that they are likely or very likely to join a start-up and 34% state that they are likely or very likely to start a business.The following chart highlights the growing culture of embedding entrepreneurship culture within universities in Australia in an effort to support budding entrepreneurship in their innovative ideas. There are over 160 incubators, accelerators and pre-accelerators in Australia, however these remain expensive and therefore UTS seeks to promote a culture of entrepreneurship by embedding such thinking in coursework and existing degree programs alongside the startup community.
Encouraging Faculty Innovation and Entrepreneurship
As a component of the 2027 Vision, UTS is committed to supporting staff with research and learning with a goal of seamless, personalized and relevant education. While staff are also encouraged to engage with industry partners and through innovative research there are fewer resources for startups and entrepreneurship for faculty. Where students (undergraduate and postgraduate) own their own Intellectual Property (IP) from research projects, IP generated by faculty members belongs to the university.
UTS Startups allows faculty to participate if one member of the team is a student. This limits opportunities for external innovation. However, there is a significant focus on encouraging innovation in the classroom environment and through industry partnerships. Opportunities to enhance learner experience (LX) and support academics in the transition to digital learning platforms such as the LX.lab, futures blog and online support platforms. These resources are designed to help academics build knowledge and confidence within the learning.futures mandate. Successful industry partnerships are well recognized across the university and celebrated through technology transfer, and licensing opportunities.
Actively Supporting the Technology Transfer
UTS supports technology transfer in two distinct pathways: students and projects/faculty. Students are encouraged to commercialize research through UTS Startups for work produced independently. Project work by faculty members and researchers is promoted for technology transfer to industry through Intellectual Property (IP) licensing or collaborative agreements in health, data science, sustainability, social futures, and future work and industry. Not all transfers have been technology based and many are the support of policy or advocacy work to the public sector and civil society.

UTS belongs to the Australian Technology Network of Universities (ATN)and is guided by ATN principles of IP which seek transparent, flexible and user-friendly systems that encourage a range of IP models. These principles actively encourage research that can be commercialized by industry, government and community groups through publicly available policies and templates. The ATN promotes leadership by industry partners throughout the process of technology transfer. For IP with significant commercial value and a clear route to market UTS directly seeks to form a startup with relevant stakeholders or to find potential licensees. However for other IP, UTS promotes 'Easy Access IP' which supports the licensing of research with a single page agreement.

Successful commercialization and information transfer ideas from UTS include:
TechGym - A recent Startup Co-Founded by two UTS students aimed at rehabilitation for stroke patients using robotics
Espresso Displays - A recent company that has broken into market providing the world's thinnest portable displays
Resolution123 - An online legal service providing quick, simple and affordable employment law advice
Auspherix - an innovative pharmaceutical company to explore drugs to treat antibiotic resistant infections
Helmedix - a helminth-based approach to treat autoimmune diseases
Sabre Autonomous Solutions - an autonomous grit-blasting robot to clean and prepare steel, stone and concrete in building projects
AustLII - a comprehensive online, open access and free database of Australian legal information
Honey Treatment - an approach to chronic wound treatment through Manuka Honey
Medicare Safety Net - the design of policy to decrease out-of-pocket expenses
Advocacy - collaboration with the Australian government to allocate $300 million for water, sanitation and hygiene in international development
Facilitating University - Industry Collaboration
UTS CareerHub and Internships - Showcasing Innovation
UTS CareerHub helps to link graduating students to industry through ongoing recruitment and an annual student showcase across facilities and degrees. The showcase seeks to highlight creative and innovative skill sets of students at UTS for future industry engagements and often coming from the Design and Transdisciplinary Innovation disciplines at UTS. Workforce development is a key priority of industry and UTS seeks to develop well-rounded, creative and critical thinkers that are ready for industry.
Industry Research - Connecting Innovation
Embedded in UTS' 2027 vision, the university is seeking to research "exemplified by excellence, impact, engagement with global partners, and innovative collaborations that transcend disciplinary and professional boundaries." The research aims to have economic, cultural, and social impact through mult- and trans-disciplinary approaches leveraging and sustaining partnerships with business, government and civil society. Connected research can occur in three ways:
Contract research for strategic research expertise
Collaborative research partnerships
Consulting services through accessUTS
Collaborative projects such as the Innovative Future of Sydney Trains Customer Service are celebrated through the annual UTS Vice-Chancellor's Awards for Research Excellence through Collaboration or Partnership Award. UTS has partnerships with small and medium enterprises, large multinational companies, local, state, federal and international government agencies, non-governmental organizations and charities.
Industry Shaping - University Societies
UTS's union 'ACTIVATE' facilities over 130 Student Societies from all faculties of the university. Many societies focus on connecting students to Industry by running events, hackathons, panels, networking evenings and site tours.
These student-led events, facilitated and sponsored by the university provide an alternate method to build Industry contacts to further pursue their career. The following societies are highly involved with Industry:
Biomedical Engineering Society (BESUTS)
Industry Shaping - Design Studios
The university aims to encourage a number of students to be exposed to a number of projects that are generally implemented in an industry setting. In particular, the UTS Faculty of Engineering and IT (FEIT) incorporate mandatory subjects in their course that encourages students to participate in team projects. This is where they have the opportunity to utilise the theoretical skills they have learned in their technical subjects and apply it to real-world projects.
The following subjects provide some examples of FEIT offers to its students that enables students to work collaboratively in a team:
Software Engineering Studio 1A
Design and Innovation Fundamentals
Integrating Business Perspective
Fundamentals of Biomedical Engineering Studio A
Collaborative Business Processes
Industry Shaping - Hackathons and Case Study Sprints
UTS is very proactive in organising design sprints for students. These design based innovation events are mentored by industry professionals, sponsored by corporate companies and offer cash and investment prizes for students to develop their 'end product or system' designed during the hackathon.
These hackathons not only stimulate innovation in the students, it develops and grows innovation in the Industries that the hackathon is partnered with.
The following is a list of selected Industry based Hackathons run at UTS in the last 2 months that cross university disciplines.
IBISWorld 3P Innovation Competition
Industry Shaping - Influencing Innovation
A final source of UTS' culture of innovation for industry collaboration comes from the 2SER radio and podcasts. The university's radio hosts podcasts focusing on futures thinking across sectors, social justice, history and culture.
Think: Business Futures podcast
Think: Digital Futures podcast
Engaging with regional and local economic development efforts
UTS's strategic location supports the engagement with local and regional economic efforts within the precinct (Pyrmont and Ultimo), city of Sydney, region of NSW and beyond. While the university does not have a specific economic development office, the precinct-focus in UTS' Vision 2027 speaks to the desire for local economic development. The university engages with the Greater Sydney Commission, precinct task forces, community groups, and the City of Sydney to connect with ongoing development work both for economic and philanthropic purposes. Beyond UTS' engagement in entrepreneurship, technology transfer and industry collaboration in the economic development arena, such development has physical, and virtual aspects.
Virtual Spaces
Leveraging the learning.futures approach of education, UTS has a strong movement towards virtual learning and collaboration spaces. This opens opportunities for local and regional collaboration through podcasts and open source courses.
Due to the shift in online learning in 2020, more resources and events are now online to accommodate the change. The majority of society events are now held online through zoom to allow students to connect socially. A new way to support and connect students are through the UTS FEIT Discord Server where students discuss their subject difficulties and assist each other in solving issues. There are still many spaces and events that are yet to be released virtually for students to access.
Physical Spaces
Physical spaces in UTS function as catalysts for innovation and entrepreneurship and are supported by over 1 billion dollars of recent infrastructure investment. Vision2027 envisions the UTS campus and facilities as spaces for public and community engagement as highlighted in the following four strategic outcomes:
Build Australia's first Indigenous Residential College to support Indigenous student participation and success in higher education.
Expand innovation spaces such as ProtoSpace, Data Arena, Tech Lab, iHub to be more accessible to industry partners, civil society and government.
Develop co-working spaces in the tech precinct and UTS facilities in Botany and Western Sydney.
Design local engagements across Sydney that support lifelong learning.
Landscape Canvas
Related Links
See the 2019 FEIT UIF Video: 
See the 2018 Autumn (Fall) UTS UIF video:
https://www.youtube.com/watch?v=13KUDvclG4M
UIF @ UTS
---
---