School:Elon University
Jump to navigation
Jump to search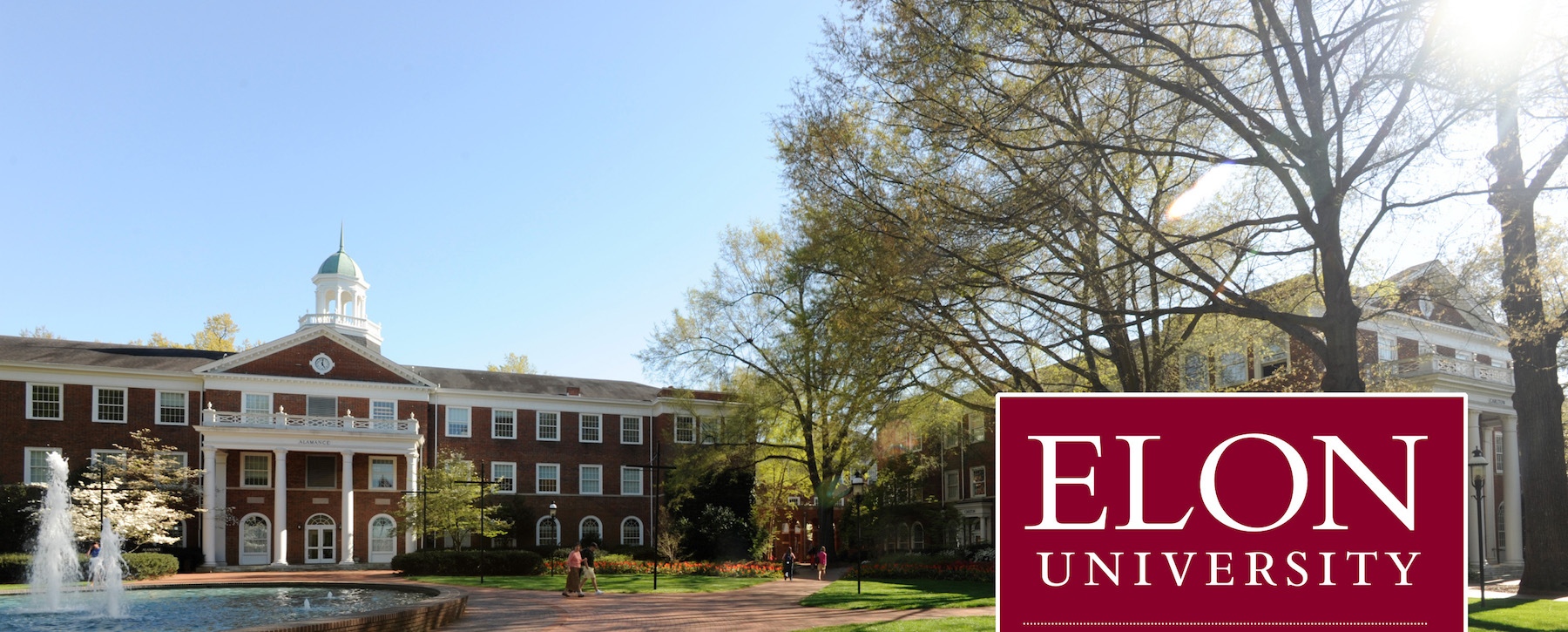 Overview
Founded in 1889, Elon University is a private institution with an undergraduate enrollment rate of more than 7,000 students. Currently organized into six schools: the College of Arts and Sciences, Martha and Spencer Love School of Business, School of Communications, School of Education, School of Health Sciences, and School of Law, this university allows students to decide from nearly 60 majors. While the curriculum is grounded in the traditional liberal arts and sciences, all first year students are given the option to choose among multiple programs and organizations. As of 2022, Elon University withholds more than 250 organizations ranging from academic honors to undergraduate research associations. In addition to this, Elon University is also currently ranked #1 for Study Abroad and Undergraduate Teaching, and #6 for Most Innovative University by the US News and World Report. Students and faculty members at this university are joined in classrooms with a ratio of 12:1 with the average class size being 20. All faculty and staff members in every area of expertise exhibit vast skills in research, scholarship, and academic affairs.
Promotes Student Entrepreneurship and Innovation
Elon currently offers a major and a minor in Entrepreneurship and Innovation through the Doherty Center for Creativity, Innovation and Entrepreneurship. The Entrepreneurship and Innovation major places strong emphasis on business, startup processes, and design thinking. The Entrepreneurship and Innovation minor places a strong enphasis on the entrepreneurial process and developing the tools and abilities needed for students to create their own startups. As a registered major and department under the Love School of Business, this program prepares students to become entrepreneurs in either for-profit or social businesses.
Established in 2018, the Sankey Hall building houses Entrepreneurship and Innovation professors and staff, as well as the Doherty Center. Our promotion of I&E seeks to inspire students to create and change the world around them in a variety of majors, requiring widespread faculty support and appeals to creativity that match all kinds of students. Doherty Center Director Alyssa Martina is continuously seeking to expand interdisciplinary opportunities to students from a variety of majors. She has established numerous events and programs that are offered as interdisciplinary in focus and the Doherty Center Scholar Interns work at establishing relationships with students across campus. Its signature event is a 24-hour "hackathon" challenge, known as the Elon Innovation Challenge, where student teams from several schools collaborate to solve a wicked challenge. This past year, several universities across the East Coast joined the Challenge. Two other important annual events for the Center are the W.E Do! Women and Entrepreneurship conference and the Black Innovation Matters Conference. Both the Elon Innovation Challenge and the W.E. Do! conferences are co-chaired by a UI Fellow.
In addition to the E&I major and the Elon Innovation Challenge, Elon University has funded the Center for Design Thinking on campus. This center works with faculty to facilitate workshops for students to learn how to use design thinking in their classes, projects and throughout their lives. Danielle Lake, the director of the Center for Design Thinking, is working on partnering with different organizations on campus, such as the CREDE and the GLC, to bring the campus together and help educate students about how design thinking can be used to create solutions to social justice issues. This is also shown through their work with Design for America, a nationally recognized organization that uses the design thinking process to bring about social change within the Elon community. Additionally, students have the opportunity to educate their peers on design thinking processes and methods as Design Thinking Catalysts with the Elon By Design initiative. The Center for Design Thinking has also partnered with the Maker Hub to host an event called Pop-Up & Play. This event focuses on helping students bring play back into their lives by using design thinking methods. The Center for Design thinking also offers a one credit winter term course available to students of all majors.
The Innovation Living Learning Community is offered to first year Innovation Scholar students. The Innovation Scholars program is a scholarship run out of the Doherty Center consisting of roughly 15 students in each years cohort. These students are trained in team building, the entrepreneurial mindset, and eventually are guided in creating their own venture during their time at Elon. The Innovation LLC offers these students a place to facilitate their experiences in the program and harness these new ideas as a unit. The residentially-based experience equips participants with a strong foundation for tackling global issues and exploring big ideas. Student Made Elon is a program through the Doherty Center at Elon that highlights students who have started their own businesses. This program works with the students to promote their business and is a great opportunity for any students who are already entrepreneurs. Student Made Elon also provides students with a tent at the Elon Farmer's Market if they want to sell their products to the community. Oaks Originals is another key entrepreneurial resource for Elon students. This initiative supports student entrepreneurs in establishing a variety of ventures. Student entrepreneurs can participate in several pop-up shops and workshops throughout the year to gain hands-on experience in an entrepreneurial ecosystem. A future collaboration between the School of Communications and Oaks Originals initiative is in the works to further engage a wide range of students in entrepreneurial opportunities. The partnership will connect communication students looking to gain experience with student entrepreneurs seeking to strengthen their brand identity.
The recent addition of the Elon University Innovation Quad stands to further expand on-campus access to design thinking tools and practices. As these spaces are primarily oriented toward STEM fields, opportunities await in future development toward more interdisciplinary engagement with these innovative resources.
Encouraging Faculty Innovation and Entrepreneurship
Elon University's faculty members curate an innovative and entrepreneurial mindset through independent projects and research publications in collaboration with students. Promoting the idea of collaboration among different departments/faculties for a holistic learning experience can help students bounce their ideas and create new innovative ideas. The small ratio of students to professors cultivates a professional and personal relationship that encourages the pursuit of learning outside of the classroom. To allow these collaborations to come to fruition, the university offers many grants and sponsorships for professors in a wide array of disciplines. Not only are research and personal projects supported, but the Center for Advancement of Teaching and Learning utilizes innovation to foster a more inclusive classroom experience and pedagogy. By advocating for these opportunities for students and faculty, innovation and entrepreneurship are widespread and recognized throughout campus. Workshops and seminars can be a helpful way to discover your inner entrepreneurial mindset by sharing insights and trends that are commonly seen through entrepreneurship. With the implementation of these strategies it can help create a vibrant entrepreneurial ecosystem within Elon, equipping students with the needed skills, resources, and opportunities they need to launch successful startups.
Actively Support the University Technology Transfer Function
Although we do not have anything on campus that falls into this category as of right now, one of our prior cohort's prototypes involved the addition of a new office to the "Instructional & Campus Technologies" department named "Protection for You". The office would work on informing students and faculty on patents, copyrights, and trademarks. In addition, the office would simply answer any questions students may have or guide students in the proper direction. 
Facilitating University - Industry Collaboration
Elon is located in the Triad and is very close to the Research Triangle. Our Student Professional Development Center works to connect students with businesses in both of these areas. In addition, Elon also hosts large job and internship fairs that bring in startups and large companies from around the US, like Deloitte and Oracle. Because Elon is surrounded by many other universities with strong research focuses, it can be difficult to attract larger research projects. Despite this struggle, Elon has been able to build meaningful relationships and provide opportunities for collaboration with some smaller local companies. For example, our Environmental Department has been involved with doing some really neat testing for products that will be sold to Kobalt. Working on similar projects with other local businesses and throughout other Elon departments is something we could definitely continue to push for as a Leadership Circle. To do this we will need to continue to build connections by reaching out to local companies to see what types of projects and research that Elon students could help progress. Additionally, because we are such a small school compared to schools like NC State, Elon could also benefit from reaching out to these other, larger universities. Creating a connection between these schools could expand the network of opportunities not only for Elon students but for college students all around North Carolina.
Engaging with Regional and Economic Development Efforts
Elon has made a lot of progress in this area and our plans are to continue to make huge leaps and bounds here. The town of Elon and the surrounding area were hit hard when the textile companies left. Over the next 20 years our university has major priorities to help build up the areas around Elon and create an environment that will bring in more business and attract students and faculty. We have also invested in offices in downtown Burlington and Greensboro that are specifically geared toward community engagement, innovation, and entrepreneurship. These efforts are only possible with the support of the entire university so we plan to help out in whatever way we can. Initially it will be important to do surveys and studies on other universities that have accomplished similar goals. One example that we have looked at is Duke University, which has helped transform Durham over the years. The University has also invested capital into local education. A new elementary school, funded by Elon University, opened its doors for the first time to students in the fall of 2018. Additionally, Elon Academy, apart of Elon's Center for Access and Success, is a program that assists high school students in the area surrounding Elon. Elon Academy aims to aid families with financial need or families with little to no history in college. 
Next Steps
Interdisciplinary innovation (not just through business school)
Expanding and improving I&E culture (forums, speakers, discussions, LLC, awards, more student businesses, etc.)

Marketing (using Pendulum, career fair, and likely social media to advertise our events)

Identify and create new sources that stimulate innovation (Expand Doherty Center, improve ENT Major and core curriculum)
Create a Grant program for small businesses and student Entrepreneurs

Since Elon is essentially starting from "stage 1," we must do everything we can to get more students to start businesses, non-profits, organizations, etc. and truly ingrain creativity into our culture.
Elon University Landscape Canvas
[[1]]
Related Links
Elon University Student Priorities
University Innovation Fellows
Fall 2023: Samuel Abner, Bryan Floyd, Ian Prohofsky, Maggie Rolfe, Aidan Walsh
Fall 2022: Ashley Josey, Eddie Keefe, Emmet Owen, Joshua Mason, MK Anyimah, Nathaniel Lerman, TJ Mathis
Fall 2021: Yancy Longin, Samuel Ramirez, Nicholas Muller, Miki Radan, Isabel Gouveia, Ayesh Awad, Alexandra Cope
Fall 2020: Christina Wyatt, Haydn Stucker, Jakob Reuter, Jane Ragland, Maggie Cox, Riley Corvin, Zoë Rein
Fall 2019: Alaa Suleiman, Julia Perline, Lilly Rothschild, Sam Gans
Fall 2018: Gillian Hook, Sydney Thornton
Spring 2018: Yousaf Khan, Regan O'Donnell, Noor Irshaidat, Haley Brengartner 
Spring 2017: Josh Cadorette, Briana Brady, James Setzer, Nick Smith
Spring 2016: Elizabeth Jordan, Gabrielle Vance, Sean Webber, Kyle McKinley, William Kakavas
Spring 2015: Ben Driscoll, Jensen Roll, Matt Snow, Giles Roll
---
---