School:Elon University
Jump to navigation
Jump to search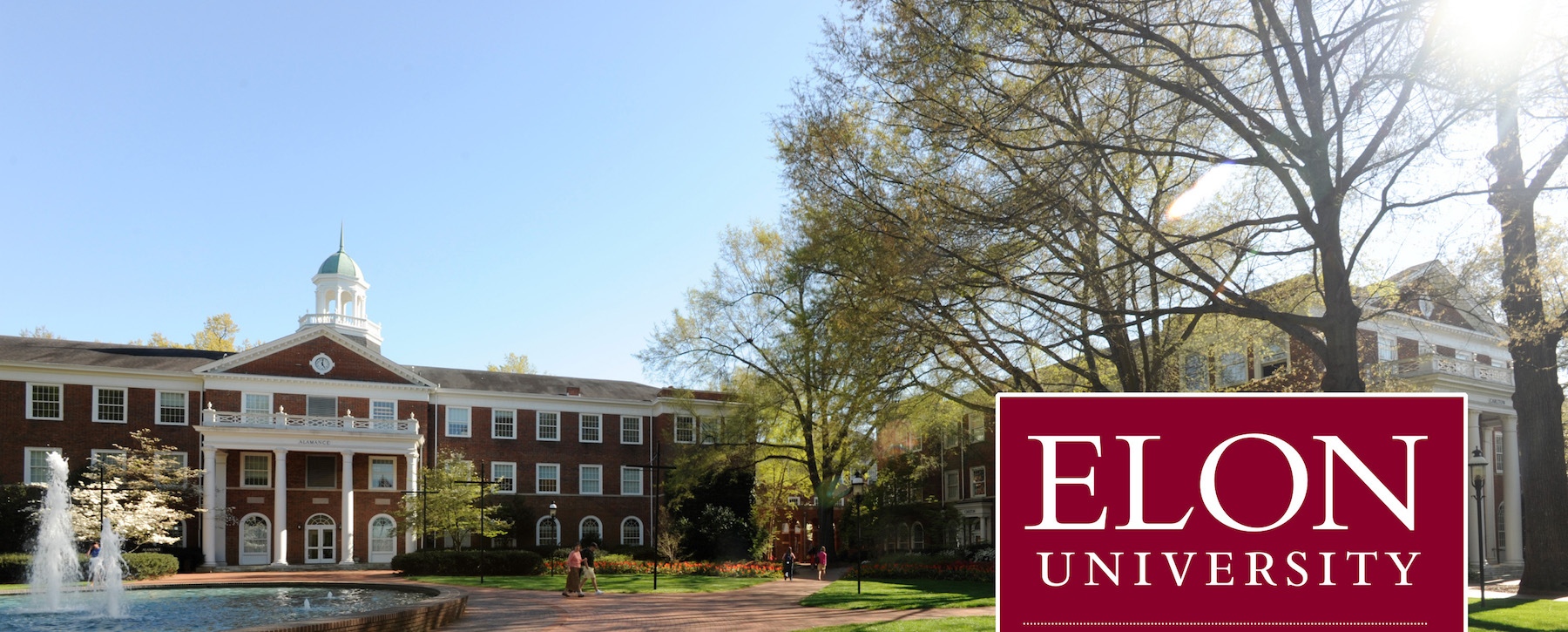 Overview
Founded in 1889, Elon University is a private institution with an undergraduate enrollment rate of more than 6,000 students. Currently organized into six schools: the College of Arts and Sciences, Martha and Spencer Love School of Business, School of Communications, School of Education, School of Health Sciences, and School of Law, this university allows students to decide from nearly 60 majors. While the curriculum is grounded in the traditional liberal arts and sciences, all first year students are given the option to choose among multiple programs and organizations. As of 2019, Elon University withholds more than 250 organizations ranging from academic honors to undergraduate research associations. In addition to this, Elon University is also currently ranked in #1 for Study Abroad, and #2 for Undergraduate Teaching by the US News and World Report. Students and faculty members at this university are joined in classrooms with a ratio of 12:1 with all faculty and staff members exhibiting vast skills in research, scholarship, and academic affairs. 
Entrepreneurship and Innovation
Elon currently offers a major and a minor in entrepreneurship through the Doherty center, which prepares students to become entrepreneurs in either for-profit businesses or social businesses. While this helps, it is not enough. This program is a registered major and department under the Love School of Business. The business school alone seems to have a monopoly on entrepreneurship and there is not enough interdisciplinary application of design thinking and innovation. Since the Sankey Hall building was established in 2018 the Entrepreneurship professors and Doherty Center is housed there. Our promotion of I&E seeks to inspire students to create and change the world around them in a variety of majors, requiring widespread faculty support and appeals to creativity that match all kinds of students. The Doherty Center is transitioning to be more interdisciplinary. The entrepreneurship major still focuses on business, startup processes, and design thinking the Doherty Center is continuously seeking to include new students from other majors.
Encouraging Faculty Innovation and Entrepreneurship
Many faculty members within Elon University are very innovative and entrepreneurial in the way in which they approach their independent research projects and publications. Staff memebers are encourgaged to complete research and to offer students the opportunity to work alongside them. A key component of Elons booming sucess is the small ratio of students to professors in each class, allowing a more intament relationship between students and their circulum. As a result of this, professors often reach out to students about research opportunities that believe might interest them. While the reseach itself is encouraged, students and community memebers often remain unaware of the accomplishments of the faculty as it is rarley shared commercially. In order to encourage our faculty members to continue being innovative and entrepreneurial we must reward them for what they are already doing and find ways to share their finding with the community as a whole. 
Actively Support the University Technology Transfer Function
Although we do not have anything on campus right now that falls into this category. One of our prototypes involves the addition of a new office to the "Instructional & Campus Technologies", which is going to be called "Protection for You". The office will work on informing students and faculty on patents, copyrights, and trademarks. What they are? How they can be obtained? What are external resources that can be used? In addition, the offcie will simply answer any questions students might have or guide students into the proper direction if they did not have the answers. 
Facilitating University - Industry Collaboration
Elon is located in the Triad and is very close to the Research Triangle. Our Student Professional Development Center works to connect students with businesses in both of these areas. We also have large job and internship fairs that bring in startups and large companies like Deloitte and Oracle. These programs are very common among most schools and we are currently working to expand them. Because of the many other schools in the area with strong research focuses it is difficult to attract larger research projects but there are some smaller companies that we have been able to work with. Our Environmental Department has been involved with doing some really neat testing for products that will be sold to Kobalt and there are many other projects taking place within our other departments.
As a Leadership Circle this is an area I think we could improve in. To do this we will need to reach out to many of the local companies to see what types of projects and research they might need validated. Because we are such a small school compared to schools like NC State there are some smaller projects that we could work on that would be very helpful to those businesses. The first step for us will be getting involved with the Chamber of Commerce.
Engaging with Regional and Local Economic Development Efforts
Elon has made a lot of progress in this area and our plans are to continue to make huge leaps and bounds here. The town of Elon and the surrounding area were hit hard when the textile companies left. Over the next 20 years our university has major priorities to help build up the areas around Elon and create an environment that will bring in more business and attract students and faculty. We have also invested in offices in downtown Burlington and Greensboro that are specifically geared toward community engagement, innovation, and entrepreneurship. These efforts are only possible with the support of the entire university so we plan to help out in whatever way we can. Initially it will be important to do surveys and studies on other universities that have accomplished similar goals. One example that we have looked at is Duke University, which has helped transform Durham over the years. The University has also invested capital into local education. A new elementary school, funded by Elon University, opened its doors for the first time to students in the fall of 2018. 
Next Steps

Interdisciplinary innovation (not just through business school)
Creating I&E culture (forums, speakers, discussions, LLC, awards, more student businesses, etc.)

Marketing (using Pendulum, career fair, and likely social media to advertise our events)

Identifying all possible sources that can stimulate innovation (for funding, advice, etc.)
Since Elon is essentially starting from "stage 1," we must do everything we can to get more students to start businesses, non-profits, organizations, etc. and truly ingrain creativity into our culture.
Elon University Landscape Canvas



[[1]]
Related Links
Elon University Student Priorities
University Innovation Fellows
Fall 2019: Alaa Suleiman, Julia Perline, Lilly Rothschild, Sam Gans
Fall 2018: Gillian Hook, Sydney Thornton
Spring 2018: Yousaf Khan, Regan O'Donnell, Noor Irshaidat, Haley Brengartner 
Spring 2017: Josh Cadorette, Briana Brady, James Setzer, Nick Smith
Spring 2016: Elizabeth Jordan, Gabrielle Vance, Sean Webber, Kyle McKinley, William Kakavas
Spring 2015: Ben Driscoll, Jensen Roll, Matt Snow, Giles Roll
---
---