Fellow:Umeshwar Reddy
Jump to navigation
Jump to search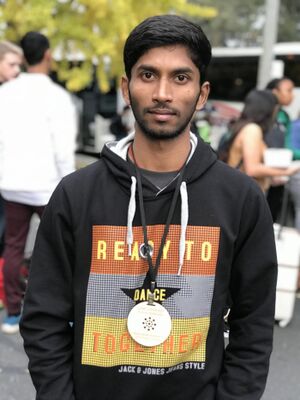 " "Keep challenging yourself to think better, do better and be better." - Robin Sharma. Inspired and influenced by these words, my pursuit of knowledge started evolving me as a better person day by day, I started exploring my own potentials to match with the changing scenarios."
- Umesh Nallasani

Umeshwar Reddy Nallasani, a meritorious, creative and self-directive, pursuing Master's degree in Department of Electrophysics at National Yang Ming Chiao Tung University(NYCU), Taiwan. Being academically commendable, he stood a chance to complete his Class X & XII in Jawahar Navodaya Vidyalaya, an autonomous Central Government organization affiliated to the Central Board of Secondary Education, New Delhi for rural gifted and meritorious students. As a part of the migration scheme he studied his IX grade at Jawahar Navodaya Vidyalaya, Samastipur, Bihar. His analytical skills and exposure to various cultures made him thoughtful to evolve as a critical thinker. His confidence, strong values, and respect for others make an enormous difference in the world around him. He is a workaholic and well determined to his work.
Always amidst merit and competition, he realized that Mathematics and Physics captivated his attention to go beyond the textbooks. Given his love for Science and Technology he completed his Bachelor's degree in Electronics and Communication Engineering from Madanapalle Institute of Technology and Science(MITS), AP India. Merging both academic pursuits and extracurricular activities enabled him to develop decision-making and problem-solving abilities. He was elected as the Student Coordinator of Innovation Cell and Student Quality Assurance Cell in MITS college, considering his leadership qualities, communication skills, and performance. He has established an excellent rapport with his fellow students and the faculty with his pleasing manner and proficiency in communication. Taking the responsibility and commitment to bring changes in the ecosystem, he was declared "University Innovation Fellow" by Hasso Plattner Institute of Design School, Stanford University, who instills the vision for change. He attended a global innovation accelerator training program on "Entrepreneurship and Innovation" at Shenzhen University, China. He believes in smart work and feels that the only element that can change the world is having a 'strong desire' to bring up the innovation. Indeed, he had built a website for his department students to support the digital platform and make students perform academically and technically well. He conducts student interactive sessions and activities for the fellow students in his class. He was one of the Fabulous fellows to facilitate "Eastern Hemisphere Meetup" at Abu Dhabi, Dubai in March 2019 considering his work as a change agent at MITS.
He has an evinced interest in the research work environment and his zeal towards "learning by doing" is the major cause for being a research student at Molecular Beam Epitaxy Laboratory, Department of Electrophysics at National Yang Ming Chiao Tung University-Taiwan. He always hopes of coming up with path breaking results through experimentation that he finds very fascinating. He feels the essence of enjoyment in sharing his knowledge with others and always excited to learn new skills. He is an active, outgoing presence in class with a profound sense of humor.
Related Links
 http://universityinnovation.org/wiki/Madanapalle_Institute_of_Technology_and_Science_Student_Priorities#Related_Links
https://docs.google.com/spreadsheets/d/1mcEDlTVLicEGZMnlc2KJAxCvqpVKzkJFwZFVb25EqY0/edit#gid=1Student Priorities 
Fall 2017 Fellows:
---
---