Fellow:Umeshwar Reddy
Jump to navigation
Jump to search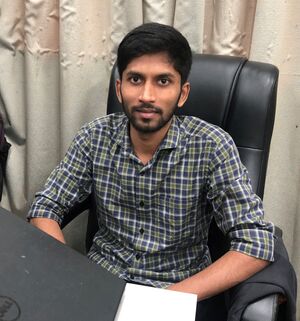 " "Keep challenging yourself to think better, do better, and be better." - Robin Sharma. Inspired and influenced by these words, my pursuit of knowledge started evolving me as a better person day by day, I started exploring my own potential to match with the changing scenarios."
- Umesh R. Nallasani

Umesh is a self-motivated individual with a relentless drive to overcome obstacles and achieves his dreams. Currently pursuing a doctoral degree at National Yang-Ming Chiao University, Taiwan, he specializes in the fascinating field of Thin Film Epitaxy and Characterization. His love for physics has been a guiding force throughout his academic journey, propelling him to delve deeper into the intricacies of this discipline.
Born and raised in a small town, he hails from a humble and financially challenging background. However, these circumstances have only served to fuel his determination and resolve to create a better life for himself and inspire others to do the same. He dedicated his time to expanding his knowledge and honing his skills, recognizing education as a powerful tool for personal growth and social change. Driven by a strong sense of rationality and a deep desire for positive transformation, Umesh has developed a unique blend of qualities that set him apart. He possesses a remarkable ability to think critically, make sound decisions, and assert himself in various situations. However, it is Umesh's empathetic nature that truly distinguishes him. He possesses an innate understanding of others' emotions and experiences, allowing him to connect with individuals from diverse backgrounds. This empathy, combined with his desire to bring about change, has led Umesh to focus his efforts on the youth, recognizing them as the future catalysts for a better world.
In recognition of Umesh's exceptional leadership and innovative mindset, he was bestowed with the prestigious title of "University Innovation Fellow" by the esteemed Hasso Plattner Institute of Design School at Stanford University in 2017. This honor showcases his ability to foster creativity, drive change, and inspire others within the academic community. Seeking further knowledge and international exposure, Umesh eagerly participated in a global innovation accelerator training program on "Entrepreneurship and Innovation" in 2018 hosted by Shenzhen University in China. This immersive experience provided him with invaluable insights into cutting-edge practices and methodologies driving entrepreneurial success in a rapidly evolving world. Building upon his expertise and reputation as a change agent, Umesh was chosen as one of the distinguished fellows to facilitate the "Eastern Hemisphere Meetup" held in Abu Dhabi, Dubai in March 2019. Throughout his journey as a student at MITS Campus, Umesh has consistently demonstrated a strong commitment to creating meaningful change.
These experiences have expanded Umesh's perspectives, equipped him with a diverse skill set, and strengthened his ability to approach challenges from an entrepreneurial and innovative standpoint. Umesh continues to leverage these opportunities to drive positive change, empower others, and make the world a better place through his tireless efforts as a change agent, academic scholar, and visionary leader.
Related Links
 http://universityinnovation.org/wiki/Madanapalle_Institute_of_Technology_and_Science_Student_Priorities#Related_Links
https://docs.google.com/spreadsheets/d/1mcEDlTVLicEGZMnlc2KJAxCvqpVKzkJFwZFVb25EqY0/edit#gid=1Student Priorities 
Fall 2017 Fellows:
---
---