Fellow:Santoni Dyaz
Jump to navigation
Jump to search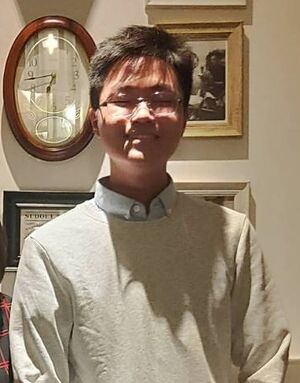 Name

Santoni Dyaz

School (Cohort)

Majoring in

Information System

Country

Indonesia
Serving as UIF since: Fall 2021
School: Bina Nusantara University
Contact him about: Self-Development, Career Goals & Planning, Growth Mindset, Mentoring, Mental Health, Stress Management, Life-hack you didn't ask but you will need, and strange music genre (Artcore, Chiptune, Future Bass, etc) :d
Email: Dyazsantoni@gmail.com
Linkedin: Santoni Dyaz


If there is a problem, I believe there is a solution.
Santoni is an Information System Student from Master Track Program (Master Studies Acceleration) at Bina Nusantara University, Jakarta, Indonesia. His interest in Computer and Technology brought him to the world of Information System Management and Project-Pivoted Work. He studied Management, Mentoring, Team Development, and UI Design for his toolset at workplaces.

During his junior year, he dedicated his entire year to the BINUS Computer Club (BNCC) and expand his knowledge on tech insight and his career roadmap. He find his interest was in Android Development, User Interface Design, Project Management, and Coaching. Finding out his interest in BNCC, he continues to dedicate his second year to BNCC as Chief Internal Officer to gain practical experience in the field. The result was a total mess. He fails to gain all his team respect because of his goofy and sloppy personality, the success parameter for each program his division runs almost does not reach the annual standards. After completing his duty in BNCC, he continues to fail in his third year because it was the Internship Year at Bina Nusantara University and 4 of 5 companies refused to recruit Santoni after the Interview, the last 1 company decline him even before he got into the interview.

During that month full of desperation, he joined Bangkit 2021 Program, a skill development program from the Ministry of Education in Indonesia instead of Internships in hope that he could get a decent Internship at Android Development. He uses all the experience he has to strive and completing the program, which led him to become the leader in his Capstone Project Group in Bangkit 2021. His group project was to build an integrated application for Indonesia's Law document and with all the group hard works, the project was nominated as the Best 15 Projects that will be funded $5000 by Google. With Bangkit 2021, he was exposed to UIF and he joined to become the first candidate batch for UIF at Bina Nusantara University in Fall 2021. Santoni is currently working as a Product Manager Intern at Go-Jek, one of the first unicorn transport startups in Indonesia and he is planning to expand his Knowledge even more by travers his journey in UIF with Irsyad, Riri, Janisse and Reeth as the UIGuide.

Related Links :
Team Members:
Link to Student Priorities pitch
Campus Overview:
https://universityinnovation.org/wiki/School:Bina_Nusantara_University
Student Priorities:
https://universityinnovation.org/wiki/Priorities:Bina_Nusantara_University_Student_Priorities

If you like orchestral and Instrumental chinese music, kindly click here

---
---