Fellow:Yuliriani
Jump to navigation
Jump to search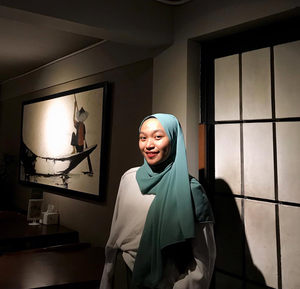 Name

Yuliriani

School (Cohort)

Bina Nusantara University (2021 cohort)

Majoring in

Information System

Country

Indonesia

Email
Bio
Serving as UIF since: Fall 2021
School: Bina Nusantara (Binus) University, Indonesia
What she does now: studies Information System and Internship as System Analyst
Contact her about: UI/UX, Photography, Novels, Fashion, Buy K-pop merch, Kpop Idols, Writing a novels, Mental Health, Parenting, Travelling.
Email: yuliriry@gmail.com

I'm Yuliriani you can call me Riri. I am currently an active student at Bina Nusantara majoring in Information Systems. I really like learning UI/UX rather than coding to make programs, because I find it quite difficult. I'm currently doing an internship as Web Developer, it's been almost a month now. I was asked to create a website for the company and I am happy that my team can work well together. And I met good mentors to guide me during my internship.
I learned many things while studying at Bangkit Academy 2021, they provide very complete material as well as exercises, tutorials that we don't understand are also complete on their youtube. One thing that makes me happy is when I work with the team to create a final project before completing the Bangkit program. The project created a sign language application 'iSign' to help people with disabilities and also people who want to learn about sign language.In my team we work well together, different learning paths allow us to help each other. Moreover, the project we do online and my team they come from various regions. Which I think is cool, we were able to finish it all in just one month.
Studying cloud computing makes me very interested in processing data storage, maybe people see it is quite easy but not as easy as imagined. And I really like studying UI/UX, because I really like to arrange the appearance of websites and applications, especially when choosing color displays that have to match each other, it's quite fun. I am very interested in learning many things and trying new things.
Experience
System Analyst at BPJS Ketenagakerjaan (2021)
Primary School Tutor at Realis Jakarta (2021)
Student Cloud Computing at Bangkit 2021 (2021)
Student Web Master at Dumet School Jakarta (2020-2021)
Activist at Klub Seni Fotografi Bina Nusantara (2019)
Volunteer Wisuda 61 at Bina Nusantara (2019)
Volunteer Social Event Commemorating World AIDS day at TFI Bina Nusantara (2018)
Social media profiles
Instagram: golden.kanigara
Related Links
Team Members:
Link to pitch video
Campus Overview:
https://universityinnovation.org/wiki/School:Bina_Nusantara_University
Student Priorities:
https://universityinnovation.org/wiki/Priorities:Bina_Nusantara_University_Student_Priorities
---
---