Fellow:Muhamad Irsyad Rafi Sudirjo
Jump to navigation
Jump to search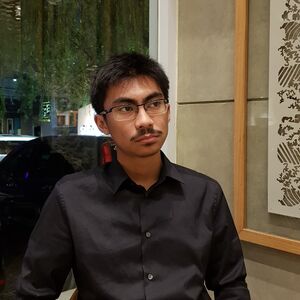 Name

Muhamad Irsyad Rafi Sudirjo

School (Cohort)

Bina Nusantara University (2021 cohort)

Majoring in

System Information

Country

Indonesia

Email
Bio
Irsyad is an active student from Bina Nusantara University in Indonesia, He is passionates in programming and making creative design. In University he is also active in teaching as a part of english tutor. Currently he is going in internship as a project manager in a pharmaceutical company.

He really likes to analyze and seeing things in other perspective. One of his favorite activities with his friends to creating UI/UX (user interface and user experience) for applications and working together as a teams. For hobbies he really like to watch anime or reading manga and novel. His favorite genre is mystery and actions.

For the past one years Irsyad has been developing himself into learning all about web development especially in frontend sides, this year in 2021 he passed and got a chance to be taught by Google Bangkit Academy in Indonesia and learn about mobile development in Android development, after underwent learning in Bangkit Irsyad becomes much more passionates in mobile development and started to learn about IOS development too. At the internship Irsyad has been working on creating a web app for Learning Management System.
After getting experience and learning to be web and mobile developer, Irsyad started to seek an internship experience. His first internship is working as frontend engineer in one of the startups in Indonesia. His main jobs is to redesign the web view and implementing new framework for the frontend. This internship is a 3 months long and the experience that Irsyad gains in this internship is massive.The second and current internship is working as a project manager. His main project is creating a web application for Learning Management System for his company HR divisions use to enhance the learning process in his company.
Right now he wants to implement all the skill that he gained during his internship and what he got to learn in Google Bangkit Academy to enhance his university innovations and entrepreneur activity.
Contact him about : Time Management, anything related to frontend web development or mobile apps development( Native Android and Native IOS development), Anime, Tips regarding teaching people in class, or how to start to learn about programming.

Motivation Quotes :
"Strive to be the best"
Contact me at :
irsyadicad1302@gmail.com

Team Member
Achievements
Head of student welcoming event In my Highschool year I'm Part of the Student council education commitee, that responsible for maintaining and improving student activity through education competition. I'm also managed and lead member of student council to organize welcoming event school which goals to introduce new student with Highschool from the activity to class.

Created vaccine registrations mobiles apps using Android development and using AI to create covid-19 symptoms checkers .
Social media profiles
Instagram : irsyad_sudirjo
Linkedin : https://www.linkedin.com/in/irsyadrafi
---
---