School:Aditya College of Engineering
Jump to navigation
Jump to search
Fall 2022
Overview
The College is situated in an eco-friendly area of 11.27 acres with thick greenery at Surampalem, Gandepalli Mandal, East Godavari District, Andhra Pradesh.  
The College has two academic Buildings, It has two boys hostels and one girls hostel buildings.
The college proudly offers 9 UG and 8 PG programs in engineering with 15 years of rich standing in the educational era. Besides, the college has added many feathers in its cap which include AA+ Grade by Careers 360, South India 4th rank by Digital Mailers, South India 6th rank by Silicon India, 13th rank out of top 25 engineering colleges by 4Ps, a niche in Asia top 100 colleges by WCRC leaders, Best Placement Award by ASSOCHAM, All India 98th rank-DQ CMR top T-School survey by DATA Quest and 13th position in Top 20 colleges of India by the Sunday Indian. These distinct recognitions speak volumes of the institute's objective to promote engineering excellence. It is approved by AICTE, recognized by Govt. of Andhra Pradesh, permanently affiliated to Jawaharlal Nehru Technological University Kakinada (JNTUK)

Aditya college of engineering provides science-based engineering education with a view to produce quality engineers. The curriculum provides broad based knowledge and simultaneously builds a temper for the life long process of learning and exploring. The activities of Departments include teaching at all levels and research.
The Five Parameters
Aditya is committed to create and sustain and improve the learning process through Total Quality Management and make itself a seat for scientific and Technological learning with continual improve and team work as its strength for achieving the set objectives and Achieving academic excellence by providing globally acceptable technical education by forecasting technology through -
  Innovative Research And development
  Industry Institute Interaction
  Empowered Manpower
o induce higher planes of learning by imparting technical education with
  International standards
  Applied research
  Creative Ability
  Value based instruction and
to emerge as a premiere institute.
Physical Infrastructure
A playground is part of a college. Mental and physical development is quite necessary for the wholesome development of a personality. Having this in mind our college  authorities have chosen a playground ideal in many respects.
The playground is located about a100 meters from our college. So the students have the opportunity of walking to the playground. As all games are played in the evening the students find it pleasant to go to the ground and play.
Laboratory
A good on-campus laboratory is always a top characteristic of the best engineering colleges. Engineering, like science, is a branch of study that involves a lot of experimenting. In fact, engineers have the most practical and experimental jobs in the world. And their skills always begin while testing their theories in college laboratories .So we provide well equipped and updated lab for the well understanding of the subjects and for the practical knowledge. we have labs for all ug courses for the overall development and for the practical knowledge implementation.

Library
The most selfless thing a library does is shape the minds of a country's future. It inculcates a habit of reading and researching in young minds which is a forgotten but extremely useful habit in today's digitized lives. It is a sea of the intellect for people who want peace as the library has an atmosphere that allows you to concentrate at your level best.
The college library provides more than 30000 books and contains all the varieties like classics, tragedy, sci-fi, fantasy, action and adventure,mystery,ramance,humor,satire,horror,comics,boigraphies,autobiography,memoirs,cookbooks,true stories, self help etc.
Classroom
The Modern School has a well-devised physical education program that supplies its students with the know-how, techniques, physical abilities, standards, and passionate interest to develop a healthy manner of living and carry it into adulthood. The Modern School's physical education curriculum will give me exposure to physical processes such as aquatics, conditioning activities, exercises using gymnastic equipment as well as individual, dual, and team sporting activities. I would also be delighted to join their martial arts training program that teaches students self-defense.

College Life
College Life is one of the most remarkable and lovable times of an individual's life. Unlike School Life, College Life has a different experience, and a person needs to have this experience in his/her life. College Life exposes us to whole new experiences which we always dream of experiencing after our school life. Lucky are those who get the chance to enjoy their college life, as many people don't get this chance due to their circumstances or financial issues. For every person, College Life has a different meaning. While some people spend their college life partying with friends, others become more cautious about their careers and study hard. Whatever the way, every individual enjoys their college life and always wishes to relive that time once it is over.

Fests
We become more culturally sensitive because of college fests. Cultural skills help students later in their career when they go out in search of a job. Their soft skills become an added value in getting hired by a company in campus placement or otherwise. There will be occasions where your quick-wittedness and experience will allow you to form a special bond with your counterpart, and I assure you that this will be useful.
Research and Development
R&D Committee chaired by Principal and consists of the Coordinator research, Heads of the departments, and senior faculty members of the College. R&D division has structured Research Committees to monitor and address the issues of research in every department and entire institute. It provides advisory support in selecting the R&D proposals for implementing R&D activities through analysis of technological trends and identification of thrust areas.

Core Values
Aditya College of Engineering engages in a process of self and community reflection that would lead us to recognize and heighten awareness of the core values we and our institution have already practiced and articulated, to seal agreement about those values. What we practice at Aditya College of Engineering:
Support the mission and vision of the College
Focus on student and stakeholder needs
Respond to the changing needs of our communities in a timely manner
Create new programs and services to meet identified needs
Continuously evaluate and improve programs, services, systems, and policies
Utilize a shared decision-making process
What special about School
Organize Industry Certification Programs.
  Conduct Workshops/seminars on recent trends in IT/ITES/BPO/CORE Industry
  Industry Connect Lectures by eminent Experts.
  Cisco Networking Academy membership.
  Amazon Web Services membership
  Provide Summer Industry Internships.
  Resume Writing Workshop (Industry Oriented)
  Train Student to Participate in various in-house competitions (eg. Coding Contests, Hackathons)
  Shortlist Students to participate in various inter-college and University technical competitions.
  Shortlist Students to participate in various Industry competitions (eg. TCS code vita, Microsoft Imagine Cup, HackerRank competitions )
  Conduct Mock technical interview for placement drives.
  Provide free subscription 'Target' App (placement drive practice tests portal)
  Industry job references for eligible students.
  Mentoring & funding students Students Startups and Projects.
  In-campus paid internship program.
  Free summer and Semester-Break technical trainings.
  Technical Hub membership Login for shortlisted Students.
  Entry to Cisco, IoT, iOS, Microsoft for students.
  Arrange commercial live projects for students.
Placements, Training and Certificates
Record Placements
Experienced & Trained Faculty
Campus Placement Training
Sunrise Startup Village
MOU with AMCAT, Co-CUBES
Technology Business Incubator from DST
SIRO Recognition by DSIR
Technical Hub
Technical Skill Development Institute - APSSDC
Technical Skill Development - APITA(Andhra Pradesh Information Technology Academy)
Certification Courses
National Program on Technology Enhanced Learning-NPTEL
Projects clubs
Experiential Learning is paramount at Aditya. Projects are not additional activities nor are they just mandatory requirements, they are a way of life, a constant day-to-day learning Endeavour at Aditya. Our smart and innovative project clubs are the stepping stones into the corridors of global industry.
Mobile Communications
Gaming
Bio- Infomatics
Software Testing
Wireless Communication
RSAC
VLSI Design
Image Processing
DSP
Neural Processing
Embedded System
CAD/CAM
Certifications
CCNA
Networking Essentials
Cyber Ops
Web Design
Database Fundamentals
Network Fundamentals
Software Development
vSphere 6
Android Developer
Java Fundamentals
Java Foundations
Java Programming
DDP with SQL
Database Foundations
DP with PL/SQL
CIS V2
Data Science & Analytics
ISM V3
DPM
Cyber Security Analyst
CompTIA Security+
Automation Anywhere
AutoCAD
Revit-Architecture & Structure
Fall 2019
Overview
The institute is located in a lush green campus with a serene atmosphere, with a total extent of 11.27 Acres of land. This institution was established in 2008, under aegis of Sarojini Educational Society lead by Dr. N. Sesha Reddy. As a founder chairman, he promoted the educational institutions, with a mission, to offer the best engineering education with unmatched innovations in the process of teaching and learning by aiming at the all-round development of the students. The college was initiated with an intake of 240 student in 2008 and expanded its establishment and it is currently offering 6 Under Graduate Programs (Civil, EEE, MECH, ECE, CSE & PT) and 5 Post Graduate programs (M.Tech with 4 specializations & MBA).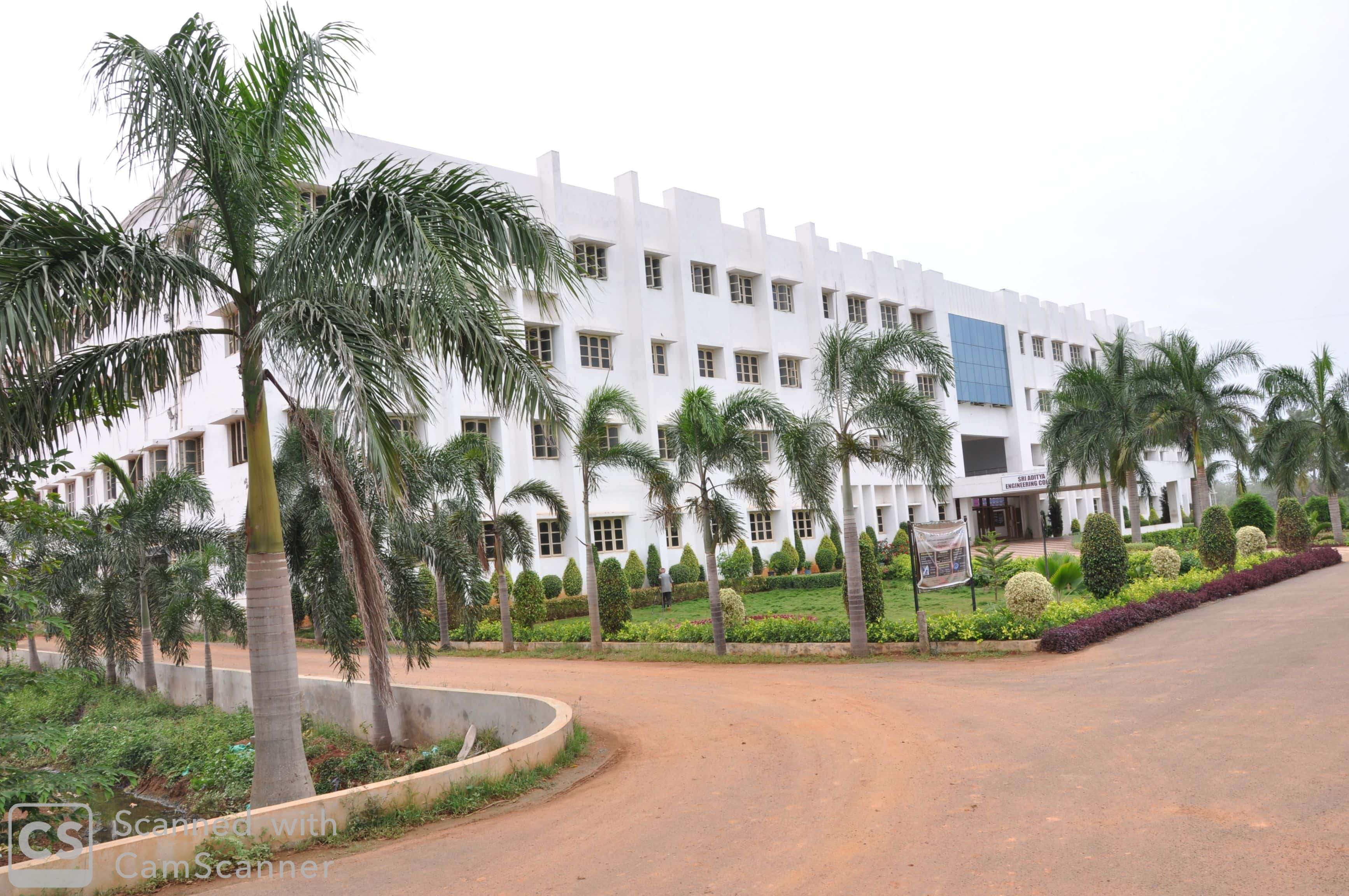 Aditya College of Engineering will do its best to offer an innovative environment wherein your dreams will be realized: dreams for higher knowledge, dreams for scientific inquiry, dreams for technology creation, dreams for co-curricular activities, and dreams to change the world.
 THE FIVE PARAMETERS
At Aditya College of Engineering, Our focus is not just learning, but the process of learning for learning as a phase.
As a proof of recognition of its academic excellence, students from different corners of India covering 12 states/UT (Tamilnadu, Bihar, Jarkhand, Uttar Pradesh, Andaman & Nokobar etc.,) and foreign students from Nepal, Afghanistan and 15 African countries, who got attracted and joining the institution.
The institution has created an ecosystem for innovation including incubation centre and other initiatives for creation and transfer of knowledge. The faculty members are empowered to take up research activities utilizing the existing facilities. The college has established Research and Development Cell, Incubation centre and Entrepreneurship development cell, to monitor and address the issues related to enhancement of research, innovation and entrepreneur skills among faculty and students.
Physical Infrastructure (laboratory, library, sports complex, computers, classrooms etc.)
Classrooms
Sufficient class rooms with LCD projector are available and each section is allotted with a specific classroom. In addition to this, tutorial room is available for each department to conduct special sessions.
Laboratories
Sufficient lab slots are available and based on the curriculum, required lab slots will be allotted to each batch of students. The students will complete the lab work in those sessions.  Students will be working as a group of 2-3 members.
Computer Labs
Computer Labs are available to the student and students can utilize them with 1:1 student computer ratio.  Required lab slots will be allotted basing on the curriculum for each section.  Student can request for Additional lab hours whenever they find free time depending upon the availability of the computer labs. 
Library
Central Library is equipped with sufficient number of volumes for each title related to different subjects. Sufficient copies of each title are maintained to cater the needs of the students and faculty.  The students are allowed to borrow 3 or 4 books and they need to return back after 15 days. Multiple copies of each title are made available in the reference section. Students are having the facility of booking a title if it is not currently available in the library. Library works beyond working hours i.e. from 8.00 am to 8.00 pm and during examinations it will be extended up to 10.00PM. Digital Library has been setup with 30 high-end systems connected with high- speed network connectivity to access all e-resources, video and e- learning programs. Separate department library with copies of some standard/reputed text books, in addition to 3-5 copies of each text/reference books as per syllabus are made available for ready access of faculty/students.   
 Sports complex & Other facilities
Amenities like Gym, Aerobic centre, sports and games facilities, round the clock medical and ambulance facilities are provided to create a work culture of utilization of resources beyond the working hours. For day scholars separate bus facility is made available to reach their destinations, who stay back to utilize the resources beyond college hours.
What's Special About Aditya College of Engineering
A WOW! Campus

PIO (Person of Indian Origin) Status

MOU with Infosys and other companies

State-of-the-art Infrastructure

Hygienic Canteen & Food Courts

Project & Activity Clubs

Record Placements

Experienced & Trained Faculty

Campus Placement Training

Sunrise Start-up Village

MOU with AMCAT, Co CUBES

Technology Business Incubator from DST

SIRO Recognition by DSIR

Technical Skill Development Institute - APSSDC

Certification Courses
 Innovation and Entrepreneurship Cell
Innovation Centre 
Functions:                         
Invite eminent resource persons from industry to conduct workshops/seminars for enhancements of required technical skills.

Provide a forum to extract new innovative ideas based on discussion among students, faculty and industrial experts.

Organize industrial visits for students and faculty to understand standard industrial approaches.
Moto of the Department:
To enhance technical skills of the students and make them to develop innovative projects so as to improve confidence in them. 

To enhance employment opportunities and make them ready for the industrial needs.
Results Achieved
Employment of the students was enhanced with multiple job /student on hand.

Developed different innovative systems like

Power Factor Improvement using Starcom,

Home Automation using Bluetooth,

Polavaram project miniature  Realted link: https://youtu.be/TIWro4-S_nU
Drip Irrigation Meeting            Related link: https://youtu.be/-j89lybLYYI

Aditya University Miniature

Baha vehicle

Smart robot for farming solution
Entrepreneurship Cell
Functions:
Invite eminent personalities from small and large scale industries and organize seminars and workshops with them to motivate students to start start-ups.

Educate and equip early stage and potential entrepreneurs
Make the students to Interact with community and understand their requirements and develop systems which will enhance the output of the work. 

Provide necessary skill enhancement to students to develop new systems based on the community requirements
Moto of the Department:
To develop entrepreneur skills in the student community

Coordinate and get the support of entrepreneurs through Entrepreneurship cell to make the students to coordinate with them and enhance their Entrepreneur skills.
Results Achieved
Successfully initiated two startups:  getMyBooks and getMyTailor and received appreciation from State Government 
University-Industry Collaboration
Aditya College of Engineering is working towards preparing students to face the real world. To this end, the college has collaborated with many different industries. The MOUs include-
Cisco

Microsoft Innovation Centre

Hacker Rank

Oracle Academy

Boyd Buzz

ARM university worldwide education program

SAK Robotic Lab

Microsoft Ed-vantage platinum

Microsoft Student Partner

APSSDC
Related Links
Fall 2019 Related Links :
Team Members: Aditya , Chandramouli , MOHIT , Subhash
Landscape Canvas: Landscape Canvas 
College Pitch Video:  College Overview
Change Story: Story Telling Video
Fall 2022 Related Links :
---
---