School:Aditya College of Engineering
Jump to navigation
Jump to search
Overview
The institute is located in a lush green campus with a serene atmosphere, with a total extent of 11.27 Acres of land. This institution was established in 2008, under aegis of Sarojini Educational Society lead by Dr. N. Sesha Reddy. As a founder chairman, he promoted the educational institutions, with a mission, to offer the best engineering education with unmatched innovations in the process of teaching and learning by aiming at the all-round development of the students. The college was initiated with an intake of 240 student in 2008 and expanded its establishment and it is currently offering 6 Under Graduate Programs (Civil, EEE, MECH, ECE, CSE & PT) and 5 Post Graduate programs (M.Tech with 4 specializations & MBA).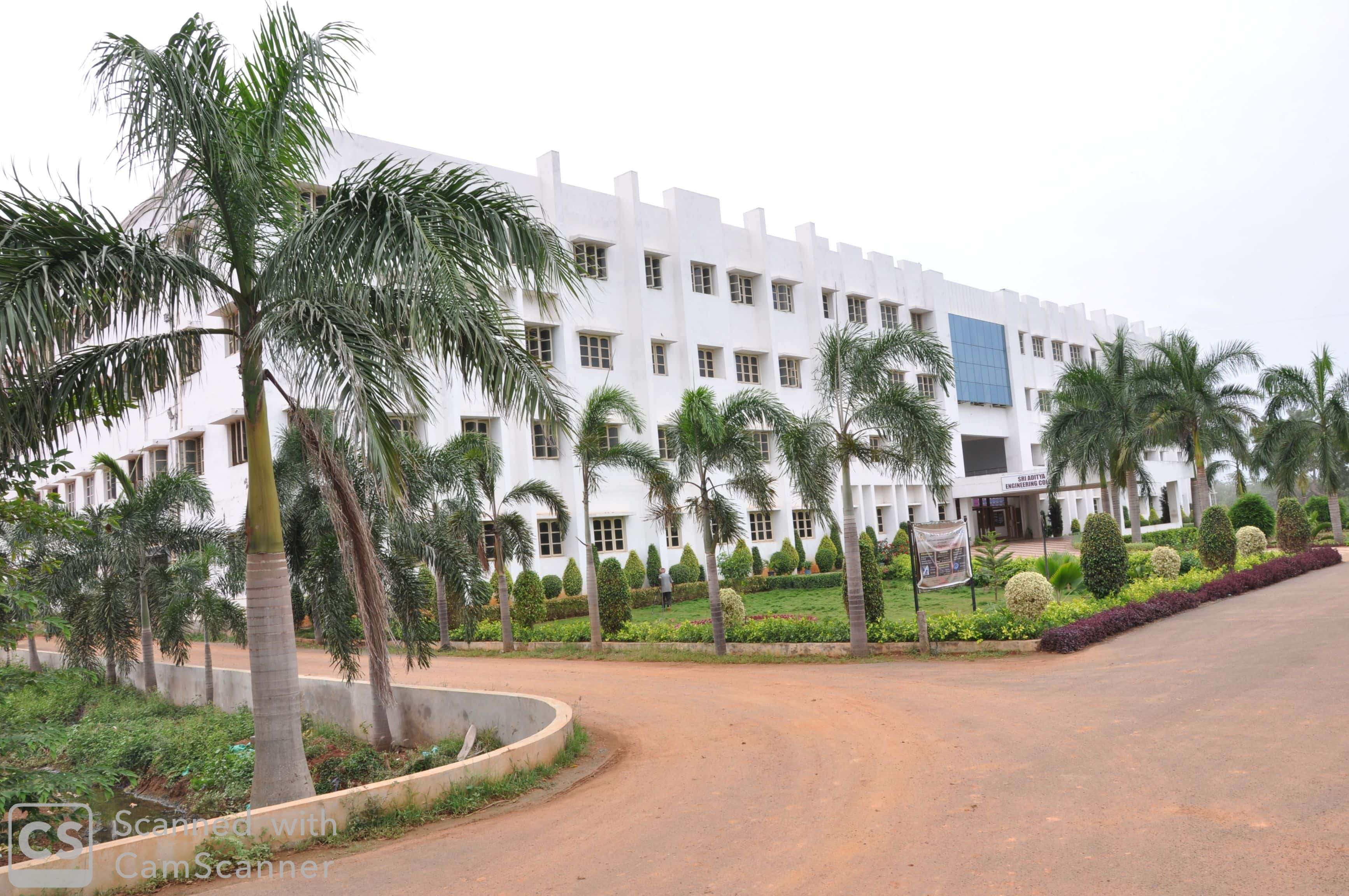 Aditya College of Engineering will do its best to offer an innovative environment wherein your dreams will be realized: dreams for higher knowledge, dreams for scientific inquiry, dreams for technology creation, dreams for co-curricular activities, and dreams to change the world.
 THE FIVE PARAMETERS
At Aditya College of Engineering, Our focus is not just learning, but the process of learning for learning as a phase.
As a proof of recognition of its academic excellence, students from different corners of India covering 12 states/UT (Tamilnadu, Bihar, Jarkhand, Uttar Pradesh, Andaman & Nokobar etc.,) and foreign students from Nepal, Afghanistan and 15 African countries, who got attracted and joining the institution.
The institution has created an ecosystem for innovation including incubation centre and other initiatives for creation and transfer of knowledge. The faculty members are empowered to take up research activities utilizing the existing facilities. The college has established Research and Development Cell, Incubation centre and Entrepreneurship development cell, to monitor and address the issues related to enhancement of research, innovation and entrepreneur skills among faculty and students.
Physical Infrastructure (laboratory, library, sports complex, computers, classrooms etc.)
Classrooms
Sufficient class rooms with LCD projector are available and each section is allotted with a specific classroom. In addition to this, tutorial room is available for each department to conduct special sessions.
Laboratories
Sufficient lab slots are available and based on the curriculum, required lab slots will be allotted to each batch of students. The students will complete the lab work in those sessions.  Students will be working as a group of 2-3 members.
Computer Labs
Computer Labs are available to the student and students can utilize them with 1:1 student computer ratio.  Required lab slots will be allotted basing on the curriculum for each section.  Student can request for Additional lab hours whenever they find free time depending upon the availability of the computer labs. 
Library
Central Library is equipped with sufficient number of volumes for each title related to different subjects. Sufficient copies of each title are maintained to cater the needs of the students and faculty.  The students are allowed to borrow 3 or 4 books and they need to return back after 15 days. Multiple copies of each title are made available in the reference section. Students are having the facility of booking a title if it is not currently available in the library. Library works beyond working hours i.e. from 8.00 am to 8.00 pm and during examinations it will be extended up to 10.00PM. Digital Library has been setup with 30 high-end systems connected with high- speed network connectivity to access all e-resources, video and e- learning programs. Separate department library with copies of some standard/reputed text books, in addition to 3-5 copies of each text/reference books as per syllabus are made available for ready access of faculty/students.   
 Sports complex & Other facilities
Amenities like Gym, Aerobic centre, sports and games facilities, round the clock medical and ambulance facilities are provided to create a work culture of utilization of resources beyond the working hours. For day scholars separate bus facility is made available to reach their destinations, who stay back to utilize the resources beyond college hours.
What's Special About Aditya College of Engineering
A WOW! Campus

PIO (Person of Indian Origin) Status

MOU with Infosys and other companies

State-of-the-art Infrastructure

Hygienic Canteen & Food Courts

Project & Activity Clubs

Record Placements

Experienced & Trained Faculty

Campus Placement Training

Sunrise Start-up Village

MOU with AMCAT, Co CUBES

Technology Business Incubator from DST

SIRO Recognition by DSIR

Technical Skill Development Institute - APSSDC

Certification Courses
 Innovation and Entrepreneurship Cell
Innovation Centre 
Functions:                         
Invite eminent resource persons from industry to conduct workshops/seminars for enhancements of required technical skills.

Provide a forum to extract new innovative ideas based on discussion among students, faculty and industrial experts.

Organize industrial visits for students and faculty to understand standard industrial approaches.
Moto of the Department:
To enhance technical skills of the students and make them to develop innovative projects so as to improve confidence in them. 

To enhance employment opportunities and make them ready for the industrial needs.
Results Achieved
Employment of the students was enhanced with multiple job /student on hand.

Developed different innovative systems like

Power Factor Improvement using Starcom,

Home Automation using Bluetooth,

Polavaram project miniature  Realted link: https://youtu.be/TIWro4-S_nU
Drip Irrigation Meeting            Related link: https://youtu.be/-j89lybLYYI

Aditya University Miniature

Baha vehicle

Smart robot for farming solution
Entrepreneurship Cell
Functions:
Invite eminent personalities from small and large scale industries and organize seminars and workshops with them to motivate students to start start-ups.

Educate and equip early stage and potential entrepreneurs
Make the students to Interact with community and understand their requirements and develop systems which will enhance the output of the work. 

Provide necessary skill enhancement to students to develop new systems based on the community requirements
Moto of the Department:
To develop entrepreneur skills in the student community

Coordinate and get the support of entrepreneurs through Entrepreneurship cell to make the students to coordinate with them and enhance their Entrepreneur skills.
Results Achieved
Successfully initiated two startups:  getMyBooks and getMyTailor and received appreciation from State Government 
University-Industry Collaboration
Aditya College of Engineering is working towards preparing students to face the real world. To this end, the college has collaborated with many different industries. The MOUs include-
Cisco

Microsoft Innovation Centre

Hacker Rank

Oracle Academy

Boyd Buzz

ARM university worldwide education program

SAK Robotic Lab

Microsoft Ed-vantage platinum

Microsoft Student Partner

APSSDC
Related Links
Student Priorities: Aditya College of Engineering Student Priorities
Team Members: Aditya , Chandramouli , MOHIT , Subhash
Landscape Canvas: Landscape Canvas 
College Pitch Video:  College Overview
Change Story: Story Telling Video
---
---