Priorities:Universidad Peruana de Ciencias Aplicadas Student Priorities
Jump to navigation
Jump to search
Cohort 2023
Strategy 1: A UPC Fellow like you!
As members of the same university community, students are looking for ways to integrate with their peers while making a positive impact on their community. This is why "A UPC fellow like you!" was created.
A UPC fellow like you! is a platform where students will find detailed and updated information about all the groups that are present in any of the four campuses. Each group has a profile with their information and testimonials of their members. In this way, students will have the opportunity to get out of their comfort zones and be able to connect with them in their activities, generating a networking space that encourages teamwork and collaboration.
This website is mainly aimed at freshman and sophomore students, in order to provide them information related to how to be part of a uni group, members, activities, opportunities, experiences, and contact channels.
Strategy 2: Know Your UPC
One of the problems that college students face is the lack of knowledge about the opportunities that the university offers them, as well as the difficulty in establishing a wide circle of friends and contacts on campus. This can limit your development in areas beyond academics and hinder you from forming valuable connections for your future.
"Know Your UPC" is an initiative aimed at elevating the student experience and fostering a more inclusive and enriching environment at our university, Universidad Peruana de Ciencias Aplicadas (UPC). Through a series of strategic solutions, this project intends to empower students and enhance their journey throughout their time at UPC.
Key Components of Our Platform:
Home Page:

Description: The main hub where you can stay updated with the latest news created by our Uguides. It also provides information about collaborations and offers useful links tailored to UPC students.

UGUIDE Section:

Description: Connect with our dedicated team of University Guides, or UGUIDEs, who are fellow students ready to assist you in your journey at UPC. They are your go-to resource for a smooth start at the university.

Provincial UPC:

Description: Discover exciting opportunities and activities for students who are not based in Lima or those seeking new experiences. This section is designed to help you make the most of your time at UPC, regardless of your location.

Clubs Corner:

Description: Explore the vibrant student community by sharing and discovering various activity groups and clubs. It's where students come together to pursue common interests and hobbies.

Discussion Forums:

Description: Engage in meaningful conversations with your peers through our open forums. Here, students have the freedom to discuss a wide range of topics and share their thoughts, questions, and experiences.
Our platform is designed to enhance your UPC experience by providing a variety of resources, connections, and opportunities for personal and academic growth. Explore, connect, and engage with the UPC community like never before!
Strategy 3:UNION+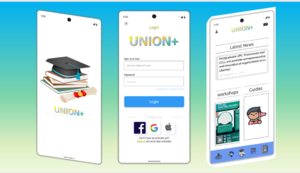 The "UNION+" application is a comprehensive platform that connects students from diverse careers. Through specialized organizations, it collects academic information and provides resources such as videos and course details. This makes it easier for students to access the necessary materials, providing a clear view of their curriculum and preparing them for academic challenges. The platform also provides support through student groups and experienced tutors. It encourages collaboration and allows advanced students to earn extracurricular credits by helping others. In addition, it provides up-to-date career information and promotes communication among students. "UNION+" enhances the student experience and strengthens the university community.
Strategy 4: EDUCATEUPC
EDUCAUPC is a collaborative learning platform designed to strengthen the student community and provide support for lingering questions after class. In EDUCAUPC, each student creates their profile, self-assesses, and highlights their areas of expertise, enabling peers to benefit from their knowledge. We foster collaboration by giving students the opportunity to join or create virtual study groups related to their courses or academic interests. Furthermore, we have established a rating and reputation system based on the quality of responses and active participation in the community, incentivizing engagement and mutual learning. Users can share study resources, such as notes and summaries. It also features a peer tutoring system, where each tutoring session generates 'UPC Coins,' a virtual currency that students can use to unlock resources or pay for tutoring in areas where they need assistance. With notifications to remind users of scheduled sessions, EDUCA UPC is the place where students can collaborate, learn together, and thrive academically."
Cohort 2022
Strategy 1: LicuaLab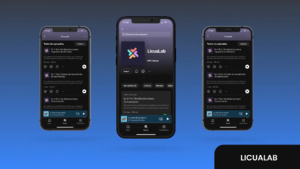 LicuaLab is a space or community to generate interdisciplinary solutions for project problems such as theses.
With the help of coordinators and academic directors of each faculty, we will contact 8th, 9th and 10th cycle students to be part of our podcast where they will discuss the points of contact between their university careers to find a synergy and culture of co-creation.
What are the benefits of participating in LicuaLab? The opportunity to present your thesis project ideas, enrich it with new ideas from other careers and ask questions.
Strategy 2: Flamatch
During the gradual return to face-to-face classes, at least 60% of students had problems communicating with their classmates. In this regard we refer to:
Setting up work groups
Being part of study groups
Being part of competitions and university activities
Making friends within the university
We detected that most of these students who significantly lost social skills are found from the fifth semester onwards. In addition to wanting a social circle, they are also looking for networking. That is why we created Flamatch, a social network exclusively for the UPC community that will facilitate communication between undergraduate students.
To be part of the community, students must register with their institutional email address and upload a photo of their ID card to verify their university identity. After creating their profile, they will answer a survey with random questions to classify and unify with other students who have the same interests. Also, the student will be able to join different groups, and in case you want a conversation, we will have available the option of "Fast chat" with which you can chat with other students having a limited time, and if you want to continue the connection should only do so.
Within the application we will promote academic activities such as contests, hackathons, university events as well as extra-university events.
Through this medium, we seek to improve the communication and soft skills of students to encourage them to generate project ideas with other students.
We plan to implement the strategy, and later expand to more universities. In such a way that it will be an exclusive community among university students and diversify.
Cohort 2021
Strategy 1: connect and support on campus
There is a need on students to make real connections with other students, and for "real" I mean that the connection will have a I&E purpose.
So the best way we represent this was using "Discord", a virtual space where you find all kind of "rooms" so you can find other people, this could work like the "tinder on campus for I&E things" Here a pic we use for testing:

We start doing this question to students: Have you ever had the necessity to find other sudents with the same goals than you? or perhaps you wanted to talk to someone about an specific knowledge they have? And this is what they say:
"I will like to find here a partner for my next start up".
"It will be awesome if we can see each other profile".
"Here we can find anything, we can connect with students for a job application for example or even just to make them questions so we can learn more".
There is where we detected an opportunity, the "ahá moment".
The name of this space is "CONECTA UPC", and will allow students to make real connection on campus, or even virtually.
Strategy 2: connect students with companies
We find that many students don't have opportunities to be an intern in companies because they don't have previous experiences. For that reason, the idea is about creating a platform where students can share their projects that usually have to work in many courses, with companies. The projects have to be focused on innovation and entrepreneurship issues because these areas are branches that allow a greater transformation and problem solutions.

How will this program process work?

1. Teachers, from selected courses, will chose 1 potential project.
2. The project selected will be reviewed by the Academic Direction.
3. The student will make all the suggested changes.
4. The student will receive a username and password to register on the platform.
5. The student will upload the project and wait for a message from a company.
6. If the project was selected, the student will receive a message from a company.

The projects will have a period of 3 months on the platform.
When a project is selected by a company, the student will be part of the company, which it means that the student will be an intern and she or he will have the opportunity to learn, together with professionals, to develop and see the reality of the project he proposed.
Strategy 3: Unify the Best Universities in the World
We believe the academic future goes hand in hand with personalized education and unifying universities worldwide. The structure of schools and universities has always been standard. It is time to make a change in the academic curriculum. When we decide to study it is our choice (most of the time) and we should be the ones who decide which path we are going to take.
We didn't decide where we were born, but now we can decide where we want to study. With "United UPC" even though you are studying at UPC in Lima, Peru; you can choose 40% of your online classes from the best universities in the world and the other 60% would be at your campus. You don't have to travel, pay more or apply to these colleges, you just have to be willing to get out of your comfort zone and prepare to start living a new way of learning never seen on this planet before.

For how long is it going to be?
All your degree (5-6 years depending on your studies)

Is this mandatory?
No! The traditional way of learning would still be available.

Who should be part of "United UPC"?
Students who want to have autonomy over their academic curriculum and want to explore the world with one click.
To get you on speed here are the key tactics on how to make it real:
1.Networking with the best universities in the world
2.Introduce this new model of teaching to all the students that are already UPC students (why this teaching model is important)
3.Promoting this idea with high school students (UPC already go to schools so now talk about this teaching model to make them want to be part of it)
Strategy 4: Emprende Aprendiendo UPC
Emprende Aprendiendo is a boothcamp for entrepreneurs. It is an space created to help entrepreneur students to make their dreams come true. We bring them programs, coaching, courses, mentorship and the tools they might need to their first steps in the world of entrepreneurship. We found out that some of the core problems student have are:
- Not having the neccesary tools for their projects.
- They need a mentor that guides them.
- They havent found any partner yet, someone they share the same vision with.
- They dont hace knowledge on methodologies nor business administration.

Thats why we created this program, in order to help them build their own business ideas and test them on the market. We focus on digital businesses and thats why the main goal o this program is for them to know 3 main things: how to create successfull digital marketing strategies, sales funnels and digital ads campaigns. The idea is that they will leave the boothcamp with a project going on.
Fellows
Fall 2021
Fellow:Lucía_Gabriela_Corilla_Grados
---
---