Faculty Champion:Jorge Bossio
Jump to navigation
Jump to search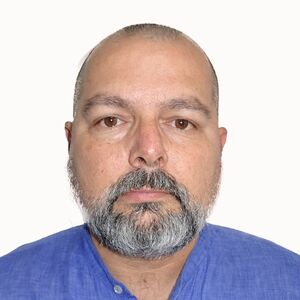 Name

Jorge Bossio

School

Universidad Peruana de Ciencias Aplicadas

Department

Digital and Online Learning

Country

PERU
Bio
Master in Business Administration and MSc in Political Sciences at PUCP (Lima, Perú). Professional experience in information and knowledge management, design and evaluation of projects on Information Technologies for Development (ICTD) and research in the field of Internet Governance and the use and impact of ICT in society.
Academic experience in subjects related to knowledge management and innovation, telecommunications and Information Technologies. Has served as Coordinator of a Latin American research network on the Information Society (DIRSI), has been part of academic committees as peer reviewer at conferences specialized in the field of computing and telecommunications: IDIA 2011 (International Development Informatics Association) and ACORN 2010 (Americas Information and Communications Research Network) as well as specialized journals such as Journal Information Technologies and International Development, Anthropologica and 360: Revista de Ciencias de la Gestión.
Currently is Associated Professor and Digital Learning Director at Universidad Peruana de Ciencias Aplicadas and conducting a DBA Research on Open University practices at peruvian higuer education institutions.
Achievements
Speaker at several policy forums and conferences in APEC, ITU, CITEL-OAS, Regulatel, among others. Is currently leader or Metared Perú, Peruivian Network of Universities CIOs.
ORCID: https://orcid.org/0000-0002-4426-8063
Awards and recognitions:
2021 Blackboard Catalyst Award for Leading Change: Project "Camino a Ultra"
2020 UPC is a success story in Microsoft Customer Stories: https://customers.microsoft.com/en-us/story/818542-upc-office365-minecraft-education-peru-es
2020 Blackboard Catalyst Award for Training & Professional Development: "The Power of Learning Communities: Bb Educators UPC"
2020 UPC is a success story in Microsoft Customer Stories: https://customers.microsoft.com/en-us/story/818542-upc-office365-minecraft-education-peru-es
2019 Smart Supervision Project - UPC Pride contest
2019 Blackboard Catalyst Award for Leading Change - Project "Adoption of the Virtual Classroom at the UPC"
2017 Hybridity & Quality Project: UPC Organizational Competition 2017
2016 Digital Learning Technology Migration Project: UPC´s Organizational Recognition Program
2012 Teaching Reasearch Prize at PUCP
2009 Amy Mahan research grant - Universitat Pompeu Fabra
Social media profiles
LinkedIn https://www.linkedin.com/in/jorgebossio/ Twitter @jbossio https://twitter.com/jbossio
---
---