Priorities:MTU University Student Priorities
Jump to navigation
Jump to search
Overview
Michigan Tech's campus is poised to be a model for student innovation and entrepreneurship. The State of Michigan has recognized the Houghton / Hancock area as a hotbed of innovation, and efforts to connect the School of Business and the School of Engineering are creating new business opportunities daily.
The problem isn't ideas. It rarely ever is. Uniquely, Michigan Tech doesn't suffer from a talent gap. Michigan Tech's engineers are recruited around the globe for their hands-on experience and industry-focused education.
We'll include a story to summarize the problem at Michigan Tech:  One day in early April, a venture capitalist (VC) from Silicon Valley came to Michigan Tech to do due-diligence on a new technology being developed in 3D printing. The VC gave a speech and discussed her time at Stanford. She said, "I never thought about being involved in venture capital, but when I got to school, everyone was talking about starting a business and I felt like I needed to get plugged into that ecosystem." Michigan Tech lacks that passion, enthusiasm, and culture. These three strategies are designed to remedy that challenge.
A new center for innovation and entrepreneurship is the proposed solution. It uses new academic opportunities, event programming, and startup support to drive a culture shift towards innovation and entrepreneurship.
YouTube Pitch
Strategies for Expansion of Innovation and Entrepreneurship on Campus
Strategy One: Connecting Students through Sustainability
When analyzing the first year experience at Michigan Tech, it became evident that some students felt disconnected from their peers in different majors. For some reason, there was a barrier that was a barrier that was keeping these students from interacting with students that were in other majors. To defeat this barrier, we want to be able to incorporate design thinking into some different areas of our campus to better help our peers be able to work with one another to work on a common goal. One class on the Michigan Tech campus that sees a majority of the student body already tackles large world issues in a lecture type setting: Global Issues. Changing a class can take a lot of steps to implement. During this class changing process, our team wants to get evidence of how students working together to work to a common goal could be a good addition to the class as well as get students more involved on our campus.
To do this, our team plans on taking four steps: hosting sustainability workshops in our campus's MakerSpace, deploying a sustainability survey through the first year students to gage their interest on the topic, launch a sustainability initiative on the Michigan Tech campus with the help of different organizations and the student body, and implenting changes to the Global Issues class to incorporate more design thinking and team work.
Sustainability Workshops: Initially we want to start out with some sustainability workshops to see what portion of students are interested in taking a part of a conversation about sustainability. To do this, there will be three different workshops. It will be optional to attend any one of them without attending previous ones to work with the changing schedule of an everyday student. In these workshops, there will be a DIY recyclable project, a sustainability conversation, and a design thinking challenge to get students thinking about their own environmental "pawprint" as a Michgan Tech Husky.
Campus Survey: Next, we plan on taking a poll through the campus, ideally through first-year students to get their perspective on the new campus they've become accustomed to. In this survey, there will be questions about where their interest lies in different sustainability issues whether it be recycling, garbage, renewable energy, and other topics. This will help see what sort of initiatives the student body would be interested in persuing and seeing implemented on their campus.
Sustainability Initiative: With the data found from the campus survey, the team will be able to find what larger interests our new students have with changing their campus. We plan on taking these passions from the student body and creating an initiative that everyone can take a part of changing on their campus. This can be done by reaching out to different areas of the campus and helping with initiatives that are already in place as well as sustaining our own. We want to be able to create a community where people are able to help each other and work together to reach our common goal of sustainability.
Global Issues Revamp: Once we are able to bring different majors together to encourage design thinking to bring solutions to our own campus, we want to bring this data to the faculty that teach the Global Issues class at Michigan Tech. We see great potential in this class to help students gain a larger appreciation for the subject. Incorporating more group work to assign students to different world issues will help students gain an understanding for what is going on in the world outside their bubble on the Michigan Tech campus.
Strategy Two: Innovation Learning Community
With the formation of the new Pavlis Honors College on Michigan Tech's campus, the are plenty of new opportunities available to introduce innovation and creative thinking early in the student experience. One of the best ways to inspire a shared vision within students is provide them with the opportunity to spend time with other students who are interested in similar ideas. By creating an environment where students are constantly challenged to think differently in their everyday experiences, they will develop a more diverse set of problem solving skills to implement in their daily lives.
Next year the Pavlis Honors College will have a learning community for first year students in the College. This will be a great opportunity to test out some creative ways to incorporate creative thinking into residence hall life. Resident Assistants are currently required to create programs for their students to participate in and this would be an exceptional opportunity to test out some new ideas. Some of these programs that they do with their students make include some of the events such as the Make-a-thon or the 10X Thinking Workshop.
Strategy Three: Innovation and Brainstorming Course
Currently, first year engineering students can be found using their brainstorming and innovation skills in class. These skills are typically not used again until the student reaches their fourth or fifth year and are taking Senior Design or join an Enterprise Team. There are many instances where students have a hard time trying to think of ideas for projects because they are trying to focus on what they have learned from the books, but when they get out into the real world, the answer will not be in the back of the book.
This class will help students to continue to use their brainstorming and innovation tools that they have learned so that they can use these tools in the future. This course will also help guide students to think outside the box so that it is easier to tackle problems in future courses and in the real world. This could possibly be a program of classes that will take place during both the student's second and third year in order to make sure that the student is ready to tackle the final projects before graduating and heading out into the work force.
Strategy Four: Innovation Retreat
Currently, Michigan Tech has a focus on retreats for Leadership and similar skills, but no such thing for Innovation. There is plenty of time within the curriculum schedules of students who are interested to attend a weekend retreat to the surrounding wilderness of Michigan Tech, and focus solely on Innovation and Entrepreneurship, to help cultivate an Innovative Mindset.
This retreat would help students cultivate Innovation Mindsets by presenting them with real world challenges, and giving them time to work on finding solutions for these challenges, followed by creating prototypes of their solutions by using whatever resources they find in the surrounding area. On the final day, the students will discuss challenges in the local community of Michigan Tech and how they might go about solving those challenges, as well as other strategies for staying involved in an innovation mindset after they leave the retreat.
Strategy Five: I&E Event Series
After creating an amazing collaborative space on campus, there will be plenty of opportunities to host events focused on innovation and entrepreneurship. These events will focus on creating excitement about the new initiatives on campus and recruit motivated students for the new I&E section of the Pavlis Honors College. The Pathways team has been working on bringing in a few speakers, and the student programming board is already planning an event to be held in the space.
Examples of events that can be held in the space include:
Speaker Series - Bringing in guest speakers who have had experience with I&E and have proven to be a strong motivating force for involving students. Possible topics include opportunity recognition, legal principles, entrepreneurial finance, strategic partnering and building effective startup teams.
Recent interviews have brought to life the importance of bringing in fresh faces from outside of the Michigan Tech community or alumni who have moved on and are doing incredible things.  Likewise, there should be speakers from a variety of disciplines.
Examples of speakers that we would like to bring in are: Debbie Sterling (Founder/CEO of Goldieblox which produces engineering toys geared for a female market), William Henderickson (Founder/CEO of Avecka, Inc which specializes in particle technology, an example is E-ink), and many more!
Make-a-thon - An opportunity for student teams to come together and brainstorm possible solutions for an and all ideas. Some of these projects and ideas could potentailly be carried on after the end of the event.
3 Day Startup - As mentioned in the spring overview, the goal of the event is to connect engineers who may be interested in working with a startup to business leaders with ideas they would love to see come to life.
10X Thinking Workshop - An opportunity for students to understand the steps to brainstorming and prototyping an idea. One of these already happened on campus in a small scale, but the hope is to have more in order to reach more students. 
Strategy Six: StartupTech
StartupTech is an Enterprise team that connects top student talent to student led startups. It utilizes the existing enterprise infrastructure to ensure student involvement by allowing students to work on a startup team as part of their required credits for graduation. Connecting engineering teams to students motivated by turning an idea into a business will help promote business development far more than it currently is at Michigan Tech.
The program will provide supprt for new entreprenuers by sponsoring workshops, recruiting advisors, and giving these teams a space to work and the resources necessary to turn their dreams into reality. Hopefully this program would be implemented alongside of the expansion to the larger invention space on campus, providing teams with space in a modern office equiped with state of the art technology. Funds would also be available for some business development expenses such as travel expenses, office supplies, hardware, software licenses, etc.
A Board of Directors for the program would consist of faculty involved in I&E on campus, a representative from the Houghton SmartZone and a student with startup and leadership experience. The board will be responsible for selecting the ventures to include in the program as well as monitoring the students participating in the program.
Strategy Seven: Center for Innovation and Entrepreneurship
Command the Dialogue
Overview: As mentioned above, the culture at Michigan Tech rarely caters to inventions and entrepreneurship. Although, the new Pavlis Honors College is in the works with Dean Lorelle Meadows to create a Center for Entrepreneurship and Innovation within the college. This center would provide staff to bring all resources and inititives currently happening at Michigan Tech under one roof. Then the staff could grow as needed, working to change the culture on campus to be more entrepreneurial. The center will also house a student organization with the mission of increasing entrepreneurship from the student's perspective. The proposed name is MUBX. 
3DS 
MUBX will be responsible for bringing the Three Day Startup (3DS) event to Michigan Tech's campus. The goal of event will be to connect engineers who may be interested in working with a startup to business leaders with ideas that they'd love to see come to fruition.
MUBX will work with the School of Business and Economics to support 3DS startups that leave the event excited about starting a new venture by encouraging them to enter in the New Venture Competition (NVC).
TEDx 
In 2013, Michigan Tech held their first ever TEDx. Only 100 tickets were available and at $10 apiece, they sold out within minutes of going on sale. The event's reach was limited, but provided a breath of energy to the campus. It got people talking.
TechMakers I 
TechMakers will be an extension of the TechHacks concept planned and executed by the Association for Computing Machinery (ACM) chapter at Michigan Tech. MUBX will support ACM and expand the event to include all majors and facilitate creation across campus.
Teams that move through the 3DS program and are interested in competing in the NVC will be encouraged to attend TechMakers I as an opportunity to deliver a prototype to the NVC judges. 
The Opportunity to Learn
Overview: The greatest incentive a university can offer a student to encourage learning is credit towards graduation. By applying entrepreneurial and innovative courses to the existing curriculum structure, students will have an opportunity to grow their skill set within the I&E space.
By pulling together existing classes and proposing new ones, the LearnX branch will empower students to take the next step.
Lean Startup
A lean startup course has already been proposed by the NCIIA Pathways group and is being implemented during the Summer of 2014 as a pilot course. This course will hopefully grow in size and popularity as more students become interested in innovation and entrepreneurship.
Design for Organizations
Right now Michigan Tech doesn't offer any comprehensive graphic design or marketing crash course. This (new) course will teach students the basics of the Adobe Creative Suite, as well as basic marketing psychology. The course instruction will center around working with real-world clients and applying the concepts to small businesses (start-ups) and student organizations.   
Technology Commercialization
As a continuation of a course already offered by Michigan Tech, this section will focus on how to transform research into a viable business. With a strong focus on customer voice and the business model canvas, this class will help researchers and innovators bridge the gap between idea and market success.
Grand Challenges Scholars Program
The Grand Challenges Scholars Program has five components: service learning, entrepreneurship, inter-disciplinary, research and a global dimension. Michigan Tech has the Pavlis Honors College that parallel this program closely with five pathways: service, innovation, industry, research and global. Michigan Tech also has a letter of commitment to the Grand Scholars Program. After attending the Global Grand Challenges Summit of 2015, a quote that resonated with me was: "inspiring the engineers of tomorrow". In order to bring this back to Michigan Tech, myself and Amanda Moya, who was also able to attend the Summit, are in the process of inspiring students with the intent of bringing guest speakers to campus and implementing challenge programs in the Pavlis Honors College that allow students to begin working on projects and utilizing all their potential from day one of their time on campus.
Our first formal presentation of the idea is set for October 13th, 2015. By the end of October 2015, we hope to have the necessary stakeholders from the College of Engineering and Pavlis Honors College supporting this strategy. Amanda and I are aiming to present our challenge program idea to the first-year students interested in the Pavlis Honors College and also to the members of the Pavlis Honors College at an all-cohort meeting before the end of the fall 2015 semester in order to introduce students to the idea. We hope to gain student interest and support of the challenge program with students outside the Pavlis Honors College by advertising the guest speakers through Student Activities, MUB Board and on-campus advertising. Before the end of the spring 2016 semester, the goal is to host the first guest speaker in order to gain momentum and keep student interest. If all goes well, we would like to have the challenge program in place for students to begin next year, fall 2016 semester, at the earliest. 
Looking Forward
While these classes mark a great start in empowering students to extend their development in innovation and entrepreneurship, they won't be enough in the long term. As a part of LearnX, faculty and staff will be encouraged to offer one-credit seminars in areas they're passionate about. This could range from an exploration of Google Glass to a series of lectures on programming competitively.
This collection of courses is designed to give students who think they may be interested in innovation or entrepreneurship the opportunity to grow, and dabble, in a formalized setting.
Support the Culture
TechX
TechX is the culmination of the previous two strategies. Once a student is introduced to the concept of a startup through MUBX, and is equipped with the tools to make the startup successful though LearnX, they move onto TechX. TechX is a startup incubator modeled after Stanford's StartX.
TechX will provide a variety of resources to fledgling startups in order to support their development.

The concept of TechX is still being developed.  It is being designed by student entrepreneurs, for students.
Space
Like most universities, space is in short supply at Michigan Tech. TechX will provide startups with premier workspace, featuring an open and flexible floor plan. This space will be designed to support a variety of team, and individual, work. A modern atmosphere and amenities will encourage the best startups to call TechX home.
Mentorship
A key component to the TechX program will be access to mentorship opportunities through the University. These mentors may include one-on-ones with successful leaders in the industry, or faculty who have technical experience in the startup's field.
Each startup will be assigned a handpicked team of advisors who will provide advice on running a startup, leading teams, raising capital, and so on.
Mentorship & Student Ambassador Program':
A common theme we have heard is that students don't know about the resources available to them- including the interests and experience of fellow students.  In order to help connect students to each other and to faculty mentors for projects, an online database system has been proposed. This searchable database would allow entrepreneurial students and faculty to identify their needs for like-minded business partners, or with a background in certain skills. The idea is to encourage collaboration of students across various departments.   All users would have the option and ability to provide as little or as much information about their skills as they'd like, and also be able to tag themselves as having experience with various methods and materials, such as 3D printing, electronics, or marketing strategies.
Another theme we heard is that students don't feel like they have support building social networks. To help with this, our idea was to create events that support new relationships in academics and personal life. The Student Ambassador Project would allow students to connect with students of the same major and learn about campus resources while networking.
Funding
While no significant funding will be provided through the TechX program, small amounts of funds will be made available to teams in order to facilitate business growth. Funding may be allocated for travel, marketing materials, and business needs to help get the startup off the ground.
General Overview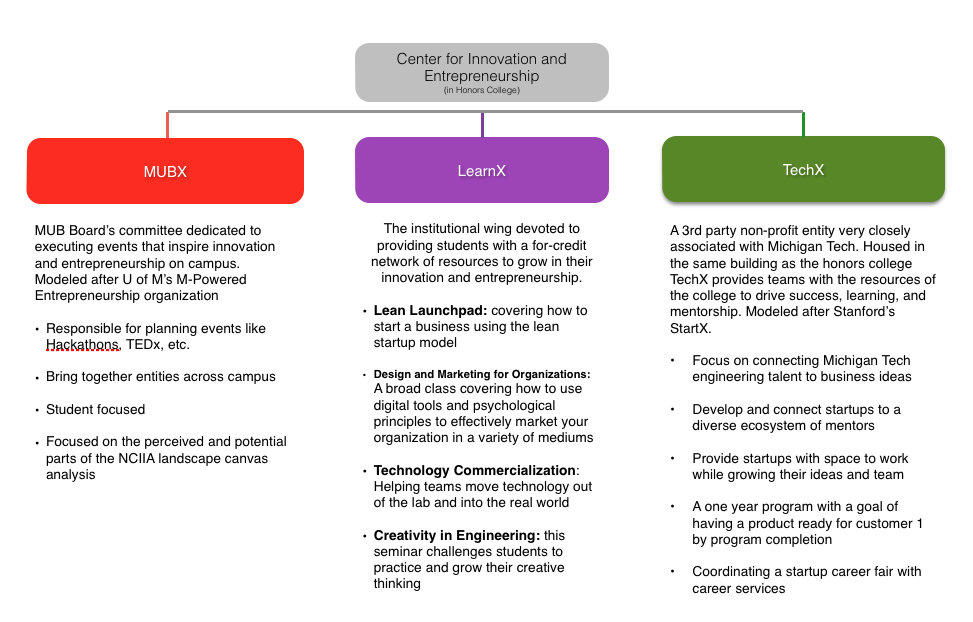 Cohort 2020 Strategy Eight: Promoting Campus in an Online Forum
When analyzing the online experience at Michigan Tech, it became evident that some students felt disconnected from their classes and student resources on campus. A barrier seemed to had been placed between professors and connecting to other students to get involved on campus. To defeat this barrier, we want to be able to develop a new way students approach online learning. Changing a class and the way the university outreach's to students can take a lot of steps to implement. During this class and outreaching changing process, our team wants to get evidence of how students interact thought the current online systems and also how students get involved on our campus. Updated 2020
To do this, our team plans on taking four steps: hosting a meeting with interested professors to create a university template for canvas, create a new grading policy so students are actively engaged in their learning and not forgetting stuff after an exam, create one central website for students resources and student organizations, and looking into ways to help support our IT department.
Canvas Template: During this step we plan to have ten different professors who are willing to change their canvas sit down and draft a template. we believe that this will help students when going from class to class online to have a consistent spot of where information is located at.
Central Website: Next, we plan on taking a poll through the campus, to determine what method students would like to see resources and student organizations spotlighted. This will give us a better understanding of what we need to develop or fix.
Grading Restructure: In this step we will meet with current professors using the grading system we have identified and get specific research to use in a meeting with willing professors who would like to change their current grading systems. After we have this meeting we hope to have more professors adopt the grading system and get more research. After this we hope to create a university wide grading system.
Helping IT: Once we are able to deliver the above steps we plan to help IT with everything. We plan to help them achieve some of their goals that they have been currently working on in order to promote us as more of a tech school.
Cohort 2021
For our cohort, we've chosen focus on areas specifically involving connections. In the wake of Covid, we faced numerous challenges in terms of connecting with others and connecting with the resources and locations on campus. Our approach will focus on understanding what happened from a broad perspective; getting students to explore campus more; helping students learn about what resources exist on campus; and help give them an opportunity to show off their projects and creations. By reestablishing these connections, we hope to foster a more highly-functioning university, and get students to the place where they can be most innovative.
Strategy Nine: Location Scavenger Hunt
We've noted that navigation around campus can be challenging sometimes. Certain locations can be hard to find, and it's always a bit more work to find places for the first time. To help with this process, we're looking into setting up a scavenger hunt to help encourage students to explore campus and find new locations on their own two feet. Learning is always more impactful when you do it yourself.
Strategy Ten: Makerfaire
We think it would be awesome to have people from all around the university get together and show off the things they have made. This should hopefully encourage a celebration of accomplishments and give students an opportunity to be inspired to work on their own projects.
Strategy Eleven: Resource Finder
One key area we saw students struggling on campus was their lack of knowledge about university resources. We are seeking to remedy this by investigating the potential for a website and app that could help students discover the various resources and what those resources can do for them.
Strategy Twelve: Protocol for an Improved Post-Quarantine Learning Experience
In Fall 2021, students and faculty returned to campuses with lingering concerns regarding in-person education. Easing the seismic transition will require learning institutions to actively engage with their demographics to determine next steps. This is particularly significant in deciding what quarantine-era adjustments will be integrated into course agendas and what modifications will be left out. Similarly, mounting pressure is weighing on universities to invest in improvements to their academic offerings following Covid-19. Determining where these opportunities exist to improve learning experiences beyond pre-Covid standards will require detailed introspection that is centered around student and faculty opinion.
The primary goal of this University Innovation Fellows' project is to assess MTU's student, faculty, and administrative bodies to generate recommended measures toward developing a post-quarantine protocol that aims to ensure an effective transition towards an improved post-quarantine learning experience.
Cohort 2022
For our cohort we've decided to scale tings back in terms of what has been done in the past, we would like to centralize ourselves off of one identified problem and work together to determine solutions to solve it. This way we can each prop up each others weaknesses and use each others strengths to deliver a polished and useful deliverable. As with the previous cohort we've identifed an issue that students are often unaware of the resources they have available to them, and how to use those resources in an effective manner to bolster the value they get out of their time with the university.
Strategy Thirteen: Student Experience Compounding Journal
Although online resources are plentiful and easy to access we've found from some of our interviews that students sometimes prefer a physical journal, something that they can hold and add to. We think that there is an opportunity to use these additions to create a journal that students can get at the end of the year, read, and then add to if they would like at the end of the year they can turn in this journal and then we can add some of the additions to the next year's "edition" for then more students to add to until we end up with a product with a lot of wisdom and insight for new students.
Strategy Fourteen: Centralized Resource Finder
Our university environment contains a large quantity of resources available to students most of which can be easily researched online. We have found through various problem interviews that students are confused by how spread out it seems all of these resources are. This is mostly a result of departmentalized resources often not playing well with each other, thus creating a number of similar locations for different resources. This seems like it is a lot of duplicated effort that can be confusing for the end user, and also confusing for people trying to add to these sites or areas on campus.
We would like to work with the university to foster a centralized solution so as to improve scalability and modularity of proposing new groups/organizations as well as an easy way for groups to announce new activities and changes.
Completed Strategies
Invention Space 
A small maker space has been completed to be implemented in the current Enterprise lab. At this time, there are very few spaces on campus where students can come together and work collaboratively and have access to prototyping tools and supplies. Much of the renovation necessary to create an effective invention space has been completed, but additional support is needed to gather tools and supplies. This space will allow us to obtain student feedback in order to potentially expand to a much larger and extensive invention space on campus.
This space will serve multiple purposes outside of providing a collaborative workspace. It can be used to hold classes in an non-traditional style classroom with an alternative setup. The Invention Space will also host events focusing on innovation and entrepreneurship on campus mentioned below. The space will also serve as an "IP Free" zone in hopes that students would be less worried about having to worry about legal issues with the University and more focused on creating new ideas.
Key Features:
Movable furniture: tables with adjustable heights, adjustable rolling chairs, and stackable seating.
Prototyping supplies: one wall of the room will be lined with cheap craft supplies and an array of tools for students to use
Technology: projector for student teams to present their ideas and 3-4 desktop computers used for product design
Other: storage space for student teams, portable whiteboards, and power distribution throughout the space for students to plug in
Related Links
Magann Dykema - A University Innovation Fellow from Michigan Tech
Josh Jay- A University Innovation Fellow Candidate from Michigan Tech
Rachel Kolb- A University Innovation Fellow from Michigan Tech
Josh Krugh- A University Innovation Fellow from Michigan Tech
Rob Lambert- A University Innovation Fellow Candidate from Michigan Tech
Kyle Ludwig- A University Innovation Fellow from Michigan Tech
Arsh Sahu - A University Innovation Fellow from Michigan Tech
David Shull- A University Innovation Fellow from Michigan Tech
Brad Turner- A University Innovation Fellow from Michigan Tech
Adam Weber- A University Innovation Fellow from Michigan Tech
Abby_Kuehne - A Univeristy Innovation Fellow Candidate from Michigan Tech  
Rachel May - A Univeristy Innovation Fellow Candidate from Michigan Tech
Nicholas Green - A Univeristy Innovation Fellow Candidate from Michigan Tech
Ket Dvorak - A Univeristy Innovation Fellow Candidate from Michigan Tech
Peter LaMantia - A Univeristy Innovation Fellow Candidate from Michigan Tech
Samuel Raber - A Univeristy Innovation Fellow Candidate from Michigan Tech
Lindsay Sandell - A University Innovation Fellow Candidate from Michigan Tech
Kyler Bomhof - A Univeristy Innovation Fellow Candidate from Michigan Tech
Suhayb Zeqlam - A Univeristy Innovation Fellow Candidate from Michigan Tech
Bayle Golden - A Univeristy Innovation Fellow Candidate from Michigan Tech
About the University - Learn about Michigan Tech including a landscape analysis
Michigan Tech Student Priorities - Learn about what students are working on
http://www.mtu.edu/ - Michigan Tech's website
---
---