This site will go under maintenance from 25-11-2020 to 30-11-2020. It might not reachable during the maintenance period.
Faculty Champion:Mary Raber
Jump to navigation
Jump to search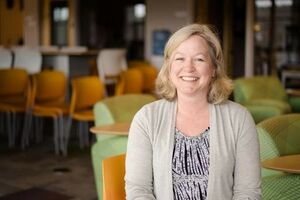 Mary Raber, BSME, MBA is a Professor of Practice at Michigan Technological University and enjoys her multiple roles as Assistant Dean for Academic Programs for the Pavlis Honors College, co-director of Husky Innovate (Michigan Tech's resource hub for innovation & entrepreneurship), and Chief Doing Officer of IDEAhub (Michigan Tech's collaborative working group for educational innovation). Mary is a design-thinking and innovation enthusiast and loves to help others embrace the tools and mindsets of innovation to effect positive change. After a 15-year career in the automotive industry, she joined Michigan Tech to lead the implementation and growth of the highly distinctive undergraduate Enterprise Program. Raber facilitates learning in leadership, human-centered design and lean start-up. She's currently pursuing a PhD at Michigan Tech with a focus on engineering education, and is working on developing another start-up to help bring her passion for innovative teaching and learning to others.