Fellow:Peter LaMantia
Jump to navigation
Jump to search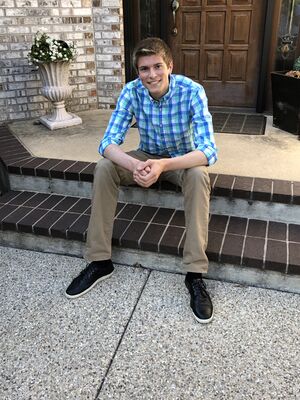 Name

Peter LaMantia

School (Cohort)

Michigan Technological University (2020 cohort)

Majoring in

Software Engineering

Country

United States of America

Email
Bio
Peter LaMantia is a University Innovation Fellows candidate and current student at Michigan Technological University. Peter joined UIF because he believes he can promote positive change at his university, and that UIF will provide him the tools to do so.
Specifically, Peter is interested in updating Michigan Tech's course registration software, which is an incredible pain to use. He is a strong believer that connecting people to the resources is one of the best ways to foster innovation. What better way than fixing the way we register for classes?
Peter's interests are very broad, and include running, computers, ultimate frisbee, reading, drones, coding, photography, and things that get his adrenaline going. Very rarely is he bored of things, and he is often reading about something new.
Questions? Send Peter an email and he'll try to get back to you as soon as he can!
I stepped out of the car, feeling the cool night air bite against my skin. Shivering a bit, I reached for my sweatshirt and slipped it on. I glanced at my newly-made friends of a mere four hours earlier, and then grabbed my camera bag, ready for the night.
We had waited a bit for the sun to set in order to see the stars. It was windy near the top of Brockway Mountain, but the view made it entirely worth it. It was the type of place you could see the cell towers from but never hope to get any reception. We walked towards the southern face, wind whipping at our faces.
I looked up at the sky for a few moments, speechless. Up above were more stars than I had ever seen before in my life: more than on lake trips I took with friends, and way more than in the city, where the light severely pollutes the sky.
I began to set up my tripod, eager to capture the beautiful Milky Way above me. While we had come to see the Northern lights, the bright Milky Way was a treat in and of itself. With the tripod set, I began to take pictures.
However, achieving focus was very difficult for me at the time. I had an entirely electronic lens, meaning anything I did to adjust focus was done through an electric motor. Thus, most of the online tutorials I had read online were completely useless. I even went to my local photography shop for advice, but to no avail! So for the time being, my technique was to take a picture and then adjust focus slightly. Rinse and repeat until the focus was sharp. Understandably, this was a poor approach.
After taking a few shots, we decided to head to the other side in hopes of seeing the Northern Lights. The Kp values were good tonight, meaning that there was a good chance of seeing a visible geomagnetic storm in the form of the Aurora Borealis. A couple other factors also lined up well, including a new moon (dark moon) and clear sky.
Once we got closer to the other side, I saw a man with a tripod set up aimed at the horizon. I couldn't see much worth photographing…just some stars and trees. But there was weak light as well, taking the poorly defined form of faint, vertical columns.
"Are you getting anything?" I asked. He said yes, turned off the interval timer on his camera, and showed me his results. "Whoa," I exclaimed, almost in disbelief that the camera was able to capture the mystic purples and greens of the Northern lights so well. "I can teach you," he said.
Click. I saw the photograph pop up on the display. There it was. The Aurora Borealis. Taken by me, with my camera. It was the type of thing you see in magazines. And at that moment, I knew that photography—and the joy of achieving the shot—would be something that I would continue for the rest of my life.
Quirks
Peter likes Android more from a developer and usability standpoint, but uses an iPhone.
Does not like pizza
Peter uses Lightroom almost always as opposed to Photoshop
Added a 'Quirks' page.
Achievements
Has jumped out of a perfectly good airplane (gone skydiving)
Pavlis Honors College Member
Recognized for excellence in Calculus I (top two in section)
Can run a sub-5 minute mile
Social media profiles
Instagram: @peterlama
---
---