This site will go under maintenance from 25-11-2020 to 30-11-2020. It might not reachable during the maintenance period.
Fellow:Kusuma Amilineni
Jump to navigation
Jump to search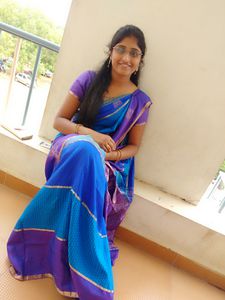 Kusuma Amilineni is University Innovation Fellow and an undergraduate in the stream of Electronics and Communication at Madanapalle Institute of Technology and Science(MITS). Kusuma born and brought up in Chittoor, Andhra Pradesh, INDIA. She is a member of NSS club in MITS and loves to spend time with senior citizens frequently visits old age homes. She is a perceptive, quick individual, has strong values, and respect for others. She is driven to understand how things work. She has been a strong leader in the class and eager to share her knowledge with others and learn new skills. Her ability to work with counter parts and even with her seniors is exemplary. Kusuma's personal strengths are as impressive as her intellectual accomplishments. She always involves in interacting with new people.  Her inherent ability to reason out things from basic concepts, her analytical and pragmatic approach in problem-solving indicates her creative and thinking mind.
Related Links
 http://universityinnovation.org/wiki/Madanapalle_Institute_of_Technology_and_Science_Student_Priorities#Related_Links
https://docs.google.com/spreadsheets/d/1mcEDlTVLicEGZMnlc2KJAxCvqpVKzkJFwZFVb25EqY0/edit#gid=1Student Priorities 
Fall 2017 Fellows:
---
---