Fellow:Sunisa Intharachan (2020)
Jump to navigation
Jump to search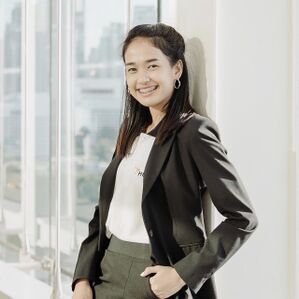 Name

Sunisa Intharachan

School (Cohort)

National Institute of Development Administration (2020 cohort)

Majoring in

Financial Economics

Country

Bangkok, Thailand

Email
Bio
My name is Sunisa Intharachan. I am a candidate for 2020 University Innovation Fellows. from National Institute of Development Administration (NIDA), Thailand. I graduated with a bachelor's degree in Business development manager program in entrepreneurship from Prince of Songkla University. While in the university I have joined BDM SME in 2016 and I have been voted for a vice chairman. I learned a lot from this club. I got new friends from other faculties. Learn to work with others, learned to be a leader and learn how to succeed together. My most important qualifications are good attention and patience when I start doing anything, I will go on until the job is done. I have joined a lot of business plan competitions, won some, but lost even more of it. But every single time, I have unlocked new skills that are very helpful in my life. I learned how to know a product-market fit, and how to explain what differentiates a business from competitors and how-to business will sustain long-term success through previous competitions. In 2016, Me and my friends have joined the national business plan competition to bringing a medical device to market. We are all work hard. We have used brainstorming to generate ideas, and to come up with creative solutions to problems. Finally, we got 5th of the 30 teams. In 2017, I was an intern at Thai Trade Center - Ho Chi Minh City in Vietnam as a business consultant where I gave advice on how businessman wants to start a business in Vietnam as s foreigner. I enjoyed my responsibilities, including helping businessman achieve their goals in business. I am currently studying a master's degree in Financial economics at National Institute of Development Administration. I choose to study in Financial economics because I think this major help me to prepare for careers that require numerical, analytical and problem solving skills – for example, in business planning, marketing, research and management. Financial economics helps me to think strategically and make decisions to optimize the outcome.
Achievements
- Participated in the research to market competition 2016 and the third runner up of south, Thailand
- Participated in the research to market competition 2017 and the fifth runner up of Thailand.
- Vice chairman of BDM SME club.
- Business consultant internship at Thai Trade Center - Ho Chi Minh City in Vietnam
- Be a staff and participated in AEC business leader program 2017 by Bangkok bank at Ho chi minh city, Vietnam
- Be a staff of the national conference "LAMS NEC 2017"
- Be a member of training team to improve Financial literacy for teacher in 4 regions of Thailand
- Participated in Bond Academy 2019
- Participated as the mentor of design thinking courses for the narcotics control board.
Social media profiles
-
---
---