Priorities:National Institute of Development Administration Student Priorities
Jump to navigation
Jump to search
2019 - Strategic Priorities (The possible projects of NIDA HUB)
2020 - Strategic Priories (The possible projects of NIDA initiative learning platform, NIDA-ILP)
Prioritization of new prototypes
Our team has discussed how we can help both lecturers and students to close the gaps due to COVID-19 consequences, all teaching materials and lecturing methods have to be in an online platform. While easiness of learning online is founded, decreasing in social and emotional well-being is the new problem in NIDA bangkok campus.We performed testing on two prototypes with different ideas. The first prototype is about activities that engage not only students but also lecturers in order to increase alertness of students for preparing to learn, reflection in the class, critical thinking via discussion and leadership competency. Secondly, it is about the grading system that controls student emotions, in off-line and online platforms. After asking faculty champions, it seems that activities for online are favoured and have many potential to make an impact toward the learning experience of students.On the other hand, individual grading systems may be impossible because students have to be measured according to the lecturer point of view. They assume that all students should be able to accomplish their requirement, regardless of their background knowledge and their past capability. As a result, we have set 3 strategic work packages including developing the various games which every game has been categorized into different usage. Some games may help learners be ready for their lesson while others may act as a tool for extracting the new idea. To ensure the lists of games is valid, empathising the student or lectures can get to know their customer journey and how they feel about the game. Last but not least, Scaling it up into the policy of the institute will create a significant change for teaching and lecturing experiences.
Milestone
11 Oct 2020 Deliverables
Approved prototype plan
VDO presentation
Approved change
Lists of resource breakdown
25 Oct 2020 Deliverables
Approved change
Lists of resource breakdown
Progression report 1 (Documents)
Weekly progression report with Jeniee, Fellows and faculty champions
8 Nov 2020 Deliverables
Approved change
Lists of resource breakdown
Progression report 2 (Documents)
lessons learned
Weekly progression report with Jeniee, Fellows and faculty champions
22 Nov 2020 Deliverables
Approved change
Lists of resource breakdown
Progression report 3 (Documents)
lessons learned
Weekly progression report with Jeniee, Fellows and faculty champions
6 Dec 2020 Deliverables
Approved change
Lists of resource breakdown
Progression report 4 (Documents)
lessons learned
Project advancement reports
Weekly progression report with Jeniee, Fellows and faculty champions
14 Dec 2020 Deliverables
Check point all requirements
Presentation materials
Project progression
2021 - Strategic Priorities
Waris Phusae
Keynote (Idea)
Supporting students in becoming more self-assured by learning by doing.
Change Strategies
Public speaking club - Encouraging students to join the club in order to improve communication skills.
Bringing in a well-known speaker to share their skills and experiences.
Get comments and make changes as needed.
Students should be taught by a public speaking expert.
Kamolporn Bannasitrat
Keynote (Idea)
Encouraging students and teachers to have a good relationship with each other can make students in the classroom more self-confident and independent, which is important as Thai people are less self-assured.
Change Strategies
Teachers set the short activities in the class like an online Kahoot game to help students review the lesson in that class and understand correctly.
Teachers allow students to talk to the class openly to makes them get more ideas without judging the others' opinions.
Teachers take the students on field trips outside the classroom where they are related to the lesson to create a good relationship and cultivate shared experiences together.
Teachers encourage student to boost their self-confidence by presenting the term project confidently in front of the classroom.
Watcharasak Sudla
Keynote (Idea)
Because NIDA (our institution) is a graduate school that only offers instruction at higher levels, feedback from students sometimes cannot fully go back to instructors. Students and teachers should be promoted by student voices channels.
Change Strategies
Teachers should access students by understanding individual differences such as using student surveys to collect student characteristics.
Encourage or change teacher mindset about engaging students.
Teachers use online or paper-based platforms to collect student voices. Beyond to the questionnaire method, teachers can collect data from their perspective via in-depth interviews.
Analyze the data and use it for changing or modifying classroom settings every week.
Co-design for changing the instruction methods under the collaboration among teachers.
Allow student to share their thoughts, feels, and behavior freely without judging students.
2022 - Strategic Priorities
Strategy 1: NIDA Human Library (2022 Fellows)
The Human Library, firstly established in Denmark in 2001 as a way to promote human rights and social cohesion, is intended to encourage deeper understanding and connection among people by highlighting the power of empathy as a means to break down barriers of prejudice and misunderstanding. From this concept, we're agree to establish our NIDA Human Library, so that people can connect, share their experiences, and learn to understand each other. A Human Library consists of "books" that are human. Books in a Human Library are actual people. These books have all agreed to share their stories with the public as a public service. The Human Library is modeled after traditional libraries; each "book" in the collection has a jacket and description, and "readers" can borrow them in order to learn more about a certain subject. Readers could gain insight into the lives of people from different backgrounds at NIDA, such as those from different countries, those with different abilities, those from different sexual orientations and gender identities, and those who follow different religious traditions. Readers who take part in the discussion gain a deeper understanding of the subject being profiled, as well as of the struggles and stereotypes the subject has faced in the past and faces today. A book can have a one-on-one conversation with a reader for 20 minutes while it is checked out.
To execute this idea, we have to plan the project, setting agenda, provide meeting plan, setting date, time and place. The next process is to brainstorm what should be in Human Library, then observe what people want, setting a session of public hearing and making summary report. The biggest challenge that the team needs to do after that is to propose the strategic plan to NIDA Adminstration Team and waiting for their approval. If our project of NIDA Human Library proposal is approved, we are going to make a public announcement and work on our public relations.

Strategy 2: Club for Your Passion (2022 Fellows)
Nida is an institute that is open for only post graduated program in Master's degree and Ph.d program. Most of the students are aged 23 or older, which creates a study environment unlike a bachelor's degree. It makes the university image seem like everyone is serious about their work and studies. Many students have mental health problems due to stress and the hard study environment, consiquently we understand care about student's life balance. It doesn't have just one side that has to focus on work or studies all the time. Everyone can relieve tension through doing activities that they are interested in at university after study or break time, but Nida does not have activities or clubs related to personal preferences that much, such as sports, games, and music. Therefore, we want the university to have a place to attract people who are interested in the same way. Come together in order to exchange ideas or concepts Not only is it relaxing, but it can also be an activity to make new friends. So we were determined to create a place called "Club for Your Passion" that everyone can come to join , learn , and discover new things. This idea will make community in institute stronger because all community will have space to express them's talent and passion. Such as sport community basketball club, football club , E-sport club accademic community / activity project community. Finally in the side way student can empathize peers in different fucalty follow by making activity with different collage and faculty. Club for Your Passion is a planned project in which we want everyone at Nida to participate, particularly Nida students, who we want to find themselves through activities or something they are interested in after class to relieve tension and may discover a surprise thing that they didn't know before.

Strategy 3: Design Thinking Workshop (2022 Fellows)
The Design Thinking process amazed all four of us at how conducive it provides the brilliant ideas. We never realized the importance of empathizing, defining, ideating, prototyping, and testing that brings out the impressive solution for any problems provided. So, the idea of using the edification of Design thinking methods to solve the issues and the outcome it delivers encourage us to spread this knowledge to those who need, which we believe are a lot, if not all. There is no individual person without any problems in their lives, so we think it is the excellent idea if we can provide this knowledge to let them empathize themselves and try to dig deeper to define the true desire or the hidden problem, and even more, solve it.
Those ideas lead us to form the Design Thinking Workshop and recruit NIDA students and staff who interest in this core idea. We are not making a commitment that we will solve YOUR problems. Instead, we acknowledge them that we will present you a way of thinking, a mindset that you can use and develop in your everyday life, as we do. We truly believe that those who join us in the workshop will at least get an idea and has a new perspective on reflecting their problems. With the depression rate growing intensely every year, it depicts how many people out there struggling to find their happiness. And with Thai people culture, we do not tend to share our story, specially, our problems, to others. Many Thai people prefer to keep the troubles with themselves, so, by applying the Design Thinking mindset, they might find a way to know themselves better than ever, and live a happy life at last.
2023 - Strategic Priories
Prioritization of new prototypes
Strategy 1: New Co-working Space and Facilities - MBA Learn Labs: Where Minds Connect (2023 Fellows)
A successful university co-working space should function as a dynamic hub for learning, innovation, and collaboration, catering to the diverse needs of the university community while promoting an environment conducive to academic and entrepreneurial pursuits. Creating more accessible and inviting learning spaces for NIDA students, staff, and members is imperative. We believe that an enhanced learning environment can improve the educational experience and make studying more enjoyable for everyone.
Following interviews, we identified concerns among students regarding the learning and co-working spaces and facilities. These concerns include:
Sufficient Space: Providing ample workspace for students, faculty, and entrepreneurs, with adequate seating and workstations to accommodate various needs.
Flexible Hours: Offering extended operating hours to accommodate different schedules, including late-night and weekend work.
Variety of Work Zones: Including quiet spaces for focused work, open areas for group discussions, and meeting rooms for presentations and collaboration.
Facilities: Providing essential amenities such as printing, scanning, charging stations, and well-equipped kitchen or refreshment areas.
Our strategy is to create new co-working spaces and facilities for NIDA students, staff, and members. The first step involves renovating classrooms and decorating the space to provide a supportive learning environment, featuring learning facilities, motivational quotes, and educational posters. Subsequently, we will use resources and feedback to create and renovate the actual new co-working space with additional features:
Collaborative Environment: Fostering a culture of collaboration and networking among individuals from different academic backgrounds and industries.
Events and Workshops: Hosting events, workshops, and networking opportunities to enhance professional development and knowledge sharing.
From our proposal, we believe that students, staff, and members will be most satisfied with spaces that enhance their learning experiences.

Strategy 2: Facilities PR & Information - PRoActive Voices (2023 Fellows)
Building upon the potential identified in Strategy 1, we also found that some interviewees are not aware of the location of the learning space or how to use NIDA's facilities provided for students, staff, and members. Additionally, concerns were raised about the information and feedback channels for receiving news from NIDA University or faculty.
Therefore, it is clear that spreading the word is essential. We need to inform everyone about the fantastic new co-working spaces and the schedule for workshops that users may be interested in. We have designed eye-catching posters to showcase the renovated classrooms and their benefits. These posters have been strategically placed around the school, and we have initiated a social media campaign to reach a wider audience.
To sustain this project, we need to establish a team, a working system, and secure sponsorships (e.g., from the university, faculty, companies, startup teams, government, etc.) to ensure that this PR system can effectively support NIDA University.

Strategy 3: Facilities Registration System for Members - Book Space Now (2023 Fellows)
In addition to the concerns raised during interviews, we learned that some individuals often struggle to find available classrooms and meeting rooms for group study sessions or club meetings, and the process is overly complicated. Therefore, we have decided to introduce a new strategy focused on a reservation system for co-working spaces. This system should not only support students but also staff who utilize our facility.
We aim to simplify classroom reservations and enhance the overall experience for our users. Our strategy will be divided into two terms:
Short term: While we are developing our digital reservation system, we will streamline the existing paper-based process. We will post templates for reservation forms and contact information for staff on the main bulletin board on each floor.
Long term: We plan to develop a dedicated co-working space application for NIDA's members' reservations and to provide staff support. We believe that this strategy will improve the connections among NIDA's members.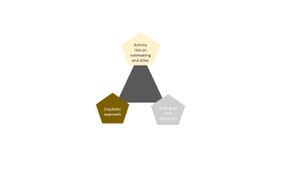 Related Links
Fall 2019 Cohort: Pakorn_thongjeen, Suthee
---
---