Fellow:Natchaya Sakulpong
Jump to navigation
Jump to search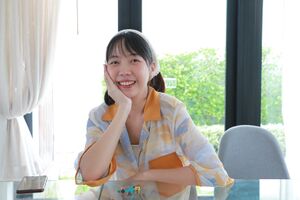 Name

Natchaya Sakulpong

School (Cohort)

National Institute of Development Administration (2020 cohort)

Majoring in

Financial Economics

Country

Thailand

Email
Bio
Natchaya Sakulpong is a 2020 University Innovation Fellow from National Institute of Development Administration (NIDA), Thailand. I'm graduated in Bachelor degree from faculty of Economics, Kasetsart University. After that , I got a scholarship to study in Master degree from Asia Plus Group Holdings Public Company Limited which a well known securities company in Thailand. I am an active person who always like to learn new thing and find the opportunity to improve myself. Moreover, I believe that everything is possible so I always try to do my best in everything. For example, I would love to play sports such as basketball, badminton and table tennis with them so I went to competition and also got an MVP Player in badminton and table tennis. Furthermore, I like difference kind of dance. For Instance, K-Pop dance ,Social dance especially Thai dance which I had won the prize in Thai dance contest when she was 20 years old. I also believe that you get what you deserve so it lead me to be the person that want to get out of my comfort zone to improve myself to be serve in something good. I have been 5-6 times to be a volunteer in Camp in rural area which can always give me an energy to live.
Achievements
Bachelor Degree (2nd Class Honour)
• Finalist in "Sedtasart- Petchyodmongkul 9th" Economics Contest in Thailand
• Exchange student at Kyoto University
• Presented to 56th Kasetsart University Annual Conference in the part of Economics and Business Administration
• Participated in New Investors Program for Society (NIP-S 25) & Be staff
• Internship mangement at Boonrawd Brewery Co., Ltd., Bangkok
She was one of 50 students from 5,000 students registered. "Singha Biz Course" is an intensive internship program focusing on five disciplines; Management, Sales, Marketing, Public Relations and Human resource, learned through hands-on projects and mentorship from experts in each field.
Master Degree (Class Honor)
• Representative of NIDA to join CFA Research Challenge competition
• President of Financial Economics Major
• President of Chair ball Club
• Be selected to work on Social Lab Project
• Be a member of training team to improve Financial literacy for teacher in 4 regions of Thailand
• Participated in Bond Academy 2019
Social media profiles
---
---
https://www.facebook.com/ppop.natchaya.5
Line : pop.natchaya