Fellow:Michael Thuis
Jump to navigation
Jump to search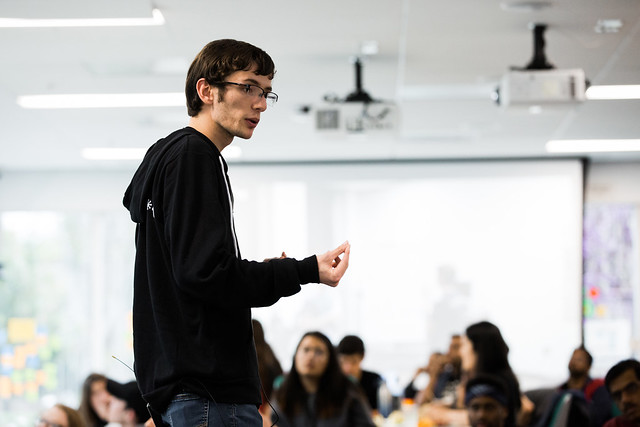 Serving as a UIF Since: Spring 2017
School: Colorado School of Mines
What he does now: SULI Intern at Oak Ridge National Laboratory/Undergraduate Student
What that means: He conducts research on a new, ceramic material to determine its dynamics and properties on the atomic scale in order to create better batteries. He is also still a student.  
Contact him about: Planning regional meetups, cordinating an established UIF Program, creating and maintaining spaces (we have 6 active Maker/innovation spaces with 3 more in the works!), how to manage a work/school/life balance (ask me how I managed to travel for a month while going to school), the cutting edge of scientific research (and how you can get involved), how to start a buisness, public policy (I have been on capital hill talking to members of congress about policy), or anything you are interested about!
Email: mthuis@mines.edu
Michael Thuis is a first-generation college student currently within his third year pursuing a Bachelors Degree in Metallurgical and Materials Engineering at the Colorado School of Mines. He hopes to carry his degree and experience into a career doing research and development, within the government or industry sectors, specifically with thin film electrical materials. Noteably, Michael has served as a FAB for the 2019 Silicon Valley Meetup, helped plan the 2018 Mile High Meetup, and traveled to SXSW 2019 as part of the UIF contingent. Michael is a proud founder of CANARY, a company with the mission of protecting people from harmful air pollution by intergrating protection into everyday clothing. 
Michael was a member of the Spring 2019 FAB cohort, where he gave an ignite titled "Building Bridges: How to turn Adversaries into Allies". For the 2018 Mile High Regional Meetup, Michael was tasked with coordinating most of the logistics and expenditures behind the event. He is currently working on an "active symbols" project, where students are encouraged to create pieces of art that represent their vision of entreprenuership and innovation. These pieces will be displayed, permanently, at several locations around campus. Michael is also coordinating with the Colorado School of Mines alumni organization to start MinesTalks, a speaker series where alumni will be returning to share their stories, concerning entreprenuership and mental health, with current students. 
On campus, Michael is currently an active contributor to many clubs and organizations. He is an active member of his school's Engineers Without Borders Water Team where he works on the technical side of providing a clean water system to the Nicaraguan village of Los Gomez. Michael also has the distinction of being a Grand Challenges of Engineering Scholar. Within this program, Michael holds a seat on the Grand Challenges Grand Council at his school where he serves as the Freshmen Ambassador and Education/Outreach chair. Within the professional community, Michael is a member of the Society of Hispanic Professional Engineers and Materials Advantage. Michael also works as an Undergraduate Research fellow on Heptane Refinement for Interfacial Rheology and the Thin Film Production of Graphene. At Oak Ridge National Laboratory, Michael will be working to manufacture LiPON, a new ceramic material that is slated to create 30% more efficient batteries. 
Related Links
Grand_Challenges_Scholars_Program,_National_Academy_of_Engineers_(NAE)
Other Colorado School of Mines University Innovation Fellows
Spring 2019: 
Spring 2018:
Spring 2017:
Spring 2016:
Spring 2014:
---
---