Fellow:Marlen Braun
Jump to navigation
Jump to search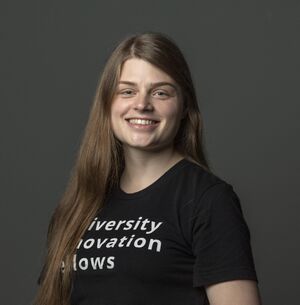 Name

Marlen Braun

School (Cohort)

University of Twente (2020 cohort)

Majoring in

Psychology

Country

The Netherlands

Email
School: University of Twente 🇳🇱
Cohort: Fall 2020
Contact her about: HCI, UX, Marketing, Student Wellbeing, Mental Health, organising workshops, Project Management, Sustainable Mobility
Contact via: LinkedIn - Just reach out and ask me anything! :)

Marlen is a fellow at the University of Twente in the Netherlands. Although originally from Germany, she decided to move to the Netherlands for her university degree. She is curious about other cultures, new project ideas, and learning new things.

During her studies, she was striving towards working in interdisciplinary teams and developing herself. She noticed that to bring effective and sustainable change, you need to sharpen your own skills as much as possible. Therefore, she decided to join the Honours Programme at the University of Twente. Here, she learned about Change Management, developed her presentation skills, and was part of an inspiring community. After finishing her bachelor's in Psychology, she further wanted to gain professional work experience in Marketing and also contribute towards more sustainable mobility options.

Therefore, she joined Solar Team Twente which aims to build the most efficient solar car in the world. She knew that with a social science background, she could not help a lot with building the technology for sustainable mobility. However, she wanted to contribute and found a way through promoting the organisation via various social media channels and other activities. That showed her that you can make an impact no matter what study background you have.

As a University Innovation Fellow, she focused mainly on student well-being together with Thomas Goudsblom. Here, she developed a workshop a workshop to help students envision their (professional) future. Moreover, she worked on the "Are you okay?" campaign which aimed at breaking the stigma around talking about well-being. Within the project, 3 videos were produced that encouraged students to open up about how they are really doing and share problems they are facing. The videos reached over 4000 students and were shared via multiple channels. Next to that, she also worked on other projects like the European Meetup, connecting students and start-ups, and giving Design Thinking workshops.

Due to her passion for making systems easier and safer to use, she is currently pursuing her master's degree in Human Factors and Engineering Psychology. Her main interests lie in User Experience and Human–Computer Interaction.
Social media profiles
---
---