This site will go under maintenance from 25-11-2020 to 30-11-2020. It might not reachable during the maintenance period.
Faculty Champion:Miriam Iliohan
Jump to navigation
Jump to search
About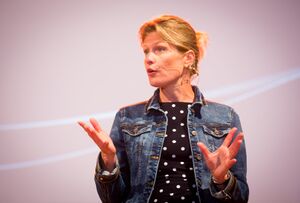 Miriam Iliohan is the co-founder and Manager DesignLab of the University of Twente in the Netherlands. Her broad (international) network, experience, knowledge and enthusiasm in setting-up experimental ecosystems has brought Miriam many other roles. She is part of the advisory committee for student teams, member of the steering committee for the (social) Entrepreneurial challenge, speaker and moderator at high-level international events and conversations and mentor for the University Innovation Fellows program at the D.School at Stanford University.
Sharing her experience, gives her network the opportunity to gain insights into investigating new ways of working, collaborating, teaching, learning and conducting research. By using challenges from partners, she brings viewpoints from (international) scientists, entrepreneurs, students, citizens and government officials together to co-create solutions.