Fellow:Anna Józefina Rutkowska
Jump to navigation
Jump to search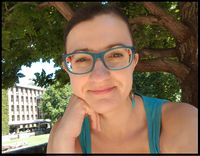 Anna is a University Innovation Fellow and a PhD student at the University of Technology Sydney (UTS).
She is originally from the southern part of Poland - where her close family still lives. At age of 18 Anna moved away from home to study Library and Information Science at the University of Wrocław (Poland). A week after her final exam, Anna was on a plane to Australia to pursue love and sunshine.
Initially, Anna settled in Brisbane and worked at the Queensland Conservatorium Library (Griffith University). 6 years later she moved to Sydney and worked at the Australian Institute of Music. During that time, Anna also served as the President of the Australian chapter of the International Association for Music Libraries, Archives and Document Centres (IAML). Since July 2018, she works at the University of New South Wales (UNSW Sydney) as an Outreach Librarian.
Anna is passionate about education - she wants to help create better experiences for students - in the classrooms, outside of classrooms (particularly in libraries) and online.
Anna expressed some of those passions in a paper: Library Anxiety: Stories, Theories and Possible Solutions, which won her a Jean Arnot Memorial Fellowship, granted by the State Library of New South Wales.
Related Links
University of Technology Sydney Overview
University of Technology Sydney Student Priorities
UIF @ UTS
---
---