Fellow:Danae Chipoco Haro
Jump to navigation
Jump to search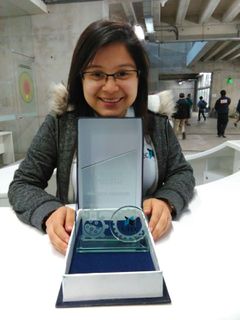 Serving as a UIF Since: Fall, 2016
School: Universidad de Ingeniería y Tecnología (UTEC)
What she does now: Member of CIE community at UTEC
What that means: Organize events in order to spread the I&E mindset in the region
Contact her about:
I&E in LatAm region, driving change in education, volunteer programs, star wars and marvel or just to say hi :)
Email: danae.chipoco@utec.edu.pe // danaechipoco@gmail.com

Danae Chipoco Haro was born in Lima, Peru. Currently, she's a senior in Energy Engineering at Universidad de Ingeniería y Tecnología (UTEC) and is interested in energy generation, more specifically, solar energy and the improvement of energy generation and storage devices. Danae has great social responsibility, skills for facing challenges and affinity for working in different intercultural and interdisciplinary groups. She speaks spanish as first language, english and german.
As young, she was selected to be part of an exchange to Germany. At Villa Caritas school, she won the ICTYS price for a project about the implementation of solar panels in Villa Caritas school. Danae graduated from school in 2014, being one of the first two students at Villa Caritas with the IGCSE certification. At University, she worked on a project about the possibility of using recycled snack bags in Scheffler reflectors for Andean regions. With this project, she won the internal project fair "Vivir la Ingeniería" UTEC 2015-2 in the category of development/product, and the third place in the Expo Energy Efficiency Award of Led Expo Peru in 2016. Se has been in Germany doing research on heterogeneous catalysis at Ruhr Universität Bochum.
Danae is characterized by a passionate dedication to her ideals and the development of her University or organization she is part of. This is reflected on the many activities she has done. For example, she was co-founder of the Affinity Group of Women in Engineering in the Student Branch IEEE-UTEC and is currently chairman of the Student Branch. As chairman, she and the board of directors of IEEE-UTEC has worked on many activities (more than twenty), giving the student chapter Power and Energy Society the first place in Exit Case Award in the region. Also, she is part of a community in Nuestra Señora de la Reconciliación Church, where she has been part of the board member of the volunteering "Pan para mi Hermano" and the person in charge of the food's transportation and distribution. Nowadays she is involved in the creation of more volunteer programs.
As part of the University Innovation Fellows training program, she is collaborating with a group of students at UTEC on the developing of a 5-year program for encouraging innovation and entrepreneurship among the students, aligned to the new study plan for 2017. The boards of directors in the University are really interested in implementing it for the next years and are currently in conversations with them.
- RELATED LINKS - 
-
Universidad de Ingeniería & Tecnología (UTEC)
-
University Innovation Fellows
Spring 2016 (September - October):
---