School:Southern Illinois University
Jump to navigation
Jump to search
Student Innovation and Entrepreneurship
SIU is at seminal moment in it's existence. Not only are we a few decades into the Information Age, but as a top research university SIU is facing a severe cut in financial support from the state of Illinois. Now is the time to look at how Innovation and Entrepreneurship can be incorporated further into the SIU campus including activities in and outside of the classroom. This is moment in time is the perfect opportunity for SIU to strengthen as a university that believes in providing value to students and the world at large.  
The Hub
A 3,500-square-foot facility designed to promote a climate of entrepreneurship in which a marketplace of interdisciplinary ideas can flourish. Ultimately, we want students and faculty across colleges and disciplines to bring their unique perspectives and find common ground to achieve uncommon goals and world-changing innovations.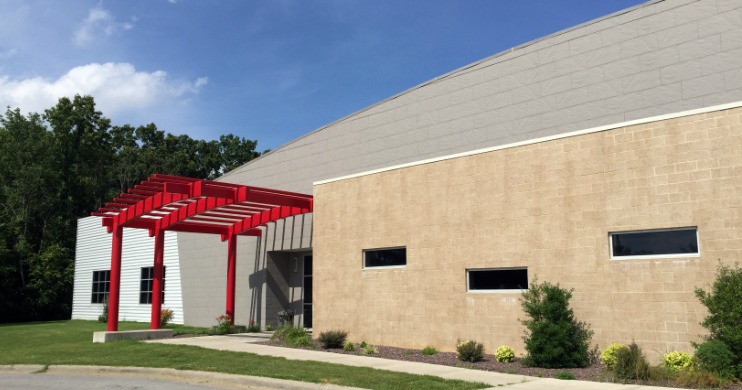 S.A.M Lab
S.A.M. Lab is the School of Art and Design's Subtractive and Additive Maker Laboratory located in the newly renovated Pulliam Design Wing room 51. Resources in the lab include:
-Laser Cutter
-3D Printer (MakerBot)
-3D Printer (FormLabs from 1+)
-Vinyl Cutter
-Arduino Workshops
-3D Scanner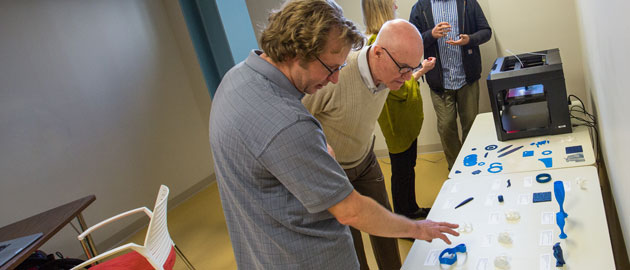 Saluki Ventures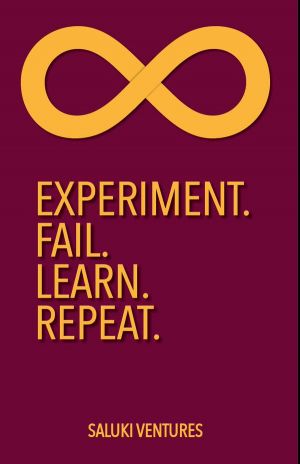 One of the prominent features of SIU's entrepreneurial efforts is Saluki Ventures. An open student business incubator structured to help facilitate the entrepreneurial pursuits of all students across the university's campus. For a low rate of $30 per semester, student members of Saluki Ventures have direct access to hands-on training,consulting services, and mentorship within a student-focused incubation program embedded within the region's leading business incubator. Facilities include a resource room, work space, collaboration area, a developing makerspace plus many other amenities and resources needed to help their business grow.
Small Business Incubator Program
The mission of the Small Business Incubator Program is to accelerate the start-up and expansion of small businesses in southern Illinois. The program is here to provide the guidance and consulting necessary to make sure those start-up and expanding firms have the tools necessary to succeed.
Student Opportunity Center
The University Honors Program and the Center for Undergraduate Research and Creative Activities provide access to an extensive resource, The Student Opportunity Center. This network provides information and access to opportunities from all around the country
conferences

symposiums

internships

publications

scholarships

fellowships
Saluki Entrepreneur Corps
Saluki Entrepreneur Corps (SEO) is a registered student organization that's goal is to enhance student member's business and entrepreneurship skill. SEO also focuses on networking within the community with local business owners and SIU Carbondale alumni that have started their own businesses or joined start-up companies. They hold speaking events on campus featuring best selling authors and marketing experts, as well as spearhead campus-wide business competitions such as the Saluki Elevator Pitch Competition.
Office of Sponsored Projects Administration 
A unit of the Office of the Vice Chancellor for Research OSPA facilitates and promotes research and sponsored project activities on campus. (Research is defined broadly, to include research training, scholarship, and creative activities). The OSPA is the official university agency through which faculty and staff submits external grant proposals and receive external grant awards.
Interdisciplinary Research Resources
It has been established by the Task Force on Interdisciplinary Research Enhancement at SIU to advance communication and knowledge exchange about interdisciplinary research efforts at SIU and beyond. Sections include:
Networking - SIU Community of Scholars: Look here if you seek to communicate with scholars at SIU, to find researchers at SIU by expertise or fields of interest, or to create a research interest group.
Information Repository: Links to resources about interdisciplinary and transdisciplinary research, policies, support services at SIU and beyond.
Communication: News and reports; links to publications, articles and announcements.
Digital Humanities Lab
Established in 2018 as the Creative Writing Podcasting Studio, the Digital Humanities Lab provides students with a unique opportunity to try their hand in new mediums for publishing humanities research. A joint effort by the English and History Departments, with the rest of the College of Liberal Arts, the Digital Humanities Lab also helps set SIU apart by giving students unique opportunites.
Green Roof Project
The project took many twist and turns over its lifecycle. Initially, the project called for a brand awareness campaign fused with Design Thinking Workshops for bringing students and faculty both on campus and virtually together to emphasize and ideate solutions towards increasing student engagement within the space. The collaboration led to the project being phased as "transforming an existing green space into an interdisciplinary innovation hub for participatory learning." In connection to the brand awareness, several engineering projects were initiated by the founder, Nelson Fernandes. These projects were worked on by a virtual team starting in 2020, inspired by the pandemic, where students from SIU and other universities in the US and Europe came together. The students designed, manufactured, and installed 3 temporary small wind turbines with Solar PV for the Green Roof to inspire a clean energy agenda by the university. Additionally, conducted research on a smart irrigation system's effectiveness and a wind turbine constructed from common household materials. All projects were used to showcase opportunities available to students on campus within this interdisciplinary space. From the project outcomes, several awards were awarded to the team and founder including the Illinois Innovation Network's Student Innovator of the Year, SIUC Student Service Award, etc. Currently, the Green Roof Team transitioned as a business where they are turning their experiences and projects into educational resources and diy kits for sale. You can learn more through their website: https://greenroofteam.com/.
Faculty Innovation & Entrepreneurship
The Office of Economic and Regional Development at Research Park has made strides in helping professors and researchers on campus to commercialize their research through a 12 week program called "Operation Mousetrap". Operation Mousetrap held its inaugural sessions in 2010 and features keynote speakers that are experts in their own business and law related fields. The participants of Operation Mousetrap also learn to create a mock business plan and sales pitch for their business, and must do so to graduate from the course. This program has helped many professors to form successful businesses, including Dr. Ken Anderson, the CSO and founder of Thermaquatica.
With the availability of the Southern Illinois Research Park the faculty of SIU have not hesitated to pursue their own passion and research while bringing a few or even many of their students along for the journey of innovation and entrepreneurship. Thermaquatica founder Dr. Ken Anderson has developed the OGD concept, and has served as PI on four grants funded by the Illinois Clean Coal INstitute to explore the concept and develop the fundamental technology. He is a full professor in the Department of Geoplogy, at SIUC.
Jack Crelling, PhD how is a Board Member & Technical Advisor for Thermaquatica joined the SIUC faculty in 1977 as a professor and the Leader of Coal Characterization Laboratory and the Maceral Separation Laboratory. He retired from active teaching in 2006 and now continues on the faculty as a Research Professor DxR Development Group, INC. DxR Development Group's roots are in education... specifically, medical education. In 1990,Southern Illinois University School of Medicine Professors Hurley Myers, PhD and Kevin Dorsey, MD, PhD, collaborated with software engineer Eldon Benz to produce a computer simulation program that allowed medical students to conduct a clinical investigation using a virtual patient. The program recorded the students' decisions, allowing faculty to review how the student reasoned through the patient problem. From this effort, Diagnostic Reasoning, the precursor to what is now known as DxR Clinician, was born. Clinician has since been translated into Japanese, Chinese, and Spanish and is used in at least a dozen countries.
Technology Transfer
SIU Carbondale plays an integral role in driving economic growth in southern and central Illinois,contributing $2.3 billionin annual economic activity to the state. Since 1996, the university has disclosed 379 inventions, issued 84 licenses/options, filed 196 patent applications with a resulting 63 patents issued, and received $7.26 million in royalties. In 2015, SIU was designated as anInnovation and Economic Prosperity University by the Association of Public and Land-grant Universities.
Technology Transfer Office
SIU's Office of Technology Transfer works with SIU faculty, students, and staff to protect and commercializeintellectual property. From exploring the market potential of an invention to negotiating licensing agreements with industry partners, we work to turn SIU innovations into global difference-makers. Director of Technology Tranfer at SIUC, Rob Patino, directs an office that analyzes technology disclosures, bundles meritorious technology packages in an intellectual property portfolio, and out-licenses those rights to industry partners for commercial development.
Saluki App/Idea Competitions
The mission of the Saluki App Competition is to encourage SIU Carbondale student involvement in the technology and business of creating useful and valuable application software ("apps") for mobile devices. The mission of the Saluki Idea Competition is to boost SIU Carbondale student and community involvement with innovative thinking and business development to address local and global challenges. 
Illinois Small Business Development Center at SIU
The mission of the Small Business Incubator Program, managed by the SBDC, is to accelerate the start-up and expansion of small businesses in southern Illinois. The program is here to provide small business owners and entrepreneurs with the tools, guidance and support necessary to start, manage and grow successful and sustainable businesses. The SBDC consultation clients range from business owners to people that just have ideas for a potential business.
Facilitating University-Industry Collaboration
Industrial Design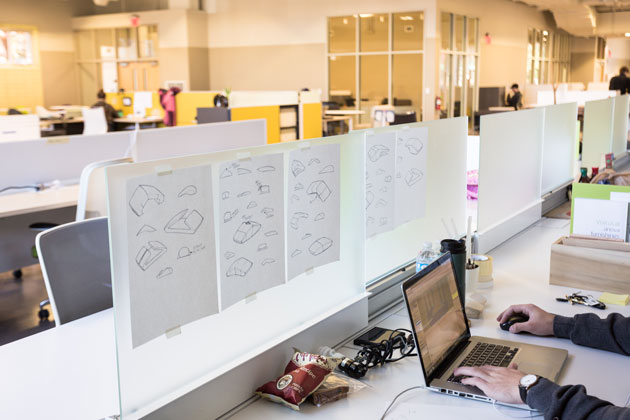 Product Development - AD363
The Industrial Design department currently offers a course taught by an industry leading professional, Shawn Egan. He is an Industrial Designer working out of St. Louis, and has designed over 200 products throughout his career. By learning from an industry professional such as he, students learn real-time knowledge about the field, and how their career will function once they graduate. It is a symbiotic relationship between industry and the college, as both benefit by this. Students are better prepared for the industry, and businesses get to train and discover talents amongst young individuals.
IDSA Conference
The Industrial Design Society of America has annual conferences in St. Louis, Chicago, and other nearby cities. This society is a collection of leading professionals, insdustry participators, and students. It is a great opportunity for students to learn from individuals already in the field.
Design Days
Design days is a two-day event at SIUC that brings industry professionals in from the surrounding area to give their advice, give portfolio reviews, and network with the students of SIUC going to school for Industrial Design and Graphic Design. It is a great event that honors the alumni that come, and is a very valuable event for students and professionals alike.
Career Services
Career Fair
Career Services hosts several career fairs throughout the year, connecting potential employers with students. In addition to campus-wide career fairs, Career Services also hosts additional college, departmental and industry-specific events throughout the academic year.  The career fairs are great opportunities for employers, students, and alumni to network regarding possible position openings.  The campus-wide fairs typically attract as many as 1,000 outstanding students from SIU Carbondale's undergraduate and graduate programs.
Walk-up Resume Critiques 
Career Services offers resume critiques for two days during the semester, where students bring a hard copy of their resumes and receive on-the-spot-feedback. The business school also holds Resume improvment seminars throughout the year.
Saluki-Connect
Networking - the most effective job search strategy. According to U.S. News, nearly 70 percent of the people find their jobs via networking. During Career Services' Campus-wide Networking Event, students will learn the ins and outs of networking and then put their skills to work with area employers and SIU alumni.
Regional & Local Economic Development
Southern Illinois Research Park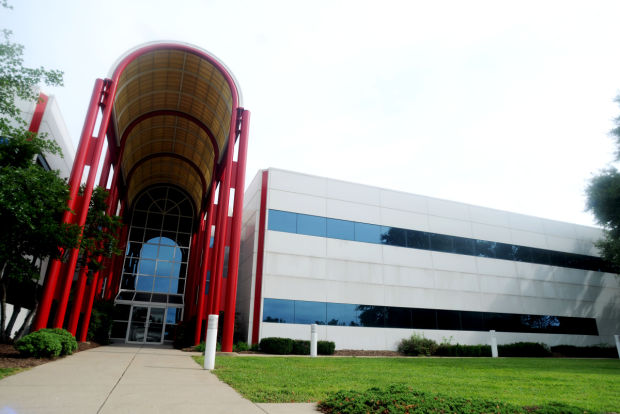 The Southern Illinois Research Park (SIRP) is a non-profit corporation affiliated with Southern Illinois University Carbondale (SIU Carbondale) promoting technology and knowledge-based enterprise development within the Park and the southern Illinois region. As a knowledge-based, high-tech and research-oriented business park, SIRP is a member of the Association of University Research Parks (AURP).Office of Economic and Regional Development –Serves as the university's primary business and community development outreach arm. OERD has a history of success in enhancing growth and building prosperity throughout southern Illinois. SIU has been supporting the region's entrepreneurs in job creation, enterprise development and expansion, and strengthening the rural southern Illinois economy since 1985 with the establishment of the Small Business Development Center. Technology entrepreneurship training, youth and collegiate entrepreneurship, and the Saluki Innovation Lab are key successes of this unit. Additionally, Community Development and Outreach efforts are focused on making communities more prosperous and healthy through collaborative engagement and greater connectivity in Southern Illinois.  
Small Business Development Center (SBDC)
Provides small business owners and entrepreneurs with the tools, guidance and support necessary to start, manage and grow successful and sustainable businesses. Resources include a full range of business development assistance for entrepreneurs, including one-on-one consulting, workshop and training events, and business plan development. The SBDC consultation clients range from business owners to people that just have ideas for a potential business
Small Business Incubator
The mission of the Small Business Incubator Program, managed by the SBDC, is to accelerate the start-up and expansion of small businesses in southern Illinois. The program is here to provide the guidance and consulting necessary to make sure those start-up and expanding firms have the tools necessary to succeed. This program has assisted more than 50 organizations start and expand their operations since its inception in 1990. 
Campus Programs
Design Thinking Workshops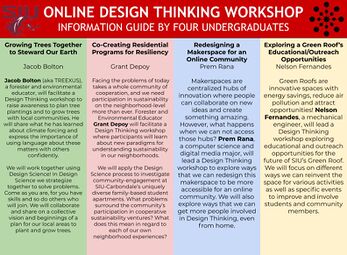 February 28, 2020
The in-person workshop focused on different aspects of the Agriculture Building's Green Roof such as solving the outdated data acquisition device or inefficient irrigation system or thinking of opportunities to involve other students after the revitalization.
https://docs.google.com/folderview?authuser=0&id=1lZbswJSGWFLAuJg1d0AEcI7Am-TwRe7K
Landscape Canvas 
Landscape Canvas and Presentation from Fall 2021:
Landscape Canvas and Presentation from Fall 2019:
Landscape Canvas and Presentation from Fall 2016:
https://docs.google.com/spreadsheets/d/1NE7pr5FYEr8pD-1U_-ZDt0MnLU4o4c_gi6oFHPA9rRk/edit?usp=sharing
Landscape Canvas and Presentation from Spring 2016:
Landscape Canvas 2016
Presentation 2016
Landscape Canvas and Presentation from Fall 2015:
Landscape Canvas 2015
Presentation 2015
Related Links
'Southern Illinois University'
Southern Illinois University Student Priorities
University Innovation Fellows
Fall 2022
Fall 2021

Fall 2019
Fall 2018
Spring 2016
Fall 2016
Spring 2016
Fall 2015
Spring 2015:
Other Related Links
Featured Programs
Thermaquatic
DxR Development Group
SIU Research Park 
---
---