School:Iona University
Jump to navigation
Jump to search
About Iona University
Iona University is a private, four-year Catholic college with two campuses in New Rochelle and Bronxville, NY located 22 miles from Midtown Manhattan. In 1940, it was founded by the Congregation of Christian Brothers and today offers more than 60 bachelor's programs and 40 minors. Iona is comprised of the School of Arts & Science, the LaPenta School of Business, Hynes Insitute for Entrepreneurship and Innovation, and the Kelly Health Center. In addition, the institution has approximately 4,000 undergraduate and graduate students enrolled in it.
About the Hynes Institute for Entrepreneurship & Innovation
The Hynes Institute for Entrepreneurship & Innovation was established in 2017 due to a generous $15 million gift to Iona from James Hynes, '69, '01H, and Anne Marie Hynes. The Hynes Institute is an emerging force that strives to prepare the future generation of entrepreneurs, innovators, and leaders to move the world. It also ensures that students develop the knowledge, skills, and experience necessary to create, lead, and innovate in an ever-changing global economy.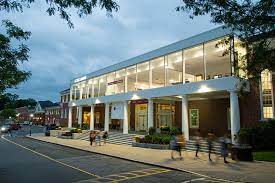 At the Hynes Institute for Entrepreneurship & Innovation, their mission is "to create and foster an interdisciplinary community of Iona students who engage in entrepreneurial learning opportunities to develop an entrepreneurial mindset."
The Hynes Institute also includes GaelVentures, the start-up incubator space, which was created to "support student programming at Iona College and to serve the New Rochelle and greater Westchester area as a resource for its local entrepreneurship and business ecosystem." GaelVentures was temporarily the home of the Hynes Institute and was the physical space for the majority of curricular and co-curricular programming. Now, the Hynes Institute is located at the center of campus, Spellman Hall where students and faculty are able to cowork and work on their business ventures. CEO, the Entrepreneurship club runs out of this space, alongside with the activities and workshops offered. GaelVentures located in downtown New Rochelle is our student and community incubator for students of all majors and backgrounds.
Promoting Student Entrepreneurship & Innovation
School of Business & School of Arts and Science
With the LaPenta School of Business being one of the more prominent schools at Iona, often, it's easier for students to intertwine their business mindsets/endeavors with entrepreneurship and innovation. However, outside of the business school, there are departments in which an entrepreneurial mindset is also encouraged such as in the School of Arts and Science with the graduate occupational therapy and computer science program. Iona also offers a wide selection of courses that can be a foundational step for the student innovative process. With an entrepreneurial approach, one can use the skills learned from E&I courses to innovate within their chosen field. Some of the tools used in these workshops include design thinking through the use empathy mapping to identify the problem using problem-solve and prototyping to come up with solutions.
Technology
A few of the workshops the Hynes Institute for Entrepreneurship and Innovation hosts include 3D Printing and Storytelling with our design in residence Mr. Rob Kissner. 3D printing is a relatively new technology that disrupts the traditional way of prototyping and 3D printers can be used for making gadgets out of PLA filament. In addition to the 3D workshops, the Hynes Institute also offers Arduino workshops where students learn to interact with different open-sourced electronic objects.
Speaker Series
The Hynes Institute also hosts speaker series and E-talks that encourage entrepreneurs to pursue their aspirations wholeheartedly and despite failure, to persevere. The newest edition to this program is Coffee with Christoph where students are presented with the opportunity to connect and chat with Hynes Institute's founding Director.
Outside of the Hynes Institute, the LaPenta School of Business hosts "View From the C-Suite" where students are able to listen and learn from CEOs from different companies.
Entrepreneurship Classes
The entrepreneurial mindset has recently amplified at Iona in which multiple new entrepreneurship and innovation courses have been introduced to our students. Introduction into Ideation and Design Thinking, Introduction to Entrepreneurship and Innovation: Practice and Mindset, as well as Ethics and Entrepreneurial Leadership are 3 courses that have boosted entrepreneurial thinking throughout campus. We also have 5 new graduate courses that study Ideation and Design Thinking, Business Modeling, Financing and Sustaining Entrepreneurial Ventures, and a Studio Course that facilitates the process of developing an entrepreneurial venture, from idea to launch, with the help and support of Iona University's incubator space, GaelVentures.
CEO at Iona - The Entrepreneurship Club
Another feature of Iona University and the Hynes Institute is the extracurricular club that promotes entrepreneurship. CEO (Collegiate Entrepreneurs' Organization) at Iona - The Entrepreneurship Club, formerly known as Iona's Entrepreneurship Club, gives students the ability to network with like minded peers from different focus areas. This helps students build teams in which each person can effectively contribute under a role, and heavily focuses on co-working and problem solving.
Competitions
The Iona Innovation Challenge and the Pizza Pitch Competition were two campus wide competitions in which students could pitch their business/entrepreneurial ideas to a panel of judges. This gave students a "Shark Tank" like experience where they could get feedback on their ideas and prepare for future opportunities.

The Idea Hackathon, hosted by the Hynes Institute for Entrepreneurship and Innovation, was a successful event as well. Students were able to develop skills in problem solving, design thinking, and collaboration. There were also many alumni and mentors present for students to obtain knowledge from. The 2020 theme was centered around how the university could promote student engagement amidst the COVID-19 pandemic.

The IdeaSpark Program was a collaborative effort between Hynes Institute and the Viscardi Center. The 6 week long program was for entrepreneurs with disabilities. Throughout the 6 weeks these entrepreneurs would be paired with mentors who would give feedback to their business idea. This all came to the final event which was a pitch competition that took place at the Hynes Institute.
Spaces on Campus
Spaces at Iona University where students can prototype, collaborate, and innovate is a GaelVentures located in right off-campus, the incubator space, the Hynes Institute filled with a design classroom as the new co-working space, Ryan Library, a library that has private rooms for discussion and ideation, and Arrigoni Library, another library that has private spaces for discussion, innovation, and technological creation.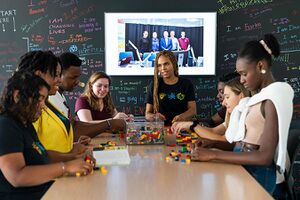 Internships
Internship opportunities are not scarce at Iona. Being less than 22 miles from Midtown Manhattan, world-class internships and job opportunities are within reach as well as opportunities outside of New York City. The opportunities at Iona University are limitless and with an entrepreneurial mindset, one can take advantage of Iona's resources and embark on a journey to success. The new Hynes Institute offers internships as well.
Scholarships
The Hynes Institute frequently networks with organizations through our founder of the Hynes Institute Dr. Christoph Winkler. One of these scholarships includes the United States Association for Small Business and Entrepreneurship Minority & Women Entrepreneurship (MWE) Special Interest Group which also hosts a convention. The Hynes Institute also offers scholarships to IONA University students who show exemplary achievement on their campus and community.

Study Abroad
For students who have participated in the Idea Innovation Challenge hosted every spring are invited to apply for the study abroad program in Italy at the European Innovation Academy!
Encouraging Faculty Innovation and Entrepreneurship
Hynes Faculty Fellowship Program
The purpose of this program is to allow full-time Iona faculty with the opportunity to cultivate and enact learning innovations that align with the mission of the Hynes Institute. Faculty will implement learning innovations through experiential exercises, design thinking, incorporating entrepreneurial subject matter and innovative teaching methods into an existing course, and establishing a new course in any discipline. Faculty also have the opportunity to start a student club or work with an existing club to develop a project, organize a co-curricular program such as a speaker event, organize a student workshop, and engage in service learning projects in relation to entrepreneurship.
Lunch & Learn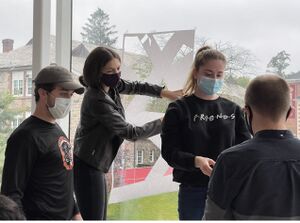 The purpose of this series is to establish and maintain faculty members and administrators engagement in entrepreneurship. Many of these series include workshops, speaker events, and experiential learning exercises. Our new clinical lecturer Johnathon Williams has created a program designed towards learning design through designerly knotting; this explores how designerly knots in a learning environment begin to function.
Actively Supporting the University Technology Transfer Function
This is one of the gaps we perceived at Iona that needs to be developed.
Facilitating University-Industry Collaboration
Iona University is proud to partner with over 100 industry professionals across nine different departments. These programs are offered through the college's Office of Career Development. In addition to connecting students with these industry professionals, the Office of Career Development offers plenty of workshops. These workshop subjects range from Linkedin to networking.
Engaging with Regional and Local Economic Development Efforts
USASBE, the United States Association for Small Business and Entrepreneurship
USASBE is an inclusive community that advances entrepreneurship education through impactful teaching, practice, and scholarship. This association also provides many opportunities to network with researchers, policy makers, educators, entrepreneurs, and management professionals. As of March 2017, Iona College was welcomed to their family of more than 600 college and university members. The Founding Program Director of the Hynes Institute for Entrepreneurship & Innovation, Dr. Christoph Winkler, is also a contributing editor of Entrepreneurship Education & Pedagogy, a journal for USASBE.
Iona StartupTree
StartupTree is the Hynes Institute for Entrepreneurship & Innovation's entrepreneurship network. On this platform, students can network with the Hynes Institute's network of entrepreneurs from many different industries, add their venture or project, and participate in various competitions and challenges.
GaelVentures Incubator
One of our recently popular programs is the incubator running out of GaelVentures. Here students and people in the Westchester area can come with their business ideas or formed businesses and receive resources from Iona staff. This is a great opportunity for business owners to gain knowledge and feel supported in the journey.
Related Links
Iona College Strategic Priorities
Fall 2018-Landscape Canvas
University Innovation Fellows
Fall 2018
Fall 2019
Fall 2020
Fall 2021
---
---