Fellow:Enjay Brown
Jump to navigation
Jump to search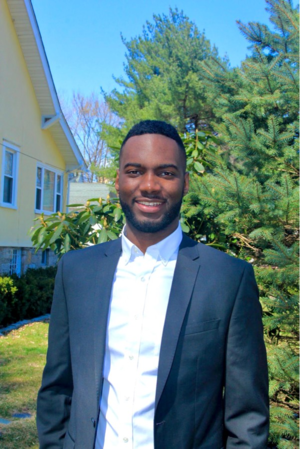 Name

Enjay Brown

School (Cohort)

Iona College (2020 cohort)

Majoring in

Media and Strategic Communications
Concentration in Advertising

Country

United States of America

Email
Bio
Enjay Brown is an undergraduate at Iona College majoring in Media and Strategic Communications with an interdisciplinary focus in Advertising. He is from Mount Vernon, New York and a proud first generation son of two Jamaican born parents. He also has a younger sister, to whom he dedicates all his achievements.
In 2017, James Hynes '69, '01H, and his wife Anne Marie Hynes donated $15 million to the College to create the Hynes Institute for Entrepreneurship and Innovation. In 2018 the official Hynes Institute home was constructed as a coworking space in the center of campus. Enjay was introduced to the University Innovation Fellows program and the world of entrepreneurship and innovation thanks to the Hynes Institute.
At Iona College, Enjay has been able to cultivate his passion for entrepreneurship and innovation by interning with the Hynes Institute. Additionally, he has been able to pursue his passion for the performance arts by being a member of the "Iona College music ensemble" and participating in the "Iona College Players" performance of "Grease".Outside of Iona, his passion for advertising and marketing has led him to internships within his field, most recently with the online media and publishing company "Coveteur" as a member of their Sales and Marketing division. Using the skills he learned from the world of entrepreneurship and innovation, he has been able to make his time with "Coveteur" unique and pursue new and creative ways to innovate within the division.
Enjay believes that having an entrepreneurial mindset is essential to finding your passions within whatever career path you choose. By examining the world around us, Enjay believes we can find tactical and practical solutions to solve real world issues with our unique set of skills. Enjay encourages others to be kind, empathic, attentive, and curious and by cultivating these skills, you take the first steps to becoming an entrepreneur.
Achievements
- Kappa Tau Alpha Mass Communication National Honor Society
- Dean's Honor Roll
- Google Ads Certifications: Display, Search, Video, Shopping
- Google Analytics Certification
- Hubspot Certifications: Inbound Marketing, Social Media Marketing
Social media profiles
LinkedIn: https://www.linkedin.com/in/enjay-brown-hun0814/
---
---