Fellow:Torin Johnson
Jump to navigation
Jump to search
Starting his journey at the painted mountains of Western Colorado, he drove gallantly through the winding roads and deep canyons which make up what is known as the rocky mountains. The journey was long, tiresome, and required discipline of the highest rank, but after 4 long, grueling, and tiresome hours in a warm automatic car, he made it to the Eastern slope, and to a small town called by the name of a star's gentle and warm light: Golden. In this town he came to the treasure which he so desired: the hospitable, friendy, and ever improving campus which is Colorado School of Mines. For the next four years he would live here, practicing and mastering skills which are impossible to master: self-improvement, self-awareness, leadership, knowledge applicability, and so much more. As he struggles and grows from day to day, the dream in his heart holds strong and true. The world will be his. And this, is only where the story begins...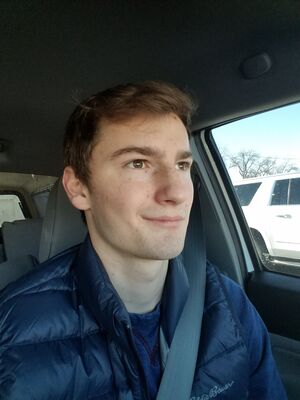 Ahem. On a more serious note, Torin Johnson is a University Innovation Fellow originally from Grand Junction, Colorado, who now attends the Colorado School of Mines, where he is pursuing a degree in Computer Science + Robotics and Intelligent Systems. After graduating, he plans to work in the up and coming robotics industry for a few years, then head back to school for a Masters in Business (possibly a MBA, and hopefully at the Wharton school of business). Eventually he wishes to start his own company in the tech field, most likely in robotics.
Throughout all of his life, Torin had been interested in building, creating, and innovating. It wasn't until his Sophomore year of high school, however, that he became the person he is today. This change happened for one main reason: He met girls. Yes, this seems quite inadequate as far as explaining his passion for leadership, involvement, change, technology, academia, and people, but rest assured, this was the case. You see, these girls were very involved in the school, very academic, and overall the coolest people he had ever met. From this, Torin developed a passion to change himself, and to change his school, which grew to his college, his country, and then the world. He became involved in student senate, which helped him to realize he can make a difference, and after becoming the Student Body Associate Vice President, he could see it. He also joined the Future Business Leaders of America, which helped him to realize that he loved business, and after he became a chapter president, made him realize he could make a difference through this.
Now that he's in college, Torin has taken what he learned from his early life and is expanding upon it every day. He loves learning from others, whether it be in life skills or academics, and loves socializing and networking with people as a whole. He also loves to think. To expand upon worldly ideas and create new philosophies and theories about life. He still loves to create, and works on projects whenever he can, but now he is quite busy with involvement at the school. You see, he's joined the robotics club, where he became the Vice President of Coin, the Mines Activities Council, where he is on an E-Days committee and helps where he can, the Acts of Random Kindness Club, and the Entrepreneurship club, where he is helping to bring it back to life on campus and has an exciting future planned out. He also hopes to join the Undergraduate Student Government, and the Peer Mentor Program.
Although at a school for engineers, Torin also loves the liberal arts; He loves to sing, to write, to read, to play guitar, and to learn about history as well as people. More specifically, Torin loves to write songs, to lose himself in a good book (especially about self improvment, history, or a good Shakespeare play), and to learn about the psychology of people.
Lastly, Torin lives by four rules and one quote: 1. The Golden Rule: Do unto others as you would have others do unto you. 2. Be a Man (or woman) of your word. 3. Everything in Moderation: Everything is flawed, everything is balanced, everything is beautiful. Through these thoughts I rule the world. In other words, too much of anything is bad. 4. Mind Over Body: A sound mind needs a sound body, and vice versa. Therefore he practices meditation (in his own way) and works out regularly.
"Everyone thinks of changing the world, but no one thinks of changing himself" - Leo Tolstoy.
Related Links
Colorado School of Mines University Innovation Fellows
University Innovation Fellows
Spring 2018:
Spring 2017:
Spring 2016:
Spring 2014:
---
---