Fellow:Torin Johnson
Jump to navigation
Jump to search
School: Colorado School of Mines
What he does now: Masters student in Computer Science, Co-Founder of Grwth (mental health start-up), writing and producing music on the side
Contact him about: Leading and creating strong community within teams, cross-cultural communication, starting a company (more specifically the entrepreneurial process), how to build and keep a strong network, how to talk to influential people (school presidents, company Vps, FEMA managers, etc.), self care and growth, writing a song together, making pour over coffee, discussions about human behavior and educational reform, and if you just want to chat about life :)
Email: tajohnson@mymail.mines.edu or torin.turbo@gmail.com
Phone: (970)-640-8353
Starting his journey at the painted mountains of Western Colorado, he drove gallantly through the winding roads and deep canyons which make up what is known as the rocky mountains. The journey was long, tiresome, and required discipline of the highest rank, but after 4 long, grueling, and tiresome hours in a warm automatic car, he made it to the Eastern slope, and to a small town called by the name of a star's gentle and warm light: Golden. In this town he came to the treasure which he so desired: the hospitable, friendly, and ever improving campus which is Colorado School of Mines. For the next four years he would live here, practicing and mastering skills which are impossible to master: self-improvement, self-awareness, leadership, knowledge applicability, and so much more. As he struggles and grows from day to day, the dream in his heart holds strong and true. The world will be his. And this, is only where the story begins...
Time certainly flies. I'm now editing this page after four years of undergraduate schooling, and life is quite different than how I imagined it would be. What a dork I was to have written the above opening paragraph, and what a dork I still am to be leaving it.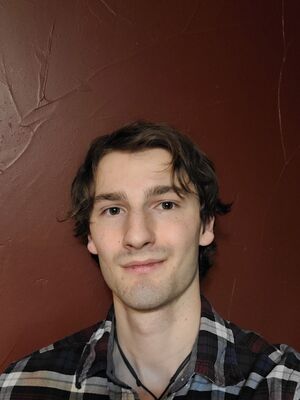 Torin Johnson is a UIF originating from Grand Junction, Colorado. He's completed his undergraduate degree in Computer Science at the Colorado School of Mines, and is currently pursuing his masters in CS at the same school. He originally planned to work in the up and coming robotics industry for the years following graduation, with the goal of starting his own robotics business. After four years of schooling, he still has the dream of starting his own business, but after many experiences including robotics research, multiple robotics courses, leadership in the robotics club, and exploring the land of robotics (Japan study abroad), his interests have shifted from robots to people. Now, he plans to continue his education in Ireland in the direction of behavioral psychology and mental health, with the goal of starting a social entrepreneurial venture in the field.
Through his time in undergraduate studies, Torin was heavily involved in the development of the Entrepreneurship and Innovation department on campus, including heading the entrepreneurship club for a time, taking many flagship courses as a test subject, building connections with Rockies Venture Club through being a business analytics intern, TAing and helping to plan out the Innov8X course and Innov8X Studio (Hacking for Home Security, and solving a problem you're passionate about), and leading design thinking workshops for students and faculty.
He also participated in a community service trip to Nepal for Hike For Help, and studied abroad in Japan. In addition, he taught a freshman success seminar course for two semesters as a Peer Mentor, and volunteered as a camp councilor for the Mines Oredigger camp for four camps.
His work experience, beyond Rockies Venture Club, includes working as a project engineering intern at JR Clark Enterprises, and working on his own (albeit still unprofitable) entrepreneurial venture (which has mainly consisted of web development, machine learning development, and lots of student mental health research). Torin will also be an adjunct teacher for an undergraduate computer science course in the fall, as well as a graduate level TA for Innov8X.
Throughout his entire time at Mines, Torin has loved liberal arts on the side of his technical education. This includes participating in the McBride Honors program for a minor in public affairs, pursuing a music career on the side with song writing and music production (as well as playing live and holding jam sessions with others), writing creative stories, reading many fiction novels, participating in the Mines swing dancing club, and loving philosophical discussions on the human condition, and conversations pertaining to human psychology, education, and policy. Some of his creative and song writing work can be found at: https://www.torinj.com
Torin is also in the constant pursuial of self-growth, working out and doing yoga most days, learning about and cooking healthy meals, reflecting on his past and future often, constantly learning from others, and always preparing and looking for opportunities in the direction of his life interests.
Related Links
Colorado School of Mines University Innovation Fellows
University Innovation Fellows
Spring 2018:
Spring 2017:
Spring 2016:
Spring 2014:
---
---