Fellow:Tim Hansen
Jump to navigation
Jump to search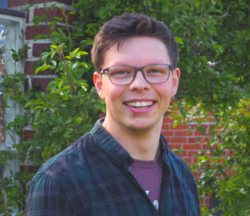 Tim Hansen is a University Innovation Fellow, and a student from the Hamburg University of Technology. He is part of the cohort fall 2018, which is the first time the UIF program comes at this University.
Tim has a bachelor degree in engineering Mechatronics and now is in his Master of Science in Mechatronics as well. The specialization of this master degree lays in Control theory and advanced control. 
The research Tim is interested in, lies in the combination of modern control theory with a self-learning algorithm. Current deep learning is mostly used in computer vision can provide powerful tools for different areas as well, like for example control theory.
Additionally, he is working for the Institute of Entrepreneurship, where the start-up spirit from the Scientific side is being researched at. He programs tools for the PhD-Students, which they can use for big dataset analysis. 
Other UIF from TUHH
Related links

Hamburg_University_of_Technology
http://universityinnovation.org/wiki/Hamburg_University_of_Technology_Student_Priorities
---
---