Fellow:Thota Roopesh
Jump to navigation
Jump to search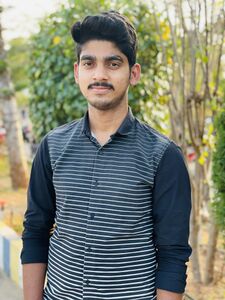 Name

Thota Roopesh

School (Cohort)

Madanapalle Institute of Technology and Science (2021 cohort)

Majoring in

Computer Science and Engineering (CSE)

Country

India

Email
Bio
Roopesh is currently pursuing his undergraduation in the stream of Computer Science & Engineering at Madanapalle Institute of Technology & Science, Andhra Pradesh, India. He was born and brought up in Tirupati, a renowned holy place in the country. He came from a middle class family.
He has always been an optimistic and enthusiastic person. He is humble, polite and sincere towards his work. His caring attitude and helping tendency puts him on a high pedestal. He used to take part in technical competitions held at school and in the Institute. He is a fine traveller and a vlogger.
Roopesh is gregarious, and can easily develop connections with faculty and peers as well. He is passionate about his dreams and hobbies, and works hard to accomplish his goals. His strengths are positive thinking, commitment, and trustworthiness. He is determined and can stay focused on the task. His main Motto is "Never Give Up."
Apart from the academics, Cricket is the sport at which he excels and he is obsessed with this sport. He developed cricket skills over time, and in the process of learning the game, he learned other team building lessons too. He learnt to contribute to the team and also gained leadership qualities. He always loves to work in a group and strongly feels that teamwork gives ultimate best results.
He is innovative, can mingle and collaborate with others easily. He has a keen interest in learning new things and gaining expertise in the new technological trends. His parents were very supportive and he is always interested in taking up the challenges and wanted to face them without inhibition. His goal is to achieve a good position in a  reputable business and to become a valued employee.
Achievements
He stood second in the theme competition in the National Level Technical Symposium PHOTON-2k19, organized by the Department of Basic Sciences & Humanities at MITS on 15th April, 2019.
An online internship initiative by Unschool, recognised him as a Community Influencer for the successful completion of Unschool Community Program on August 11,2020.
Social media profiles
LinkedIn: https://www.linkedin.com/in/roopesh-thota-830087174
Facebook: https://www.facebook.com/roopesh.rock.96
Twitter: https://twitter.com/sairoopesh5?s=08
Instagram: https://www.instagram.com/itsmeroopesh_/
---
---