Fellow:Sevimaktas
Jump to navigation
Jump to search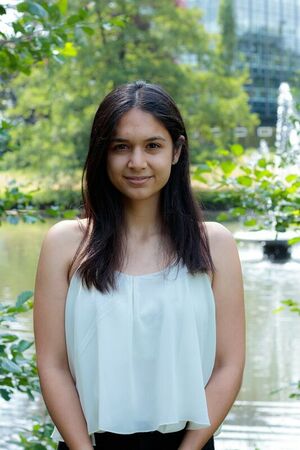 Sevim Aktas
Advanced Technology Student
University of Twente, The Netherlands
Sevim Aktasis a University Innovation Fellow and student at the University of Twente, the Netherlands. She has a German-Turkish-Dutch background. 
 Her core believes are: 
Internationalisation 

Sustainability (SDGs)

Activism and Potential of students

Equality
Sevim wants to show that students achievements go beyond their expectations.
Background  
2016 - Initiator and Co-Manager, UT MUN
2016 - Head of Driving Strategy and Race Coordinator, Green Team Twente
2017 - University Innovation Fellow 
2017 - Organisor, Global Goals Jam
2017 - Student Member, OKC Advanced Technology
2017 - DreamTeam Member, DesignLab 
2018 - Coordinator, Living Smart Campus University of Twente
2019 - Candidate for UReka, University Council
2017 she initiated UT MUN, University of Twente Model United Nations, together with 2 of her fellow students. With a team of 40 students, a simulation of the UN conferences was organized for around 100 delegates. Engineering and behavioral science students have been stimulated to debate about pressing High Tech Human Touch topics. 
Besides, she has a been part of a student engineering team, Green Team Twente, building a Hydrogen car. May 2017 they participated in the Shell Eco-Marathon in London and won the European Championship with a consumption of 860 km/l of Hydrogen. As Head of Driving Strategy and Race Coordinator, she was responsible for data acquisition, testings, driving strategy, and coordination during the race. 

Summer 2017 she joined the Dream Team, the student team running the design-thinking space, the DesignLab. Here, students, staff, and professionals are stimulated to work together to design for society by means of science. At the same time, she is part of the educational committee of her study programme OKC, organizing student panel meetings to give them the opportunity of providing feedback for quality education. September 2017 she organized the Global Goals Jam, a brainstorming event that takes place in 20 different location all over the world with the goal to find solutions to three preselected Sustainable Development Goals. November 2017 she was launched as a University Innovation Fellow and is pursuing topics related to Entrepreneurship. Besides, the UIF team is cooperating with local institutions, like the local municipality, and the startup incubator Novel-T to provide input from a student perspective. Therby, the overall goal is to benefit students. Since January 2018 she started working on the university's living lab programme, the Living Smart Campus. This is a platform that facilitates students, staff, and professionals to work together on innovative projects that make society smarter and at the same time raise controversion socio-technological dilemmas. Those can then be then evaluated in this research environment. Together with the Scientific Director of the Digital Society Institute and the Managing Director of the DesignLab, the programme was brought to its next level with new features and a new structure.
At the moment, she is candidating for the University Council to represent the voice of students on topics like equal rights for internationals and activism. Furthermore, her goal is to inspire and raise awareness about sustainability and the Sustainable Development Goals of the UN.
Media & Press
2017
Schüttorferin studiert im Ausland vor der Haustür - Grafschafter Nachrichten, March
Want to be a member of the UN? - UToday, February 
Green Team: On the way to London - UToday, May 
Green Team Twente wins! - UToday, May 
UT students applying for Fellows Programme - UToday, July 
Global Goals Jam: 'Think big, start small' - UToday, September 
A day in the life of Sevim Aktas - UToday, September 
Twente Science Night: World of Tomorrow - Twente, October 
New University Innovation Fellows introduce themselves - UToday, October 
Four students named University Innovation Fellows - University of Twente, October 
2018
Studentgedreven werkbezoekOnderwijsminister van Engelshoven aan de Universiteit Twente (Education Minister in student-driven working visit to Univerisity of Twente) - University of Twente, February 
Een dag in Oost (One day in the East) - MinOCW, March 
COMEST workshop Ethics of IoT - Medium, March 
Creathon: newphase of Living Smart Campus - UToday, March 
---
---