Fellow:Rianne Hagen
Jump to navigation
Jump to search
Rianne is currently  an undergraduate student at the University of Twente. She is currently studying Industrial Design. It was the problem-solving, multidisciplinary  mindset which drew her attention to the programme and is one of the main reasons she loves to study ID.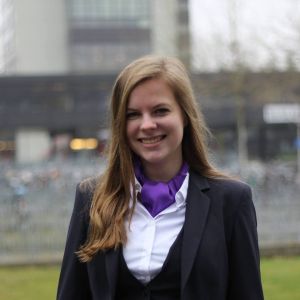 In September 2016 she got involved into organising 'the creative space education pilot', organised by a University Innovation Fellow from a previous cohort at her university. After having a taste of innovating education, she decided to join the board of her study association as Officer of Educational Affairs for a year. She has learned a lot about innovation and entrepreneurship at her university, while also developing her own skills. This is allowing her to join in many projects on innovating education, not only at Industrial Design, but at the university as a whole.
Outside of being an active student in her study association and university, she spends her free time on cooking, reading books, spending time with friends, binge-watching Masterchef and sports. 
Related Links
University of Twente Student Priorities
Fall 2017
Rianne Hagen
Fall 2016
Spring 2017
---
---
---
---