Fellow:Radhika Kapoor
Jump to navigation
Jump to search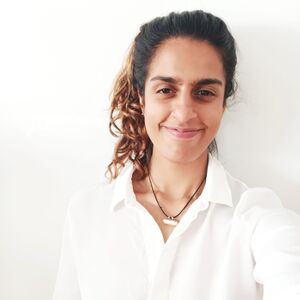 Name

Radhika Kapoor

School (Cohort)

University of Twente (2021 cohort)

Majoring in

Interaction Technology

Country

Netherlands

Email
Bio
Radhika is an enthusiastic and curious person who is currently enrolled in the masters program Interaction Technology at the University of Twente. Born in the UK, grown up in Switzerland and now pursuing a higher education in the Netherlands she has been in touch with many cultures and appreciates diversity in teams.
She's extremely passionate about accessible, good quality education, especially in developing countries and wants to try her hand at sustainability projects and awareness too.
For her minor, she went to RMIT in Australia and studied Spanish, Graphic Design, Electronic Circuits and Biomaterials & Tissue Engineering. Radhika likes diversifying her skillset where ever she gets the chance.
Currently she is also a member of the WOT,a student organisation that tests and designs extremely affordable technologies to use in developing countries. Radhika enjoys practical projects so anything where you need to build or break, she would be a great addition to the team!
Achievements
- Hardware Engineer: University Drone Team
- Percussionist: University Production of West Side Story
- Documentary Film: Women in India: Emancipation through Education
Social media profiles
Instagram: @b0enkerh34d
---
---