Fellow:Pratheek R Bhat
Jump to navigation
Jump to search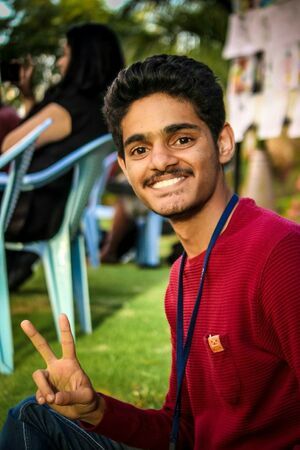 PRATHEEK R BHAT
Pratheek R Bhat is Bachelor of Engineering Student at Vidyavardhaka College of Engineering (VVCE), Mysore and one of the University Innovation Fellows of the institution. Born and brought up in Mysore, he studied in the local schools and colleges as a normal student until he joined VVCE. There he was exposed to a much wider world.
Pratheek joined the college E-cell, Aspera and worked his way up to the post of Head of Management Committee. He also isa senior member of Google Developer Student Club and a member of the Open Source Lab which is a part of the Open Source Community. His desire for change and innovation in his surroundings lead him to the Leadership Circle of the first batch of University Innovation Fellows of his college. And thus began his journey.
Apart from academics, Pratheek also takes an active role in social service, having volunteered for multiple charity based marathons and city clean up drives. With a great thirst for knowledge, Pratheek is a voracious reader and an innately curious person, having an active membership in multiple forums and websites such as Quora, Disqus etc. Apart from this he's also a zonal level basketball player.
RELATED LINKS
Vidyavardhaka College of Engineering
Vidyavardhaka College of Engineering Student Priorities
University Innovation Fellows
Fall 2018
Fall 2019
---
---